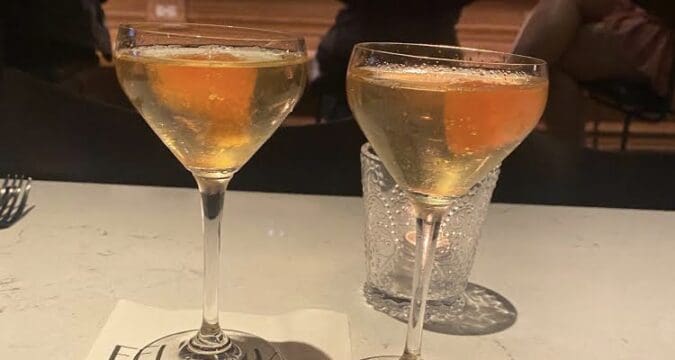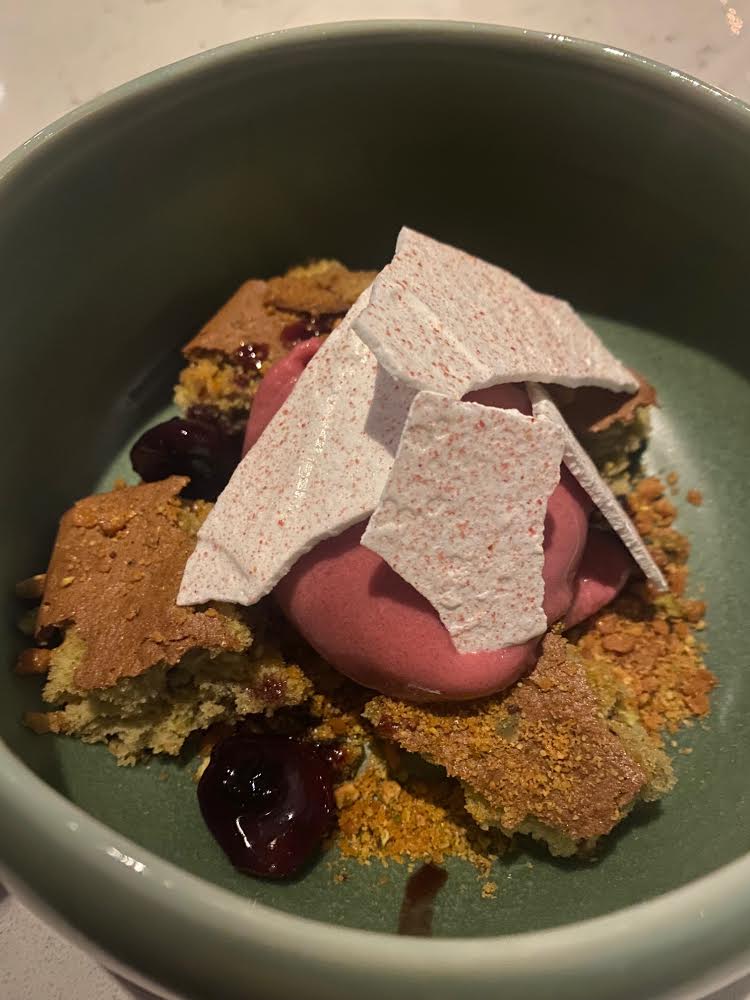 We all remember visiting the Westside to partake in eclectic blends of seasonal salads, delicate bites of perfectly prepared meat and seafood, and sweet decadent desserts at Fellow.
Lifting Covid restrictions have revealed former members Chef Mazen Mustafa, and Martin Riese have left the building, moving almost an entirely new cast and crew of talented team members to the front of house; and back of house.
With the reopening of Fellow comes along the debut of an entirely new dining experience complete with the premiere of a whole new food and beverage menu.
The Art at Fellow
Fellow has returned to Westwood Plaza with a unique, creative, and immersive dining experience that appeals to all the senses.
Partnering with neighboring art gallery, The Galerie—Fellow begins your journey inside the gallery as part of the restaurant's grand entrance.
Once inside, dim lights illuminate Fellow's blend of rustic-minimalist decor as the soft white noise of conversation fills the space as nicely as it once did before Covid. Once again Fellow is able to accommodate 200 diners between the main dining room, outdoor patio, and multiple bar areas.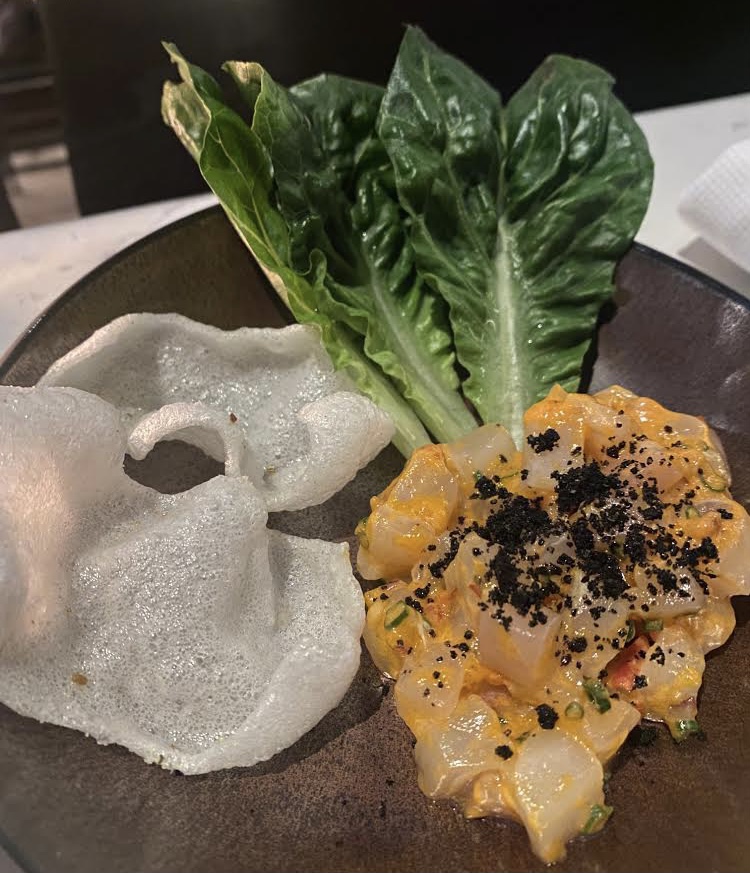 Owned and operated by restaurateur Philip Camino of Camino In (Imari, TheHudson, and EarthBar), the new team at Fellow includes top Executive Chef Chris Flint and World Class Bar Director Adam Fournier (both formerly Nomad), along with Director of Experience Scott Lester (formerly The French Laundry). Guest Experience Director and Beer Program Lead Matthew Pene and General Manager Charles Hueston also fit the team.
Together, they provide an exceptional and immersive dining experience for their guests as memorable as the moments spent in the kitchen on plate aesthetics and food presentation.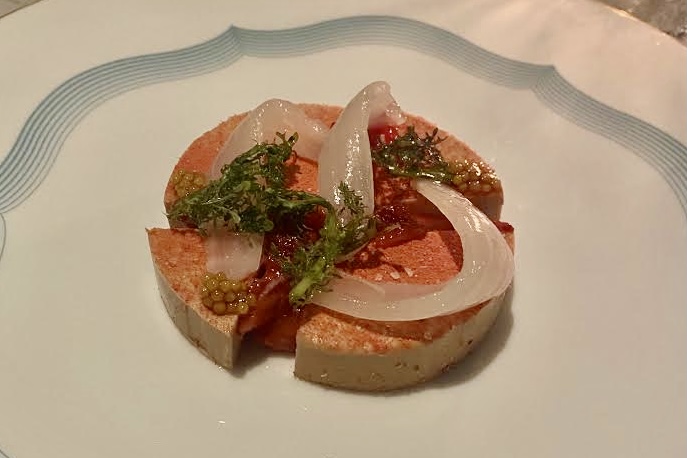 Memories kept safe include Scallop ceviche with avocado, radish, and jalapeño; marinated Foie Gras with strawberry, onion, and mustard greens; glazed Lobster with turnips, leeks, and vanilla; Roasted Carrots with black rice and mushroom; and grilled Short Rib with potato, maitake mushroom, and horseradish, completed with Pistachio Cake with cherries and brittle; and Butter Mochi with dulce de leche and sesame.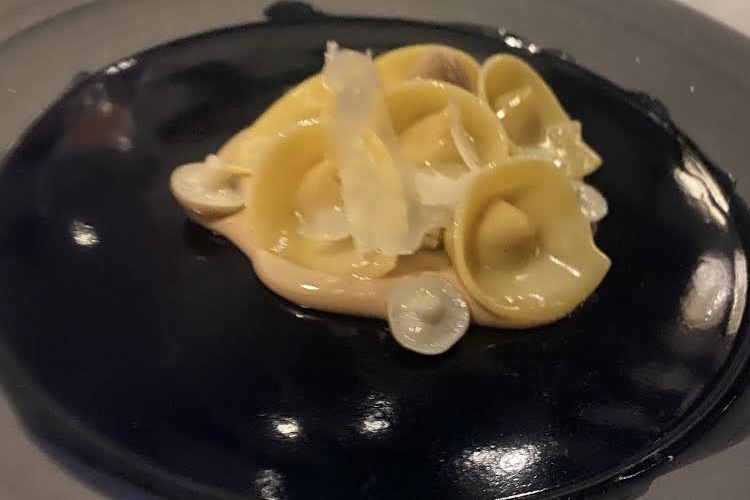 "I couldn't be more excited about the level of talent we've assembled at Fellow. At every position, we have world-class operators whose pedigree is unmatched in Los Angeles," shared Owner Philip Camino. "We're looking forward to showing a restaurant that combines unmatched service, cuisine, art, and atmosphere in a historic West Los Angeles setting."
Possible Dejavu at Fellow with returning member Scott Lester. This passionate, level three sommelier, presents his curated cellar with more than 2000 selections from over 550 producers from Ojai and Paso Robles, as well as finds from Northern California's Sonoma and Napa.
Fellow also expanded their beer list, curated by Matthew Pene, featuring seasonal collections from the most talented brewers in Los Angeles alongside marquis Belgian classics and rare global releases.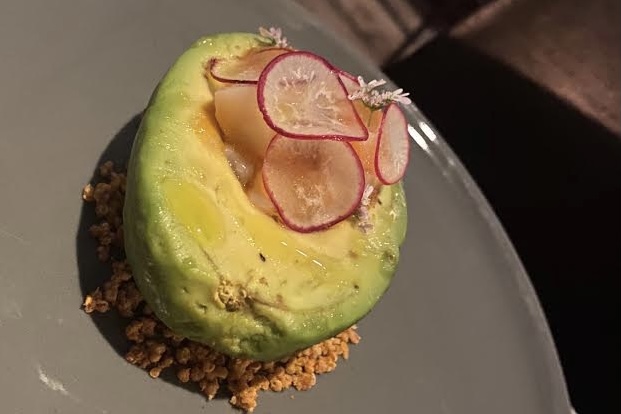 There was a wide range of non-alcoholic cocktails with housemade base spirits, but we skipped the sobriety test, and enjoyed the highly intoxicating cocktails made with all the complexity of a great spirit-based mix.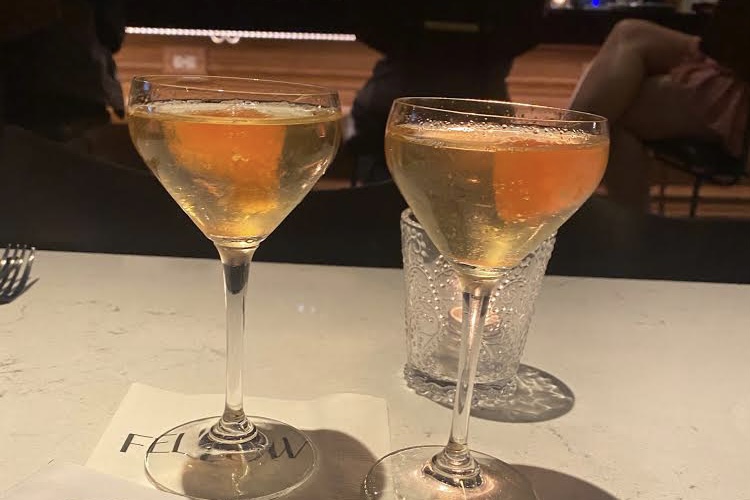 Highlights from the cocktail menu include the Bilbao with gin, olive oil, and rosemary lemon vermouth; Fields of Barley with rye, mash bill syrup, bitters, and citrus; Miami Vice Milk Punch; You Had Me at Fellow with orange-vanilla soda, sweetened only with monk fruit.