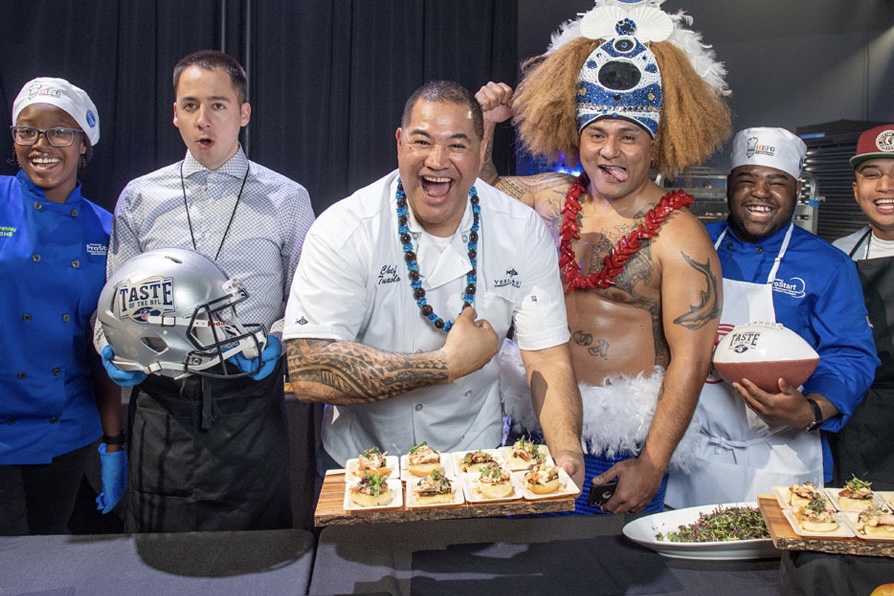 Events surrounding Super Bowl LVI weekend are guaranteed spectacles filled with panache, star-studded parties, dazzling entertainment and the Taste of the NFL.
Of course there will be football, and hopefully, a Los Angeles Rams Super Bowl Championship stemming from Sunday's game at Sofi Stadium, however one of the greatest and often under notarized elements of the Super Bowl is the incredible food.
Founded in 1992 by Wayne Kostroski, Taste of the NFL has for 31 years been on the front lines of raising awareness and generating funds to fight hunger and food insecurity.
During Taste of the NFL, celebrity chefs will create an immersive culinary experience for 2,500 guests, complete with delicious food and tailgate specialties, special guests chefs and thirst quenching libations.
Featuring star chefs Tim Love, Carla Hall, Andrew Zimmern, Lasheeda Perry, Mark Bucher, Ming Tsai and their Taste Maker friends along with NFL players, sports greats and surprise celebrity guests, Taste of the NFL 2022 promises to be a Culinary Joyride as part of Super Bowl LVI in Los Angeles.
Taste amazing foods. Meet current and Hall of Fame players and all-star chefs. Live entertainment. The best autographed collectibles auction. It's the PERFECT pre-game party for the Big Game.
Welcome GENYOUth and Frito-Lay
This year, GENYOUth, a national non-profit organization which creates healthier school communities, announced its partnership with the PepsiCo Foundation, Frito-Lay to assist the NFL, during this highly anticipated Super Bowl weekend purpose-driven culinary event.
The National Football League (NFL) will donate a portion of event proceeds to GENYOUth's End Student Hunger Fund, which is dedicated to providing equipment and resources to help deliver and distribute school meals to the 30 million students nationwide who rely on them for their daily nutrition needs.
The NFL has also earmarked a portion of funds as a donation to support the Super Bowl host city's Los Angeles Unified School District and its Kool Kitchens renovations program, a district-wide initiative addressing student food insecurity.
True to the organization's PepsiCo Positive commitment, The PepsiCo Foundation is partnering with GENYOUth's End Student Hunger Fund to address childhood hunger on a national level and to bring local support to the Los Angeles community through a partnership with Para Los Niños to provide nutritious weekend meals to students over the next year. This effort is part of Food for Good, PepsiCo's global goal to help 50 million people gain ready access to nutritious foods by 2030.
"Frito-Lay is committed to the communities in which we live and work. Our commitment to Los Angeles through this program is to renovate kitchens in five Los Angeles Unified School District schools, with the goal of increasing students' school meal participation by 15 percent," said Steven Williams, CEO, PepsiCo Foods North America. "As we deliver food equity and nourishment to students who need it most, we're making a positive impact and helping to build the foundation for a brighter future."
Additional funds raised by Taste of the NFL will also support school meal programs in NFL Club markets across the nation.
"We welcome you to a Culinary Joyride like no other to benefit GENYOUth's End Student Hunger Fund," beamed GENYOUth Communication Director Paige Hettinger.
In addition, a thought-provoking Equality Lounge® at Taste of the NFL presented by The PepsiCo Foundation will bring together thought leaders from the NFL, social justice organizations and the food and beverage industry to represent viewpoints with diversity of thought, perspective and experience to highlight the importance of equity, inclusion and fair play from the gridiron to the business next door.
The 2022 Taste of the NFL kicks off on Saturday, February 12th, the eve of Super Bowl LVI. This live, gastro event will be hosted at the world renowned Petersen Automotive Museum from 12:00 – 4:00 p.m.