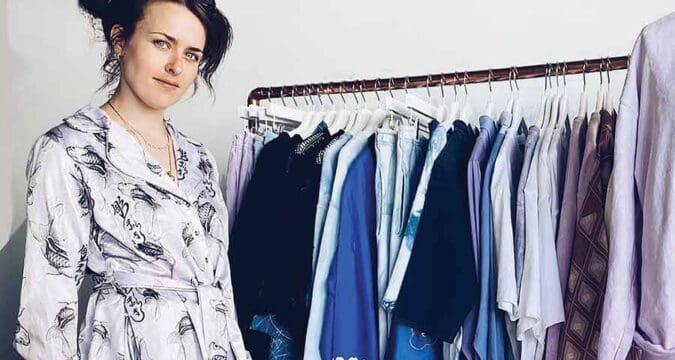 After years of working with some of the most renowned names in the fashion industry, proven innovator and creative stylist Natashia Miyazaki decided to launch her own self-titled label and fashion design studios.
July 16th of this year brought to the epicenter of the LA Fashion District, Natashia Miyazaki Studios, a synergy of sustainable, well-made, locally sourced, uniquely designed clothing that fits amazing.
Here is also where Natashia showcases her own brand under her own name.
This season's collection is adorned with hand-drawn Illustrations created by world-famous Japanese tattoo artist Maki Hori.
Only two signature style patterns make up the entire collection noticeable by Kenji – The Goldfish….. a symbol of prosperity.
Who is Natashia Miyazaki?
Born in London, Natashia recalls her earliest years in fashion, beginning with pattern making at her mother's side. By 17, she began working professionally for Ralph Lauren as a visual merchandiser and window dresser, creating unique displays for the flagship store on Bond Street.
A short time later, she was approached by Guess Jeans and happily relocated to Hong Kong.
"I worked out of their design development department creating ideas and new techniques for the brand. After 3 amazing years in Asia, I was scouted for a design role at Nasty Gal and relocated again to LA, where I spent a couple of years designing until I decided to freelance."
After departing from Nasty Gal, Natashia freelanced clients launching their fresh brands into the market, developing branding techniques and new products while conducting art direction behind the scenes.
That's Entertainment!
Natashia is no stranger to the media attention, appearing in top designer spreads, vlogs, podcasts, and a slew of online published articles.
These last few years, Natashia has been working with celebrity clients, creating outfits for the VMAs, music videos, mega tours and broadcast TV.
Catch LilNasX in the Super Bowl Doritos commercial? That was Natashia.
PARTIAL LIST OF FAMOUS CLIENTS
LilNasX
Ava Max
Kali Uchis
Bebe Rexha
Swealee
Tayla Parx
Katy Perry
Christina Aguilera
Cherry Glazer
Hey Violet
Valentina Cy
Tyler Cole – "existential crisis boy"
Natashia Miyazaki Studios Pops
Fashion can be a complex industry to break into. Natashia knows just what it takes to create a successful, avant-garde fashion brand and shares her space with other designers with a bi-monthly pop-up.
Natashia's pop-up is a place of discovery and a great way to support local businesses.
"I wanted to have a rotating space with my studio included so I could meet with my custom clients, host pop-ups showcasing myself, other smaller emerging brands, and local designers. I want to foster a community of creatives that can rise together in the heart of the fashion district in DTLA."
Meet the emerging designers from around LA and experience local brands. The pop-up exists to give the community a chance to mingle with designers that make the clothes and enjoy the spirit of young emerging talent. On July 24-25th Natashia's pop-up featured Mara the Label, PHLEMUNS, and JoosTricot.
Natashia Miyazaki Studios  – 316 E 8th Street. LA, CA, 90014 – @natashiamiyazaki