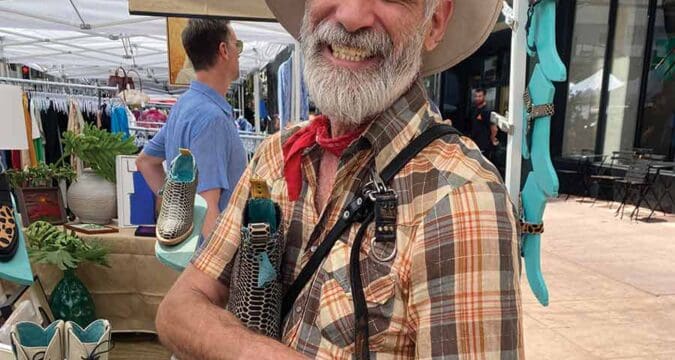 1. Summer in the City at RowDTLA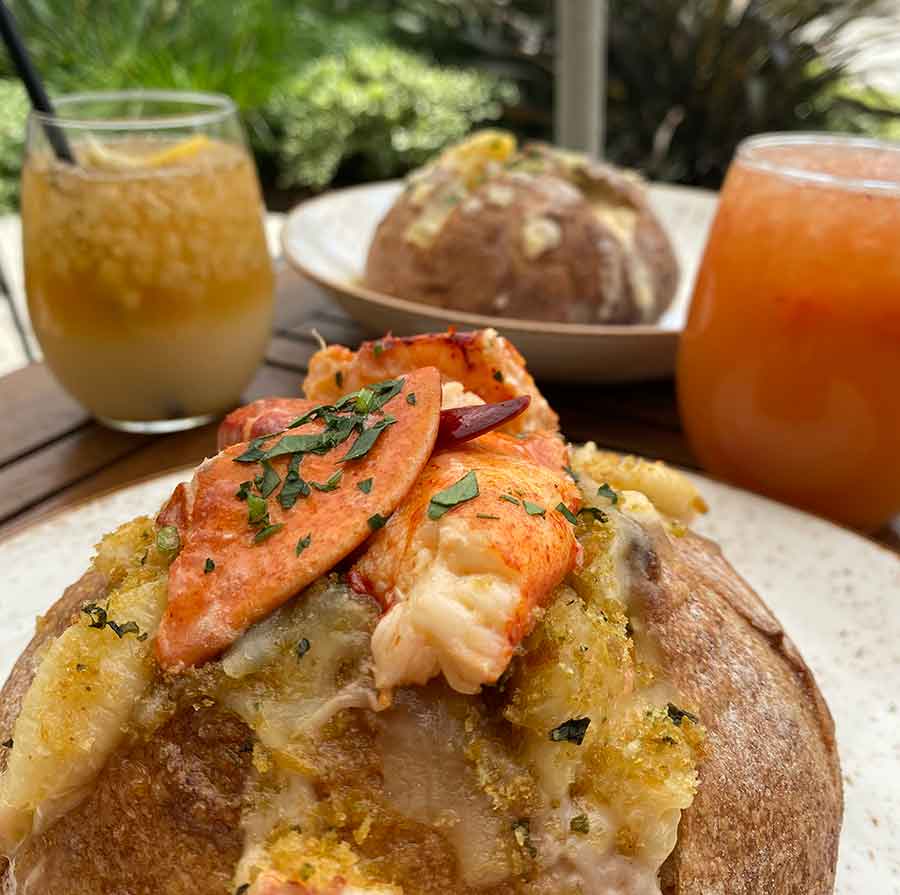 A properly set pop-up in a new location with high foot traffic can enable a brand to reach potential customers and get in front of an entirely new audience.
Summer in the City at ROW DTLA is a series of events all summer long hosted at Downtown's favorite outdoor oasis. Visitors go shopping, play, dine, and explore.
Every other Friday, from now through August 27th, RowDTLA will be celebrating Summer Fridays.
That means after regular hours, shopping continues for some artisans until midnight. This summer, Downtown can have sunny afternoons with delicious coffees and fine dining and late nights with food trucks galore, live music, and surprise special Friday night promos and specials "popping up" all summer long.
RowDTLA – 777 S Alameda, LA, CA 90021 @rowdtla
2. LA Fashion District Parklets – Relish in the Sunshine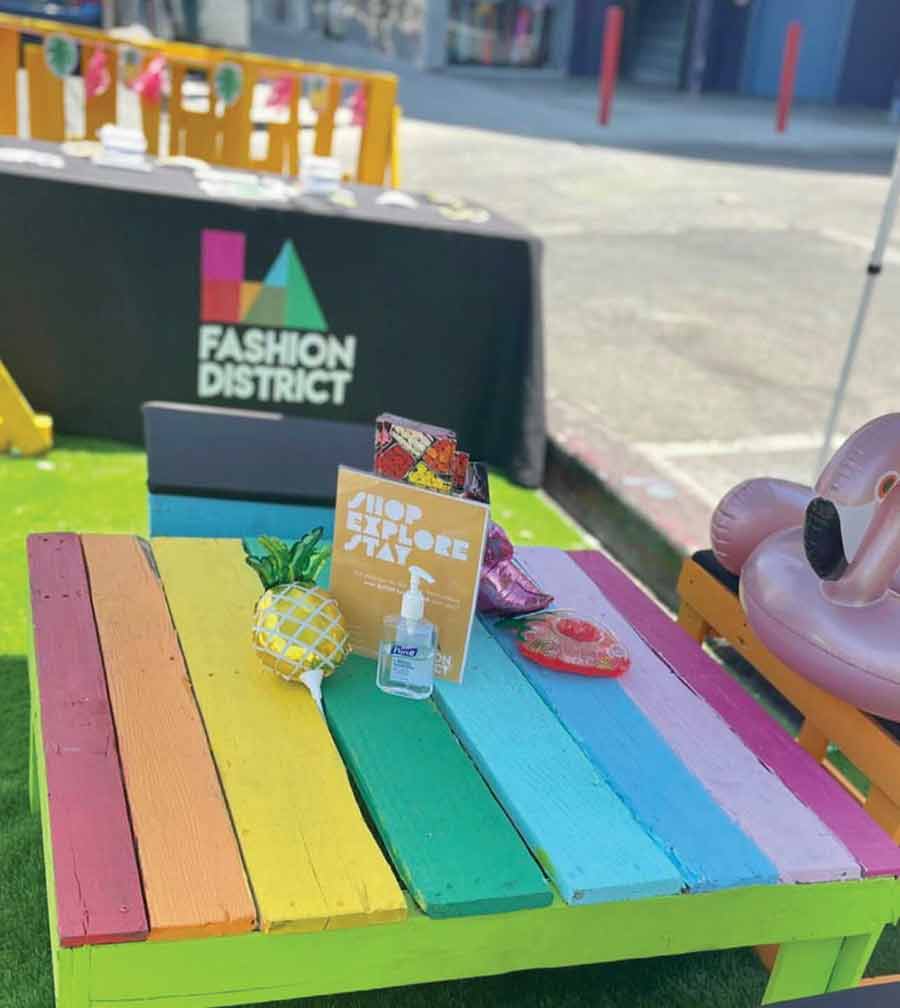 Rest for a spell with a book, a friend, or relish in the sunshine during the LA Fashion District BID – Summer Parklet Series.
Every month lookout for these colorfully designed parklets throughout the district that will be open to the public. Each parklet will include upcycled pallet furniture, refreshments, and Fashion District goodies.
This week, LA Fashion District's parklet happens Tuesday, July 20th until Friday, July 23th in front of 726 E 12th Street from 9 am-4 pm. @lafashiondistrict
3. Main Street Market
Main Street Market LA provides the community with like-minded individuals a chance to launch their brands, project business and gain valuable experience and exposure.
From 12:00 pm – 5:00 pm, every other Sunday, Main Street Market hosts various vendors from all over Los Angeles topped off with street apparel, food trucks, DJs, arts and crafts, and good vibes.
Main Street Market – 1401 South Main Street, LA, CA 90015 @mainstreetmarket
4. Natashia Miyazaki Studios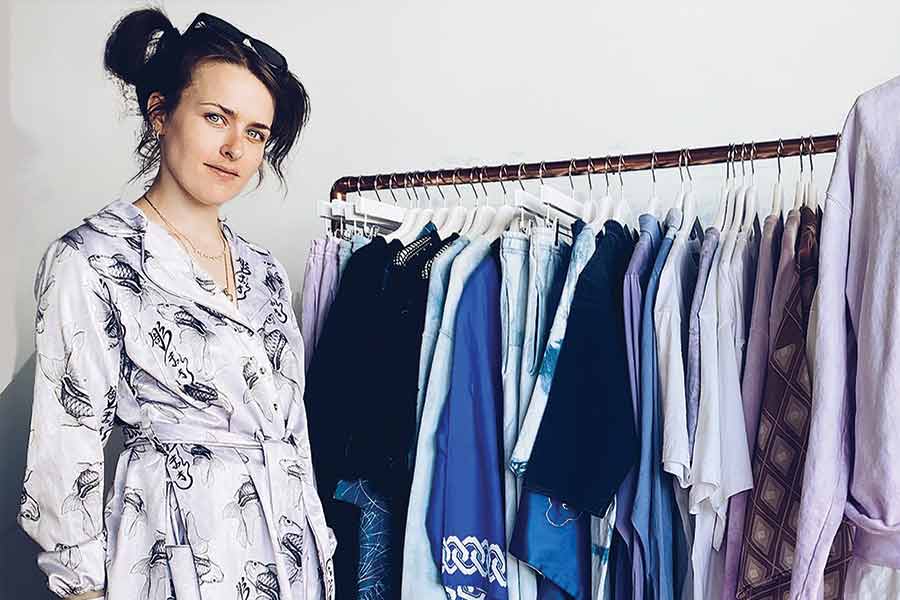 July 16th of this year brought to the epicenter of the LA Fashion District, Natashia Miyazaki Studios, a synergy of sustainable, well-made, locally sourced, uniquely designed clothing that fits amazing.
Here is also where Natashia showcases her own brand under her own name.
This season's collection is adorned with hand-drawn Illustrations created by world-famous Japanese tattoo artist Maki Hori.
Only two signature style patterns make up the entire collection noticeable by Kenji – The Goldfish….. a symbol of prosperity.
Natashia Miyazaki Studios Pops
Fashion can be a complex industry to break into. Natashia knows just what it takes to create a successful, avant-garde fashion brand and shares her space with other designers with a bi-monthly pop-up.
Natashia's pop-up is a place of discovery and a great way to support local businesses.
"I wanted to have a rotating space with my studio included so I could meet with my custom clients, host pop-ups showcasing myself, other smaller emerging brands, and local designers. I want to foster a community of creatives that can rise together in the heart of the fashion district in DTLA."
Meet the emerging designers from around LA and experience local brands. The pop-up exists to give the community a chance to mingle with designers that make the clothes and enjoy the spirit of young emerging talent. On July 24-25th Natashia's pop-up will feature Mara the Label, PHLEMUNS, and JoosTricot.
Natashia Miyazaki Studio – 316 E 8th street. LA, CA, 90014 @natashiamiyazaki
5. Vegan Depot DTLA – LARGEST Vegan Adventure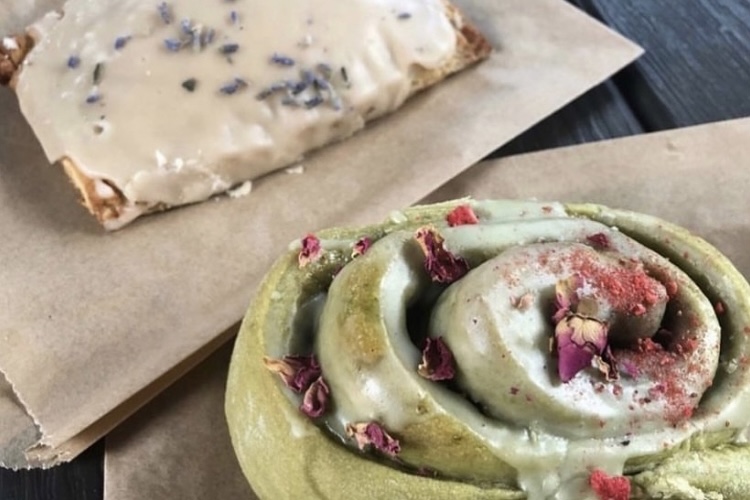 Every once in a while, a pop-up will come along with the ability to change your life.
It's time to hang out every Thursday in the Arts District with yoga, sound baths, music, activities, and a lonnnng list of seasoned, vegan vendors – all in one place.
Each Thursday until August 12th, Vegan Depot will host a weekly pop-up at 411 S Hewitt Street.
45 vendors fit nicely inside this massive outdoor event space where the sun sets over rows of organic wares, precious stones, health and beauty aids, apparel, artists, homewares, and fresh, vegan-only food and beverage stands. Nighttime is the right time, after dark at Vegan Depot as it continues under the moon with live DJs and good old craft beer.
For vegans, having the largest vegan farmer's market in a major metropolis means finally coming out of obscurity and taking their place as a valued community existing for a worthy cause. The future of all creatures on the planet.
Vegan Depot will switch to Sundays on August 15th, continuing its regular hours of operation from 4 pm to 10 pm.
For those who are not yet vegan gurus in the kitchen, visit once a week and stock up. There are now more than enough delicious vegan options in Downtown each week to sustain yourself as a courageous vegan, thanks to Vegan Depot DTLA. @vegandepot_dtla
A pop-up shop is a term given to a shop or store that is deliberately temporary. It's a store that "pops up" for a limited period to achieve a particular goal. As powerful as eCommerce can be, nothing compares with a physical face-to-face interaction.
6. Pop DTLA – It's Not a POP Up – It's a Lifestyle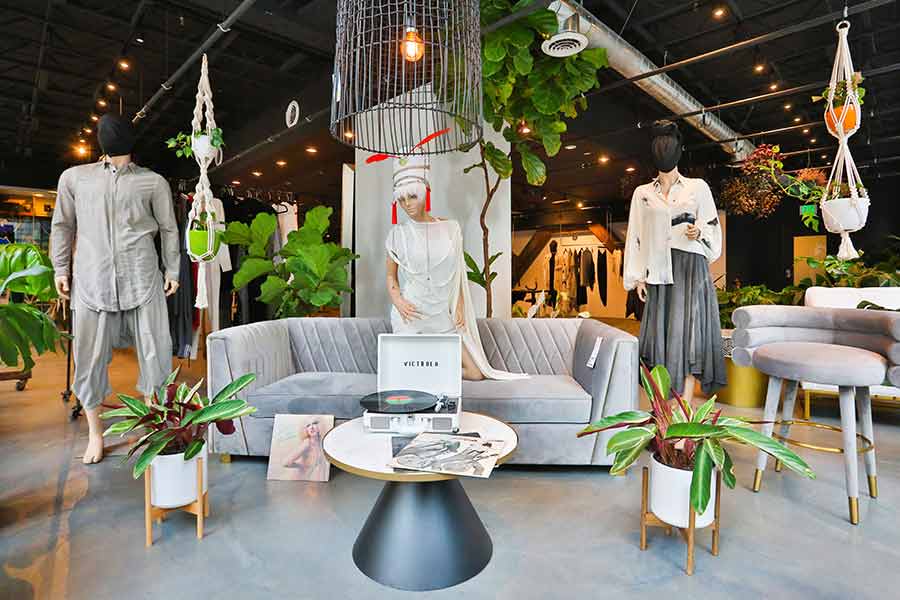 At the tip of Fashion District West, located on the Southwest corner of 9th and Broadway is POPDTLA.
Mirroring the likes of Fred Segal and Ron Herman, PopDTLA consists of a quartet of community vendors selling an elaborate display of art, furniture, wellness, fashion, plants and lifestyle items.
Weekend highlights may include special events, art shows and community mixers, refreshments, a returning mobile kitchen, outdoor patio seating and mix of eclectic tunes as welcoming as the store's keepers.
Once a boarded-up storefront hid behind the remnants of a treacherous 2020 before the dust started to clear, PopDTLA used a pioneering concept of turning an abandoned forefront into a local community lifestyle pop-up.
In doing so, PopDTLA not only became the inspiration for other neighboring pop-ups but a community gathering hub of familiar faces long-missing since before Covid season.
Open daily from 11 am to 7 pm, several months later, PopDTLA continues to stand as the premier community-driven lifestyle pop-up in DTLA.
In the near future, POP DTLA is looking to expand into other downtown storefronts. Expect other vacant storefronts awaiting long-term tenants to become temporary storefronts. It's an earnest way to create a buzz for the property and attract new tenants. A concept used in the past with art galleries, now reinvented with community-driven lifestyle pop-ups. POPDTLA 901 S Broadway #100 – Los Angeles CA 90015 @popdtla
7. Here & Now – Please tell us there will be the Eggnog!
Here and Now has already started spreading Christmas Cheer. The windows are frosted over with snow, and are reefs and mistletoe abound.
And, Why? The highly relevant cocktail lounge on the Mateo Strip bar is in the spirit of giving.
Here and Now has partnered with PATH (People Assisting the Homeless) for this Annual Donation Drive.
From now through August 1st, Here & Now will be collecting donations in the form of toiletries.
Come for the cozy jolly of specially prepared food and cocktails but don't forget to leave your quart-size Ziploc bag filled with toiletry items on the table for Santa. He will make sure the elves get them to the right hands, after they get over their hangovers.
We hear Mrs. Clause is one heck of a mixologist. @hereandnowdtla
8. Filled Market – Well of Filipino Culture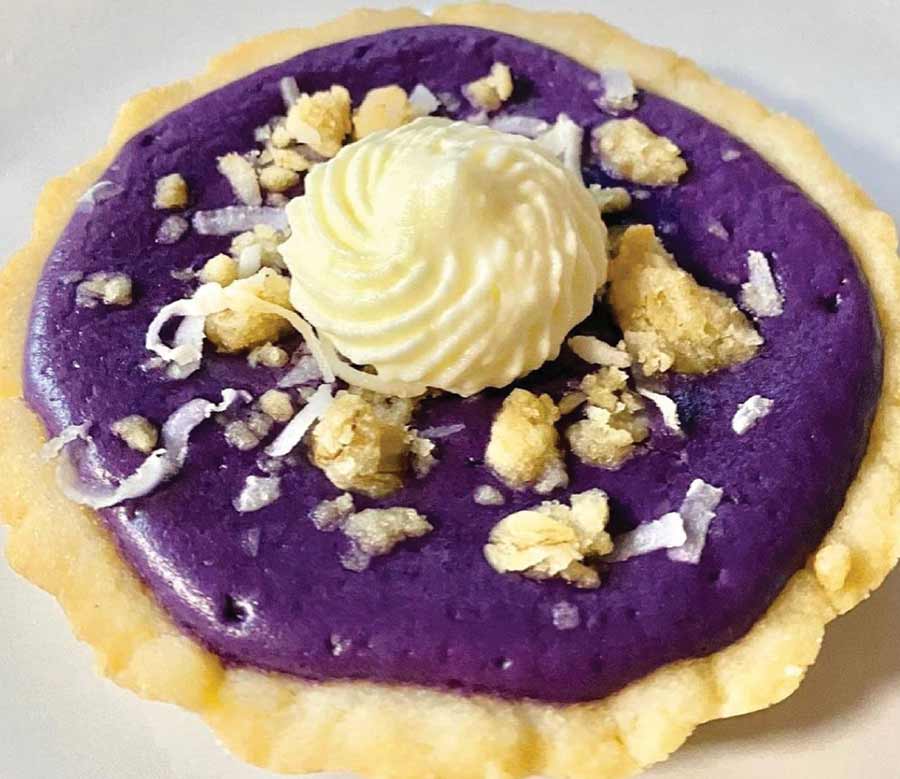 A good pop-up should always provide its street or the neighborhood with an exciting or rare attraction.
It seems The Arts District has traded in some of its territories in exchange for some delicious Ube.
Filled Market is one great big delicious welcome for anyone visiting this open-air pop-up held Sundays in what's now known as the Manila District.
Enter the enclave event space at 1801 E. 7th Street and discover a curated list of vendors dedicated to sharing the vibrantly growing FilipineX experience, offering everything from Ube Ice cream and cookies to gourmet pork skins and noodles. Let's not leave out the growing line to the fully-fired chargrilled lobster.
From 11 am to 4 pm the Filled Market comes alive with the comforts of the Philippines. @filledmarket
9. Ninth & Broadway Pop Up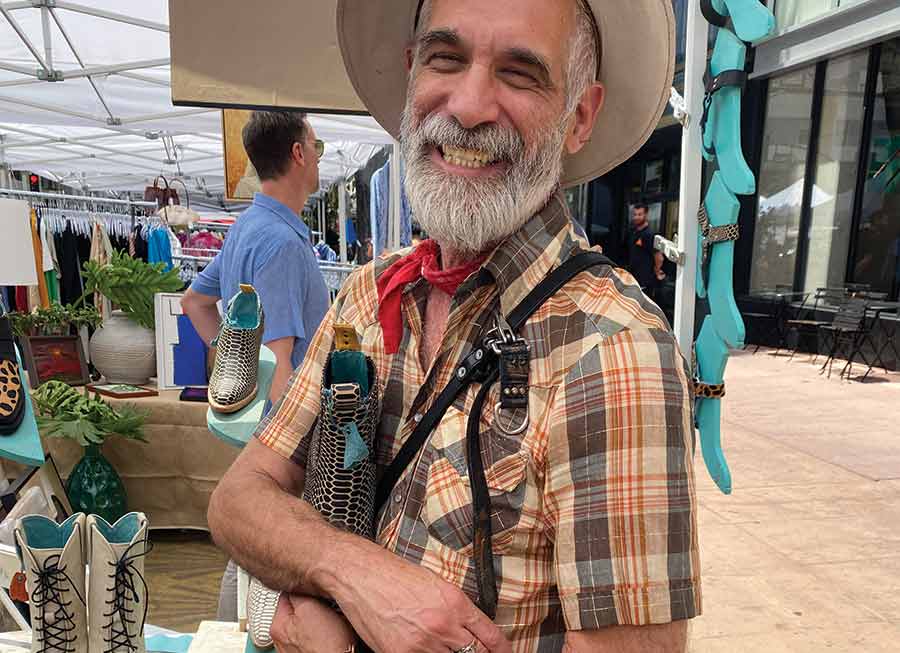 The iconic Eastern Columbia building on 9th & Broadway serves as a backdrop for this monthly curated market. Consisting of seven to ten neighboring showrooms turned street vendors, each offering one of a kind high-end wares and innovative designs.
Local artisans produce the event in conjunction with the Swedish coffee shop nestled on the ground floor of this lime green art deco/terra-cotta architectural marvel, erected in 1931.
Coupled with the existing fan base of the already popular cafe, 9th & Broadway Pop Up quickly became a DTLA destination offering relaxed conversations and study with a genuine pop-up market experience for its immediate Downtown neighbors.
Tree and tent tops provide the perfect shade for this group of locals, with enough space inside each booth to feel the summer breeze.
10. DTLA Marketplace Coming August 1st
This pop up supportssmall business and artisans at the same time inviting the community to shop, relax, recharge, and reflec. The pop-up is set outdoors from 11am until 4pm at Metropolis, DTLA's City Within a City. Coming August 1st. 1100 Olive Street, LA CA 90015. @dtlamarketplace