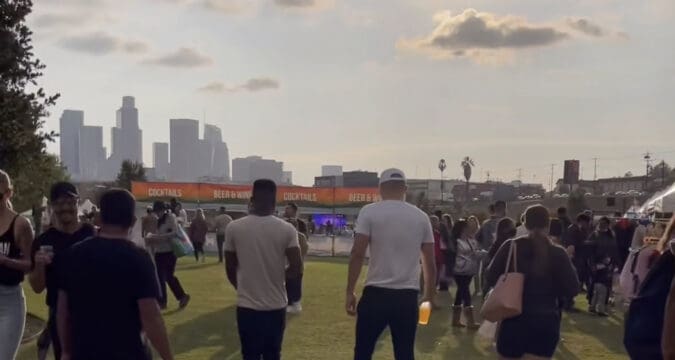 Every day is a good day to enjoy food, fun and adventure in the great outdoors of downtown LA.
All hail Grand Park.
Downtown LA's go to for rest and relaxation, outdoor music, and multi cultural festivities is now open during regular operating hours everyday, from 5:30 AM – 10:00 PM.
Throughout Grand Park, open spaces are available not only for casual sitting and leisurely strolling but also for civic gatherings including last weekend's 2nd Annual Indigenous People's Day, and the upcoming return of Día de los Muertos—Day of the Dead.
The 12-day public art installation, presented in partnership with Self Help Graphics & Art, will take place from October 22 through November 2, 2021, inviting park-goers to contribute to the community altar, created by 2018 NEA National Heritage Fellow Ofelia Esparza, with options to stroll through the park to view 20 altars made by professional artists and local community organizations. Grand Park is fun abound all year round.
What Goes Up Stays Up at The Music Center.
The Music Center Seems to always be evolving into a greater version of itself. Rolling with the Covid punches the music center's new set up caters to outdoor performance art suitable for the entire community to you enjoy sprinkled with interactive events that allow dance, literal expression and classical music.
This month, the Music Center hosts three separate exhibits planned to take place under the LED screens of the newly remodeled outdoor Jerry Moss Plaza.
Coming soon, Season 3, of For The Love Of L.A. highlighting the broad and expansive array of Angeleno creativity across diverse disciplines and geographies.
New artists and works of art will be posted every Tuesday. Including the literary works of local author Chiwan Choi, and L.A. native and Grammy-award winning musician Tylana Renga Enomoto.
Umbrella Fun with UP!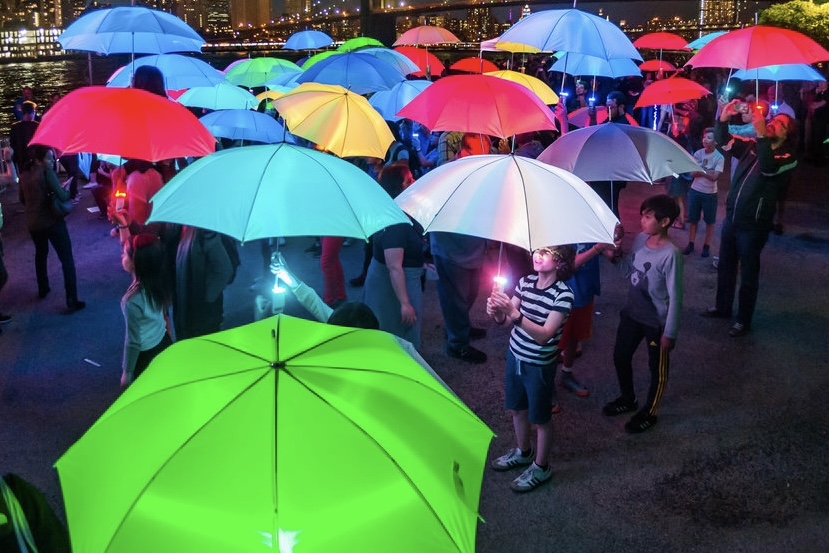 Outdoor umbrellas bring prosperity as participants become part of the creative process in a large-scale, live nighttime event using LED umbrellas. Based on prompts, participants will create different configurations by changing the colors of their MIT-designed umbrellas, showcasing a shifting landscape of brightly colored figures within a one-hour sessions. Up begins Thursday, October 21, Friday, through Saturday, October 23, 2021. The Music Center continues to shine bright throughout the night.
Pup A Ween at LA Historic State Park.
Halloween is just not for kids anymore. In Downtown Halloween puppies too. This weekend, Pup A Ween is taking place at LA Historic State Park in Chinatown. Promising a day of fun for dogs and dog owners like some of the funniest pet costumes you'll ever see an Downtown Los Angeles.
BIG OUTDOOR VEGAN FUN.
DTLA is now 100% certified vegan friendly. To prove this point, exhibit A, Vegandale coming this weekend to the LA Historic State Park.
. Get ready to enjoy live music, games and prizes, vegan German food, and everything from pretzels to imported vegan beers.
Serious DTLA Vegans know a vegan lifestyle is not only healthy for the planet, it's also delicious. If Vegan Oktoberfest is not enough vegan goodness for you, head over to Vegan Playground every Wednesday at Boomtown Brewery for a weekly dose of vegan favorites.
Guess who's back?
Now in the works, Vegan Depot will be coming to Persian square in early November helping produce Latinx Festival, with an all vegan vendor lineup.
Vegans everywhere are invited to join the #DTLAVegan Facebook group and post upcoming events, photos and discuss just about everything good for the animal kingdom.
Haunted Little Tokyo
The Little Tokyo Ghost Club is bringing Haunted Little Tokyo to the great outdoors this October 16th and 17th.
This Supernatural "Block Party" is sponsored by Brunswig Square, Café Dulce, and Wolf & Crane, will be held at a secret location known only to those who Rsvp.
Haunted Little Tokyo promises to be a Spooktacular event loaded with guest DJs, food and drinks, a pumpkin patch and a full blown Halloween costume contest.
The festivities begin October, 16th with an all free day at Japanese American National Museum and the East West Players and Rogue Artists Ensemble presentation of "Kaidan Project: Alone the Alley is Haunted", an intimate ghost encounter where your choices propel you through a terrifying adventure confronting tormented, lost, and trickster spirits.