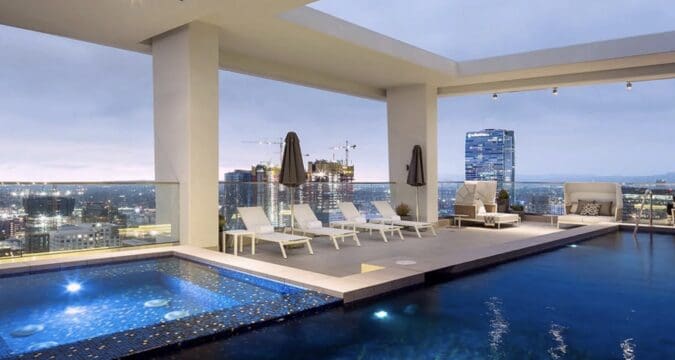 Welcome to the sun-soaked realm of Downtown Los Angeles rooftops, where breathtaking views, live entertainment and tantalizing cocktails await. From luxurious escapes to vibrant party destinations, here's 10 Great Places to take a dip, and a sip…
Panoramic city views define the rooftop pool culture here in Downtown LA.
Greatest Outdoor Decor: Hotel Perla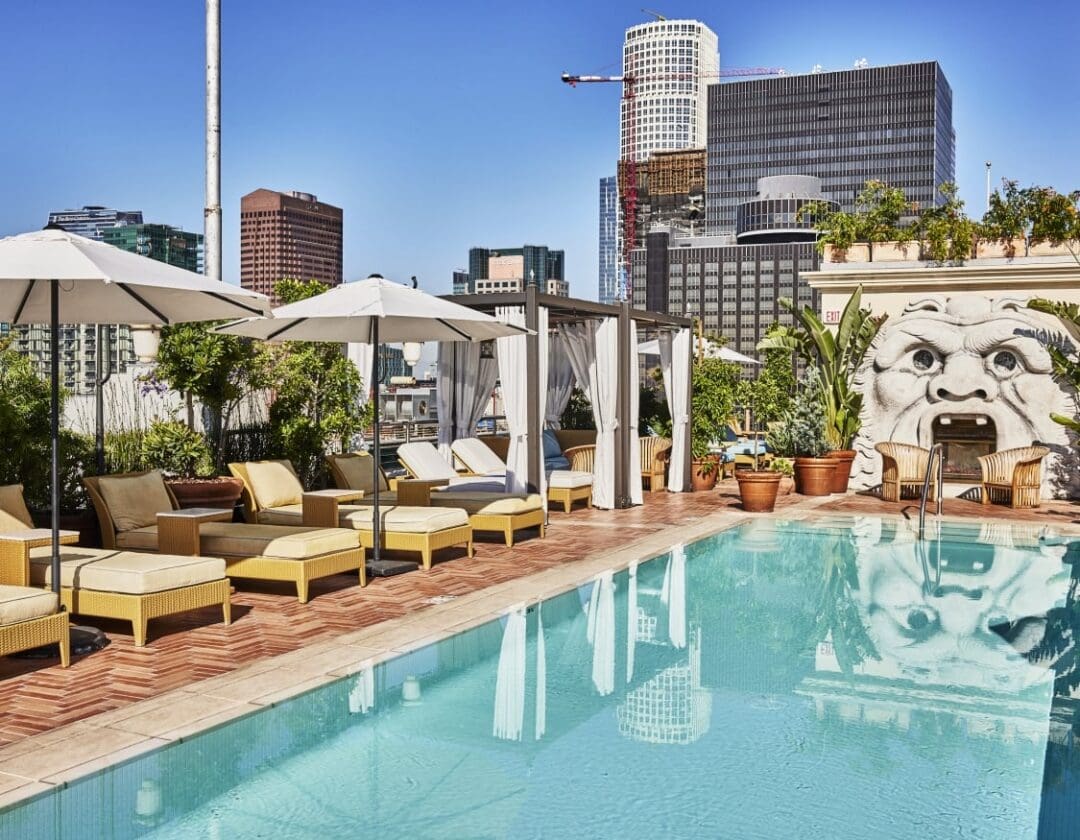 Photo Courtesy Hotel Perla
Step out of the elevator and into history thanks to the vibrant outdoor poolside of Hotel Per La. Located atop the Giannini Building built in 1922, on 7th and Olive, the building, once the headquarters of the Bank of Italy, now houses a modern and inclusive hotel welcoming everyone to Bar Clara Swim Club on the rooftop.

Every Saturday at Bar Clara Swim Club, from 1 pm to 7 pm, visitors submerge themselves in the sounds of talented DJs spinning tunes by the pool. This dynamic fusion of music and water creates an ambiance for relaxing in mini cabanas just a perfect blend of unwinding and letting loose. The view offers an almost obstructed 360 degree view of the Financial District of Downtown. With only the welcoming open mouth of its stoned-carved God/ lifeguard keeping an eye out for the study stream of Hotel Perla worshippers.
Greatest Place to Meet New People: The Ace Hotel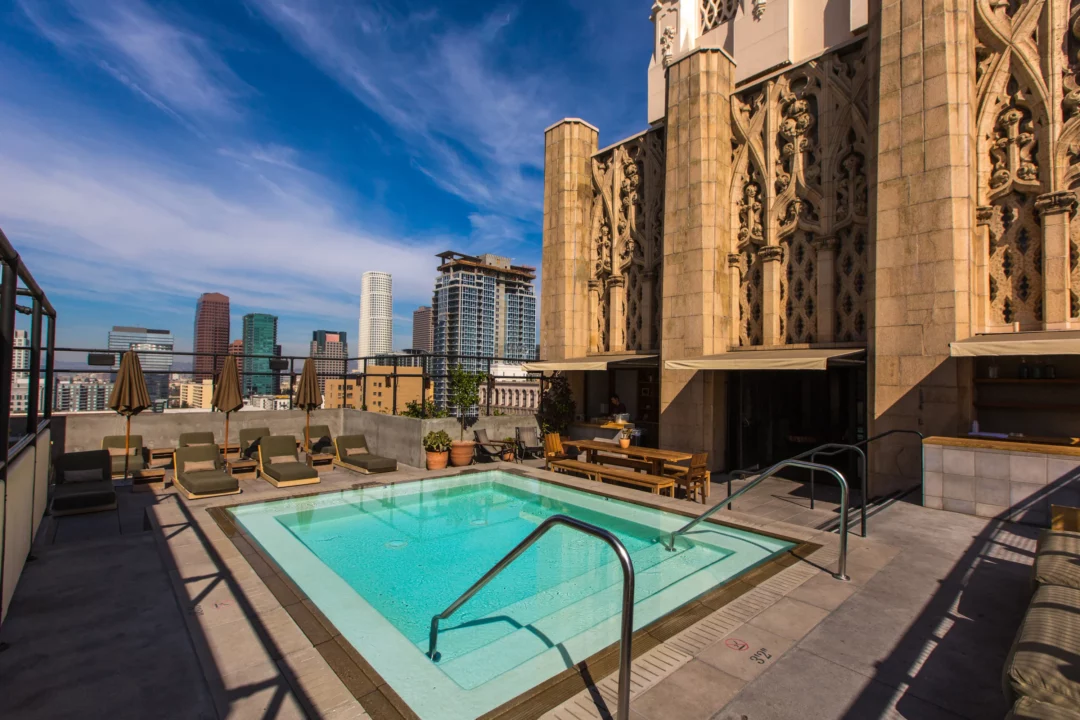 Located upstairs at the Ace Hotel, formerly the United Artists Theatre opened in 1927. At 13 stories Upstairs at the Ace may lose some of it historically goth like features designed by Walker and Eisen intentionally to look like a catholic steeple, with the exception of the pool side space, boasts breathtaking views of South Park and glimpses of Westlake and The Fashion District, all thanks to cozy cabanas that obstruct the view to line the edges. Winning the award for Best Place to Meet New People, by day, enjoy a relaxed poolside lounge experience, come night (especially on weekends), the rooftop transforms to capacity with an event-filled bar and mix of eclectic DJs.
Greatest NIGHTTIME ROOFTOP View: Broken Shaker at Freehand Hotel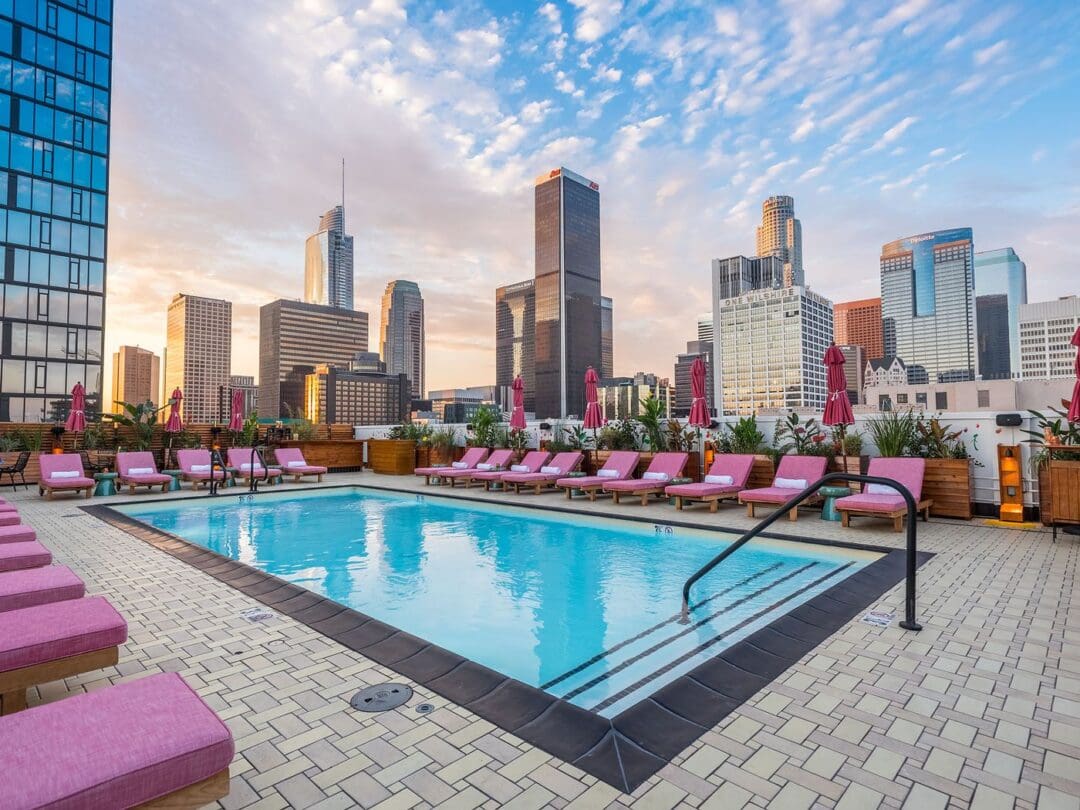 Photo Courtesy Broken Shaker

Shining through the darkness is the nighttime electric blue pool at Broken Shaker. Located atop the historic Commercial Exchange building on 8th and Olive, their rooftop pool deck, comes adorned with colorful chairs, murals, light bites and strong cocktails. Taking the prize for best rooftop view, Broken Shaker allows DTLA skyscrapers provide an electric backdrop under the sun, moon and stars. Looking west toward the giants of Figueroa, while the pool is exclusive to guests, the rooftop bar is open to all.
Greatest in Luxury: Ritz Carlton, LA LIVE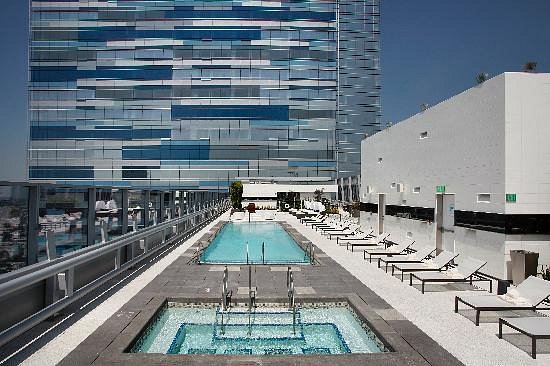 Photo Courtesy JW Marriott/Ritz Carlton
This rooftop retreat is reserved for the hotel's esteemed guests, Ritz-Carlton pool, located on the 26th floor, offers an exclusive experience to enjoy an outdoor heated swimming pool and Jacuzzi. The elevated position provides breathtaking panoramic views of the city, stretching from the majestic mountains to the shinning sea.
Relax and unwind in ultimate luxury surrounded by stunning vistas all while enjoying the impeccable service that the Ritz-Carlton is known for. Sip on refreshing beverages and enjoy the finest culinary delights served directly to your sun lounger in the an atmosphere of sophistication and refinement fully immersed in the serene waters, providing a refreshing respite from the bustling city below.
Greatest Day & Nighttime Party Rooftop Pool: The Mayfair Hotel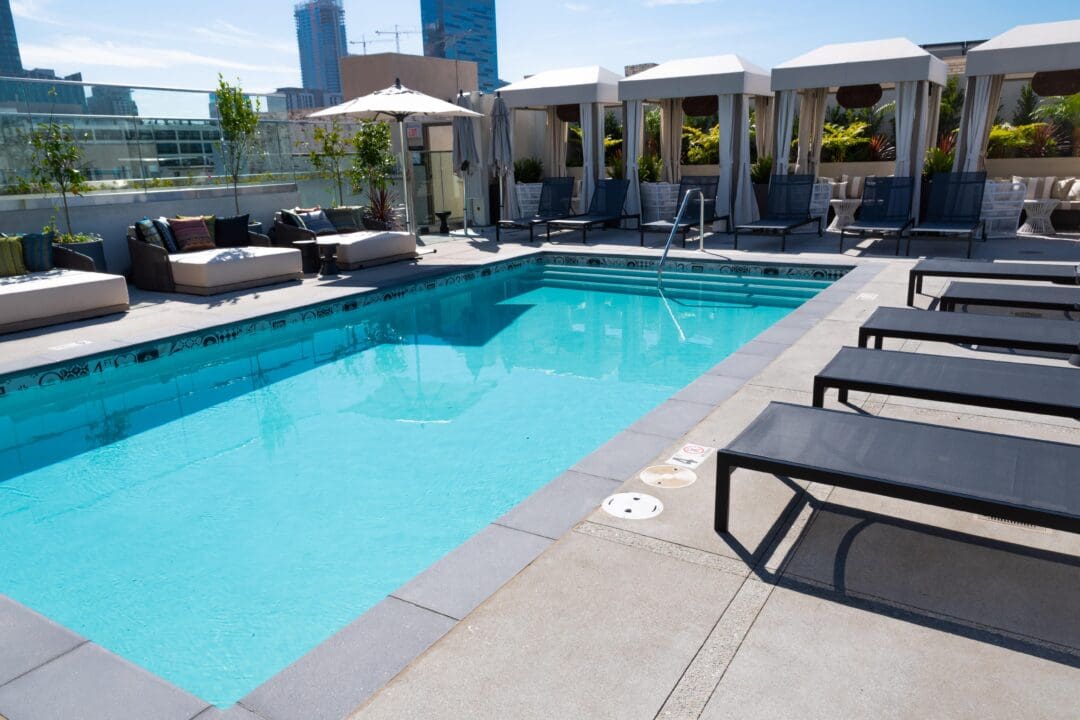 Photo Courtesy Mayfair Hotel

The Mayfair Hotel, standing tall at 15 stories, offers an elevated rooftop experience with captivating views into the Finance district from Downtown LA's Westside. Built in 1926, the hotel has managed to keep its roaring 20s flare thanks to enormous rejuvenation efforts which took place pre-Covid. Almost every summer since The Mayfair has hosted a rooftop shindig worthy of praise. This summer, DTLA braces itself for LA's first-ever Bollywood Pool Party, AfroBeat Vibes, Burlesque an unforgettable celebrations of music, dance and elevated hospitality.
Greatest Day Time View: Level Hotel: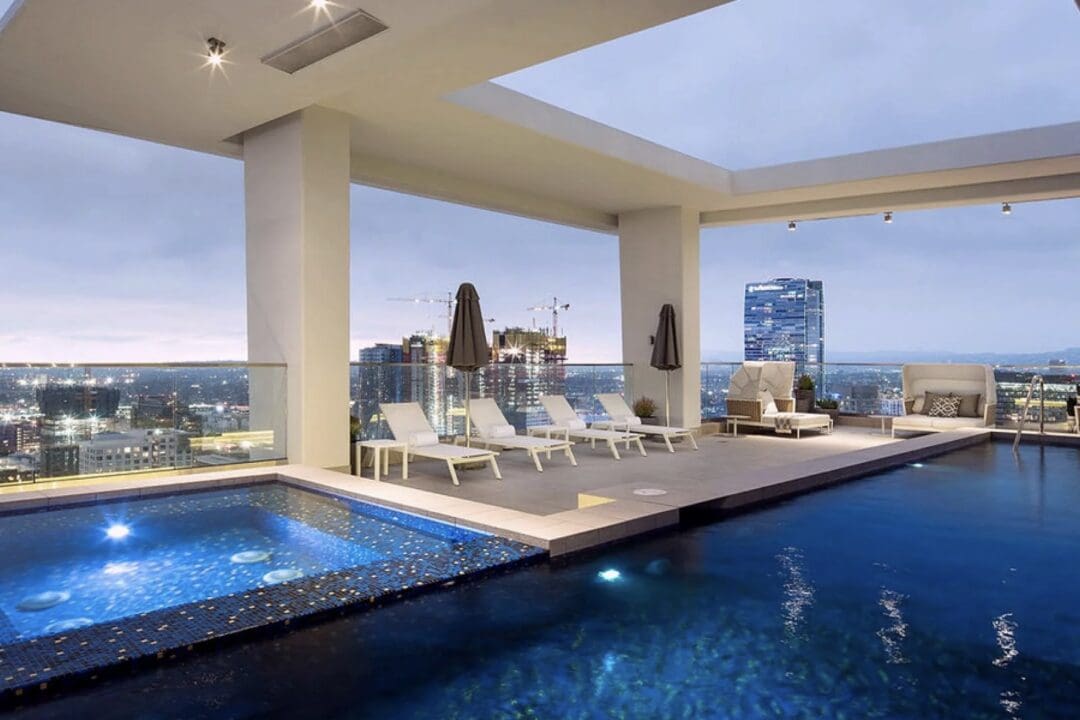 Photo Courtesy Level Furnished Living

The Penthouse at Level Hotel is reserved for private events only, yet remains the epitome of luxury rooftop pool adventures in downtown Los Angeles. At 33-levels up, DTLAs highest rooftop pool deck with its hot tub, and plethora of indoor and outdoor amenities offers city views that go on forever truly breathtaking from every angle.
Greatest Residential Rooftop Pool: Park Fifth: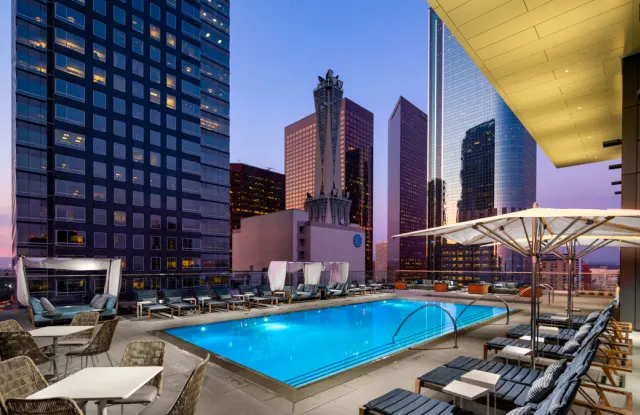 Photo Courtesy Park Fifth Towers

As a couture high-rise residence, located on 5th and Hill, Park Fifth offers a signature rooftop pool retreat with 360-degree views of the Historic Core, with a birds-eye view and just eardrum away from the Summer festivities of Pershing Square. Nothing says relaxation than looking up at the stars while floating on your back high above the city.

The height of the 24-story residential oasis gives the perception the pool is 24 stories deep as onlookers find splice inside the rooftops resort-style cabanas. This lavish rooftop comes complete with BYO anything vibes, an BBQ grill, dog park, and community room with pool table and big screen TV. Park Fifth's rooftop experience is accompanied by designer units, tailored services, and an array of amenities that create an unparalleled cosmopolitan lifestyle. @parkfifthtower
Greatest Food & Beverage Program: The Hoxton Hotel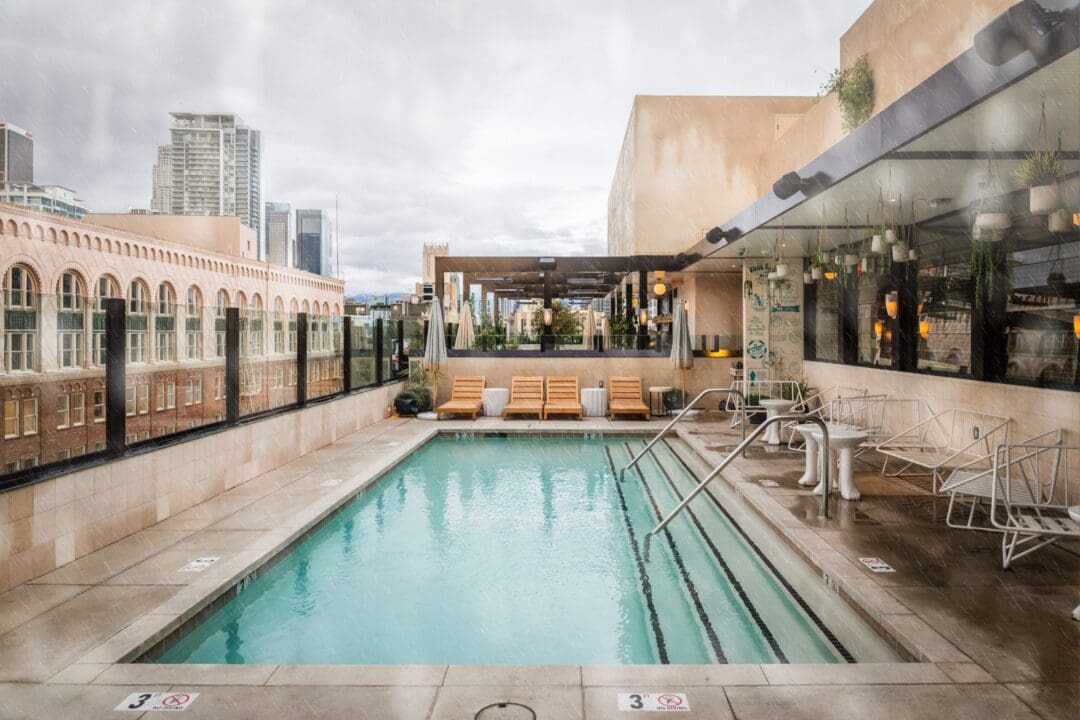 Photo Courtesy Hoxton Hotel

The Hoxton rooftop for a laid-back experience with specialty cocktails and tasty bites boast a sustainable rooftop restaurant 10-stores up run by renowned Chef Stephanie Izard. Cabra shares the skyline view with The Sunset Pool Deck offering a summer oasis with views of Broadway and far into East Los Angeles. No reservations are needed, to enjoy parts of the Sundeck pool, restaurant, rooftop lounge combo with stunning surroundings, but they are highly recommended for this high hotspot under the sun.
Greatest Potential: AC Hotel
Perched on the 8th floor, the AC Hotel presents the Best Potential for what could become the most highly anticipated rooftop pool deck in downtown Los Angeles. Missing the Grand Opening of the AC and Moxi Hotel and still much under construction is Level 8, a smorgasbord of restaurants currently slated to open early Fall.
This exciting new development promises to captivate the DTLA palate for years to come. Boasting a diverse range of restaurants, Level 8 with its upcoming rooftop pool experience and panoramic views of LA Live and East Los Angeles, will become one more modern blend of relaxation and urban atmosphere, inviting visitors to bask in the sun while soaking up the vibrant ambiance of the city.
Greatest Treasure: New Delphi Hotel
Currently undergoing renovations, the New Delphi Hotel (formerly The Standard) offers a trendy and stylish atmosphere encased high above ground level by DTLAs electric wonderland. While the rooftop pool, cocktails, dance floor and Djs may be temporarily unavailable while developers continue adding the finishing touches, most of DTLA still remembers the times of elation spent splashing away after a few cocktails when the hotel was The Standard.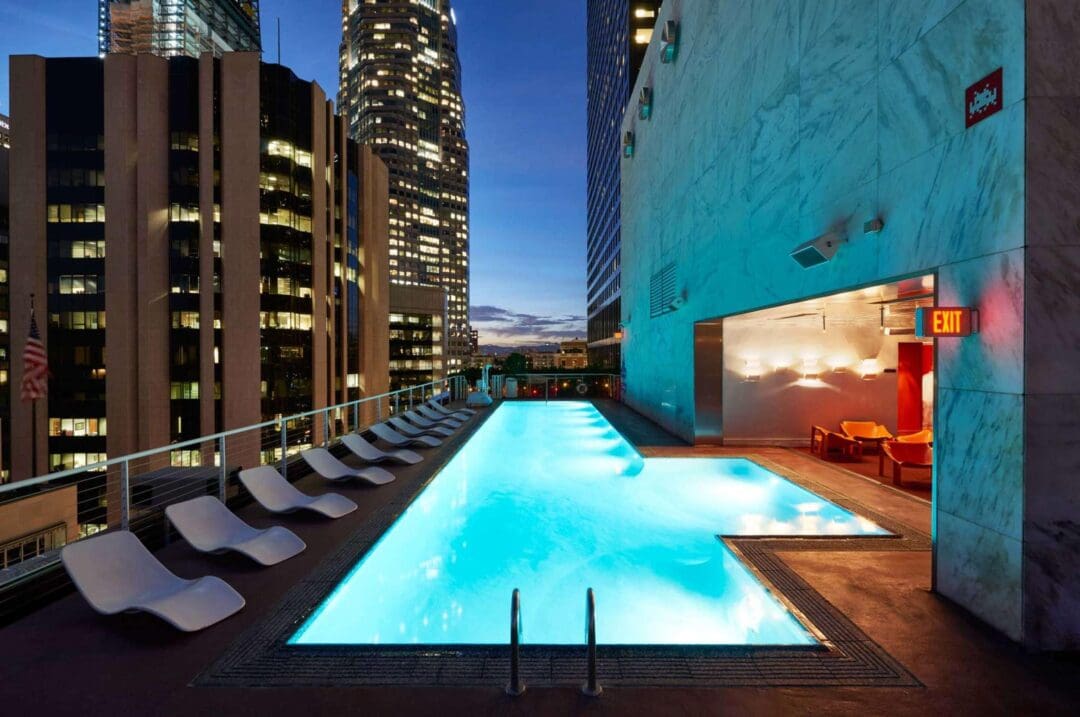 Photo Courtesy Perla Hotel

Keep an eye out on www.dtlaweekly.com for updates on its reopening and the exciting rooftop events that will surely bring back the vibrant energy to this iconic hotel.