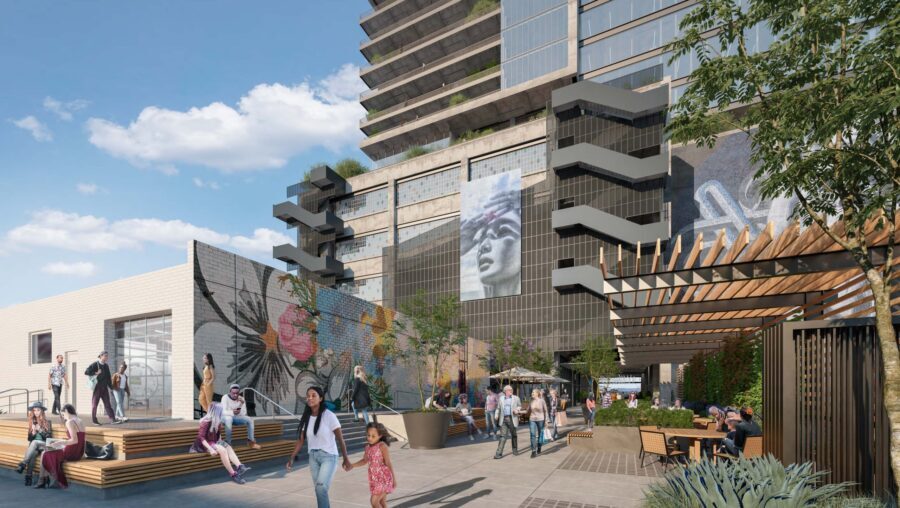 A brand new 350,000-square-foot speculative ground-up creative office project is planned for construction in Los Angeles' Arts District, a neighborhood continuing its transformation into a true live/work/play community through an influx of fashion, media and entertainment, and tech tenants.
Owned and entitled by Los Angeles-based Legendary Group, the 17-story Class A project named Above will consist primarily of 311,000 sf of office space on 12 floors plus 22,000 sf of ground floor production, retail, and/or food & beverage space. There are also three levels of subterranean parking and four levels of above grade parking. Above is anticipated to begin construction in mid 2023 with an estimated delivery in early 2026.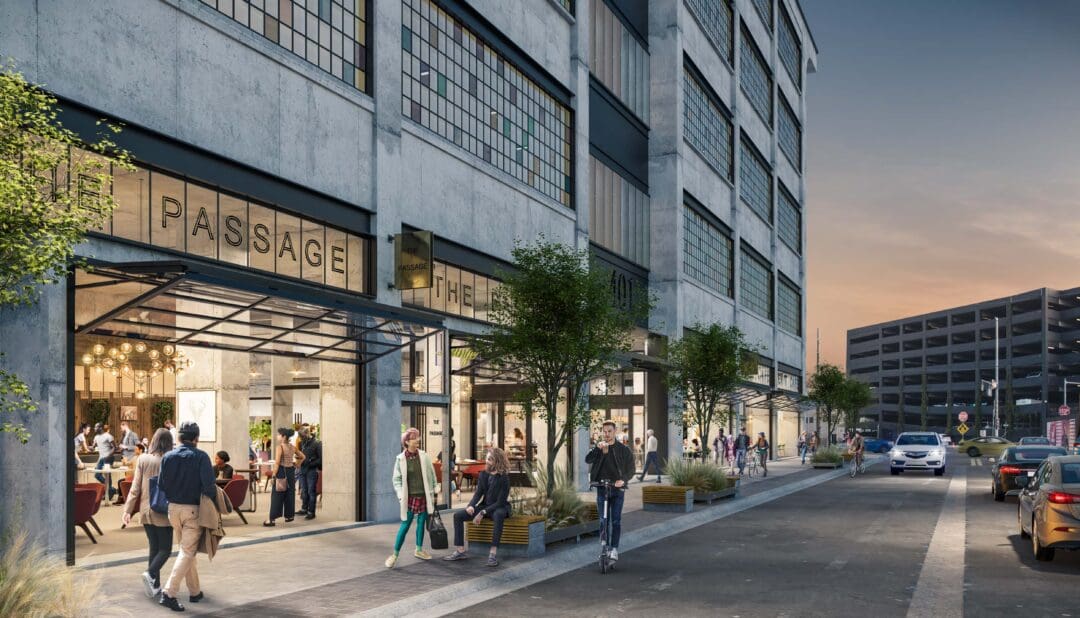 Legendary Group, together with Brookfield Residential, also developed The Aliso mixed-use project in the Arts District. Consisting of five low-rise buildings featuring 472 live/work residential units over 22,000 sf of ground-floor commercial space, The Aliso was built in 2019 and has enjoyed great leasing success.
Mike Condon Jr, Brittany Winn, McKenna Gaskill, Pete Collins and Scott Menkus with Cushman & Wakefield in Los Angeles have been retained by The Legendary Group to lead leasing efforts for Above.

"New developments such as Above, along with under construction projects like 2130 Violet, and 520 Mateo look to be the next wave of modern high-rise projects, propelling the Arts District beyond a mom and pop, adaptive reuse market into what should be the top tenant attracting market in all of Los Angeles," said Mike Condon, Vice Chairman.
Located at 411 S Hewitt St, Above will be a one-of-a-kind project with modern amenities and design functions, including one super floor, private outdoor patios on every floor, floor to ceiling glass, 360-degree views of Southern California, and a breezeway providing direct access between Hewitt St to Colyton St.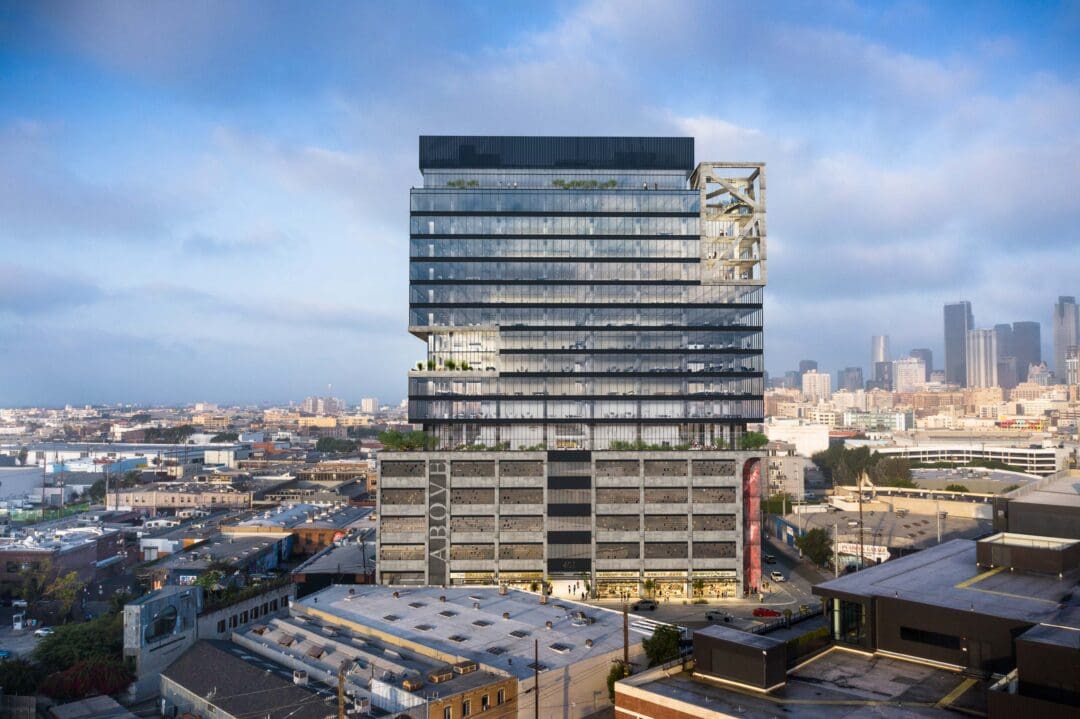 Rendering Courtesy: Cushman and Wakefield
"The project is equipped with multiple, high-clear spaces on the ground floor and throughout the stack, which is tailored toward an explosion of production and creative tenants in need of space with volume," said Brittany Winn, Sr. Director. Winn further noted, "Of the 4 million square feet of new inquiries we have seen over the last 12 months in the Arts District, over 25% of these requirements have included a need for high clear space and Above has been designed to meet the demands of the market."
The property is strategically positioned within walking distance to numerous retail, dining and entertainment amenities while the headquarters of several high-profile tech companies also surround the property. The location also provides quick access to a centralized freeway network.
The Above project development team consists of Legendary Group, led by Surj Soni and Dilip Bhavnani and designer Gensler, with Eric Stultz as Project Lead. The project team also includes Edgar Khalatian with Mayer Brown and Travis Cullen/Johanna Falzarano with Envicom.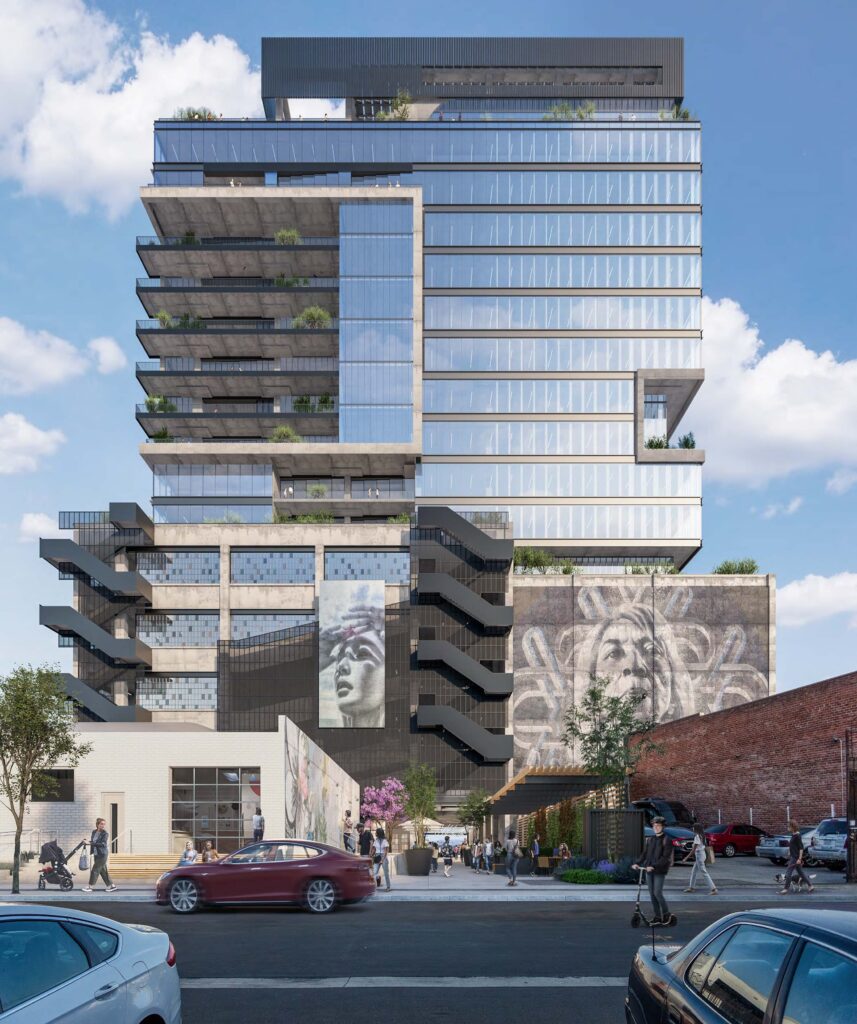 McKenna Gaskill, Associate said, "The Arts District has recently seen an emergence of tenants looking for unique creative office space as demand looks to outweigh supply—we received nearly 800,000 square feet in tenant inquiries in Q1-2022. Tenants' desire to grow their business here is stronger than ever, exemplified by several recent headquarters relocations into the area by prominent companies in a variety of industries. The Arts District is helping reshape Los Angeles from a sprawled metropolis into a city with a thriving urban core and has become a hotspot for exciting tenants to plant their flag, but also a place where people want to live and stay."