It's Official! Downtown LA has officially welcomed London's iconic BIKE SHED MOTO CO (BSMC) and motorcycle engines everywhere are roaring about it.
BSMC spans across a stunning 30,000 sq-ft historical property in the Arts District.

Sign up to receive our popular Get2DTLA Newsletter
As of yet, it's only the second location in the world where visitors can experience a full-service Restaurant, Café, Bar, and Lounge plus a 4,000 sq-ft curated retail emporium, multiple Private Members Bar, Tattoo Studio, Barbershop, and On-Site Parking for over 100 motorcycles. The only other place like it is Bike Shed's original flagship location in London.
Apparently, they are changing the stereotype of the dimly lit biker bar with dangerous motorcycle gangs ready to rip your head off over a lost game of pool, because at Bike Shed there's nothing to get testy about.
Italian-born Executive Chef Enrico Glauco (Primi, Tra di Noi Ristorante) spearheads the food experience at Bike Shed LA, curating a distinctive menu that celebrates a fusion of modern European and California cuisine – all made from fresh, locally sourced ingredients while also offering an extensive array of vegan and plant-based options.
When it comes to the Bike Shed LA's cocktail program, the Brits love of tea was not lost. The Bike Shed team worked with mixologist Kenneth Gray to curate hand-crafted, British-inspired signature cocktails that feature special tea infusions, such as the Earl Gray infused "Paper Plane," or the Jasmine infused Bike Shed "Daiquiri."
You don't have to be a biker to work at Bike Shed, but it helps!
When guests first enter through the doors of BSMC LA, they are immediately met with the warm and welcoming energy from a highly trained tattooed staff as certain about the food, amenities and hospitality as they are their treasured bikes.

Inside this beautifully converted 1945 warehouse, built out by Spacecraft Design, is where one can relax within a variety of tones, textures, and materials from Los Angeles in the 20's and 30's. It's still raw and tough however, with ribbed glass, inlaid brass, and Art Deco geometric shapes in black and gold – all overlayed with the spirit and comfort of the quintessential "British Club," such as Oxblood leather booths, banquettes, and chesterfield sofas.
The exposed brick walls are adorned with retro-modern art from LA-based British artist Conrad Leach, an early supporter of the Bike Shed since inception, and at every corner are striking two-wheeled works of art – ranging from vintage to classic to modern.
Bike Shed's 325-seat full-service restaurant, serves breakfast, brunch, lunch, dinner, coffee, cocktails, craft beer and drinks from morning until midnight (2am on weekends) and can welcome up to 100 motor bikes in the parking lot – sorry cars have to park outside!
In fact, Bike Shed is so moto-culture friendly, this place makes you want to get tatted, strap on a dome, embroider the back of your jacket and purchase a new chopper!
Let's Get Tatted !!!
Since the Bike Shed's first motorcycle show in London, 2013, showcased the best tattoo artists in the world this brand has always recognized just how connected tattoo and motorcycle culture have always been.
BSMC LA's Paintshop continues this tradition, bringing some of the most talented artists from around the world to BSMC customers, members, and guests. In-house regulars will work alongside a rotation of very special guests, covering all styles of ink in a relaxed, quality space that is comfortable for both newbies and aficionados alike. Current artists in residency include Luke Wessman, Jordan Baxter, and Mara Ohara.

The Parts & Labour Barbershop
During Bike Shed's early days, pop-up barbershops were always included in their shows and events as an established element of moto-culture and style. Now Parts & Labour has officially expanded to LA, delivering new school and traditional cuts, barbering and styling to both men and women.
Let's Get Some Gear!!!
Since inception, Bike Shed Moto Co has been a Curator of Culture – and the timeless, forward-thinking brands they partnered with to bring their new experiential Retail Emporium to life serves as the supreme manifestation of this ethos. With eight dedicated shop-in-shops being launched underneath the roof of Bike Shed's 4,000 sq-ft retail space, the show offers an exciting meticulously curated collection of apparel, gear, watches, casual clothing, streetwear, protective equipment, gifts, and accessories. With the new venue comes the launch premier British brands BELSTAFF and BREMONT and multi-brand British retailer URBAN RIDER.
Let's Buy a Chopper!
At the same time – the combination of INDIAN MOTORCYCLE, DUCATI, ROYAL ENFIELD and SUPER73 residing together under one roof represents a significant moment for moto culture as a whole, with Bike Shed LA officially becoming the first and only place in the world consumers can find these four influential and distinctly different moto-lifestyle brands trading alongside one another.


"We're proud to partner with The Bike Shed to expand motorcycle culture and deliver a one-of-a-kind moto-lifestyle experience to Los Angeles," said Mike Dougherty, President for INDIAN MOTORCYCLE. "As an iconic American brand that embraces and celebrates the passion for two-wheels, it's an honor to represent American V-twin motorcycles at The Bike Shed's North American debut."
Now, Let's Party!!!
The expansive 7,000 sq-ft atrium style event space and art gallery – which also features a dedicated VIP Mezzanine Lounge and Green Room – will be home to an ever-evolving collection of exclusive exhibitions, art shows, pop-ups, events, experiences, and anything else the BSMC community asks for. When not in use for a special event, the space will continually feature a curated mix of rotating art, beautifully crafted custom motorcycles, and vintage cars that visitors can peruse while on site – many of which are one-of-a-kind works that can only be found at BSMC LA.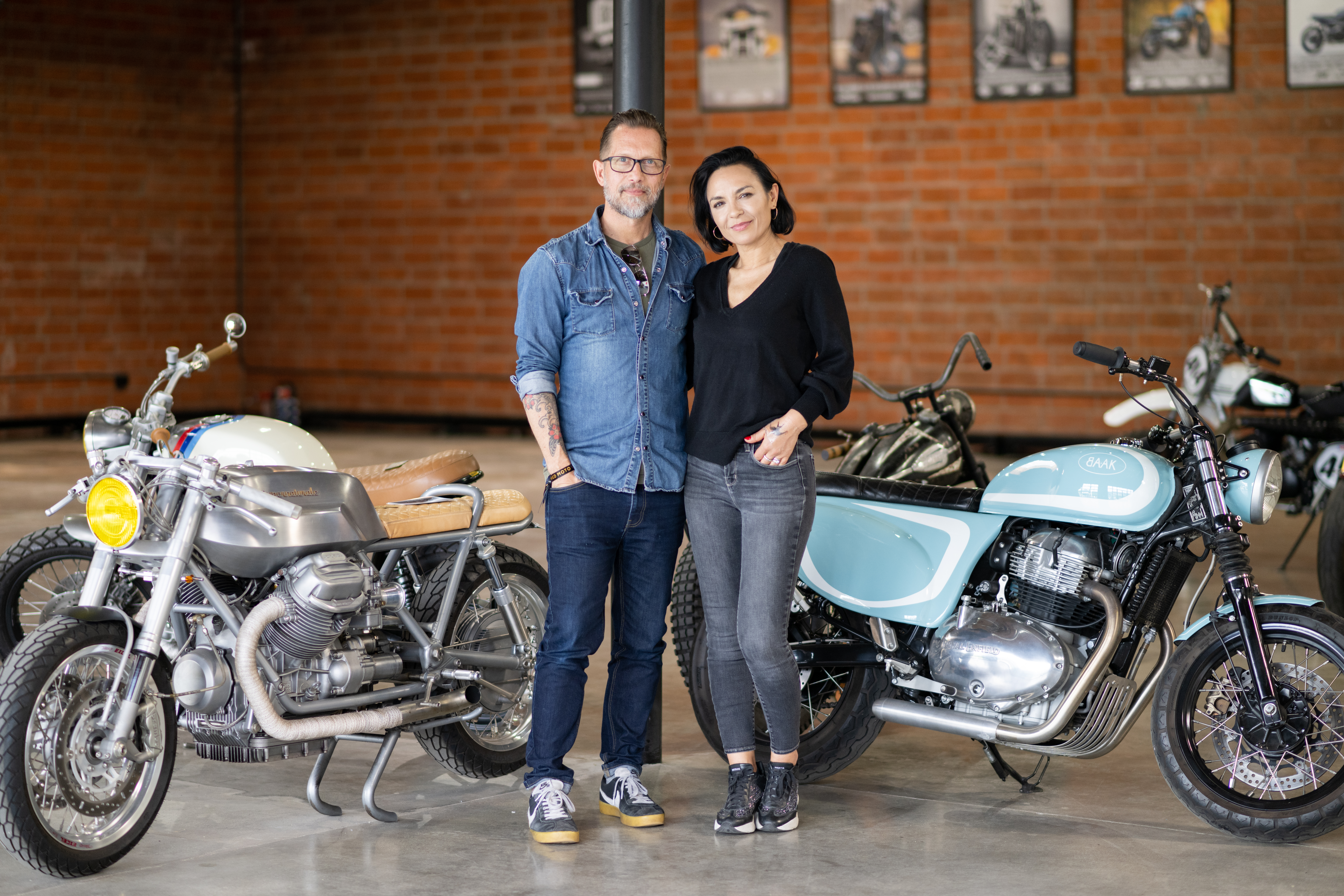 Born to Be Wild
When co-founder Dutch van Someren launched his 'Bike Shed Motorcycle Club' blog in 2011 as a side hobby to celebrate and document his passion for the bike scene – he united a community of kindred souls harboring a shared passion for the artisanal spirit, imagination, and craft that defined the emerging custom motorcycle scene.
At Bike Shed both riders and non-riders alike, can share a love and appreciation for two-wheeled culture. Meaning if you're not ready to become a full pledged member of a biker gang you can still enjoy a membership at Bike Shed.
Bike Shed's Members enjoy a members only speakeasy lounge hidden within the venue – alongside additional special perks such as free entry to Bike Shed events, personal use of the whiskey storage lockers, invitations to exclusive rides, events and gatherings, and discounts on gear, apparel, food and drink.
There you have it! A full stomach, snappy new digs, fresh tattoos, a chopper and a membership to a biker club! Let's roll out! www.bikeshedmotoco.com