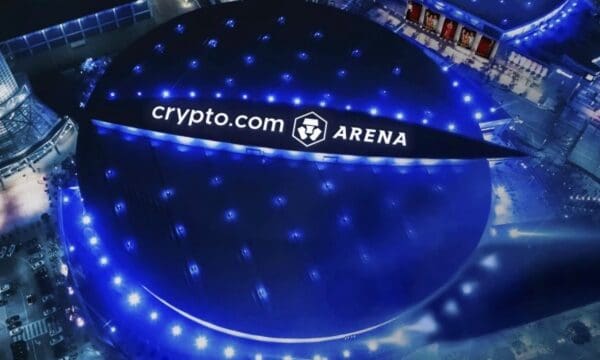 Jumping on the Bitcoin bandwagon, the iconic Staples Center will be called Crypto.comArena beginning Christmas day, when the Los Angeles Lakers host the Brooklyn Nets for an X-mas day showdown.

Sign up to receive our popular Get2DTLA Newsletter
It's rumored to be the richest naming rights deal in sports history, as Crypto.com is shelling out a whopping $700 million dollars over 20 years to rename the building.

The deal was announced on Tuesday, November 16 between AEG, the owner and operator of Staples Center, and Crypto.com, shocking the Sports world.

Staples Center is home to the NBA's Los Angeles Lakers, Los Angeles Clippers, the NHL's Los Angeles Kings and the WNBA's Los Angeles Sparks. Opening in 1999, the iconic arena has hosted 19 Grammys, three NBA All-Star games and thousands of concerts. In addition, Staples Center is where the public mourned the loss of legends such as Michael Jackson, Nipsey Hussle and Kobe Bryant with touching memorials.

Crypto.com is a cryptocurrency platform from Singapore founded in 2016. Crypto is gobbling up deals left and right across the Sports landscape. Crypto.com boasts sponsorship deals with UFC, Italy's Serie A, and purchasing the Philadelphia 76ers' uniform sponsorship patch.

The agreement obviously makes Crypto.coman"official cryptocurrency platform partner" of the Los Angeles Kings and Los Angeles Lakers.

The arena's new logo will debut Dec. 25, when the Nets play the Lakers, and all of Staples Center signs will be replaced with the new name by June 2022. There will be 3,300 sq. ft "activation space" at the building's entrance. Hopefully, the enormous "activation space" will teach myself and others what Cryptocurrency and Bitcoin actually mean?

"This partnership is about the future," said AEG President and CEO Dan Beckerman. "AEG and Crypto.com not only share a vision about innovation and the future of sports and entertainment, but we also have a shared commitment to our communities where we work and live."
At first, the public didn't quite embrace the name Staples Center, it felt awkward and a bit quirky to be named after an office supply chain store. However, the city adopted and fell in love with Staples-due in large part to winning-the Lakers led by Shaq and Kobe christened Staples Center by winning three NBA titles in a row.

The Los Angeles Kings hoisted their first two Stanley Cups at Staples Center in 2012 and 2014. While the Los Angeles Sparks have three championship banners hanging in the rafters.

Reaction to the name change has been difficult to process as many sports fans are perplexed about iconic stadiums being rebranded by corporations. Lakers point guard Russell Westbrook has a unique point of view regarding the new arena, considering he is from Los Angeles.

"Staples Center has got so many great memories, just for me as a kid growing up in L.A." Westbrook said. Yet, the superstar has perspective regarding the deal. "Regardless of the name, the building is still the building, and that's what's most important and that's all you can think about."