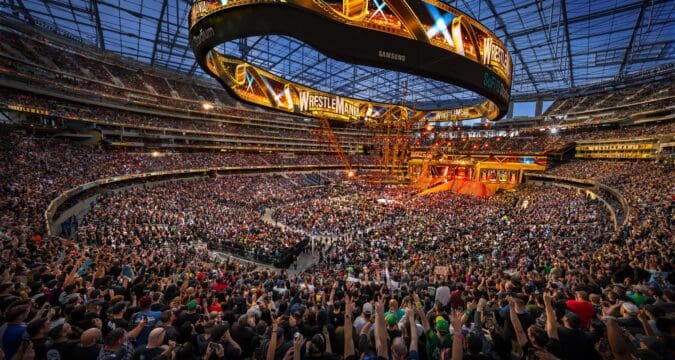 Let's Get Ready to Rumble! Working together with Downtown's Crypto Arena like a furious tag team,
The WWE WrestleMania 39 has smashed records and made history as the most-successful and highest-grossing event in the company's storied past.
The electrifying two-night WrestleMania 39 event, held at the legendary SoFi Stadium in Los Angeles, had fans on the edge of their seats with unforgettable matches and epic showdowns, but not before its yearly pre-launching party at Crypto Arena. Two days later, when the final bell rang, WrestleMania 39 had set new records for viewership, gate, sponsorship, merchandise, and social media engagement.
Night 1 of WrestleMania 39 kicked off with a bang as The Rock took on John Cena in an electrifying clash of titans that had the crowd roaring. The women's division was also on fire, as Ronda Rousey took on Charlotte Flair and Becky Lynch in a triple threat match that left the WWE Universe in awe. The legendary Undertaker returned to the ring to face off against AJ Styles in a match that had everyone at the edge of their seats.
Night 2 of WrestleMania 39 was an absolute knockout, shattering the existing global viewership record by a jaw-dropping 33 percent! Roman Reigns faced off against Daniel Bryan and Edge in a triple threat match for the WWE Universal Championship that was nothing short of spectacular.
The Raw Women's Championship
was also up for grabs as Bianca Belair took on Sasha Banks in a thrilling match that had the crowd on their feet. And in the main event of the night, The Beast Incarnate Brock Lesnar went head-to-head with Drew McIntyre in a brutal match that had the WWE Universe cheering for their favorite.
Hold on to your spandex!
WrestleMania 39 also delivered a stunning gate of over $21.6 million, breaking the previous record by a ferocious 27 percent, with an astounding 161,892 fans in attendance over the two nights! And the hits just keep on coming! WrestleMania 39 also obliterated all-time sponsorship and merchandise records, with sponsorship revenue rocketing past $20 million, more than doubling the previous record!
Meanwhile, merchandise sales at Crypto Arena were up an impressive 20 percent compared to the record set just last year.
But the excitement doesn't stop there, because WrestleMania 39 also became the most social WrestleMania of all-time, complete with a special appearance by Snoop Dogg, with over 500 million views and a staggering 11 million hours of video consumed over the two days! That's a bone-crushing 42 percent increase over last year!