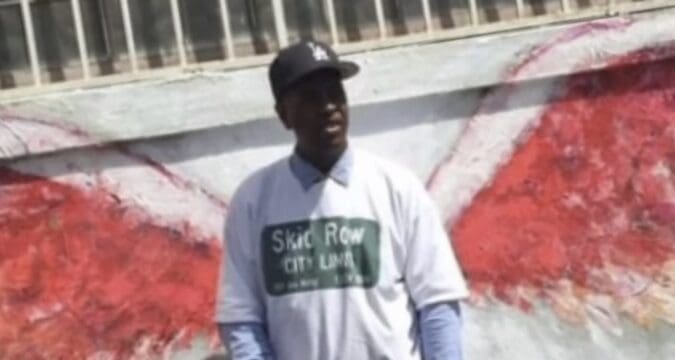 Family members have announced the date and time for Jeff's official memorial service on November 18th at the Regent Theater located at 448 S Main Street from 3 pm to 6 pm.
Friends of the late Skid Row activist General Jeff Page have been gathering to pay homage to his life with memorial services held throughout Los Angeles.

In the days following his passing, friend and Pastor Cue of Church Without Walls dedicated his church ceremony to honor the life and works of the late West Coast Hip Hop Pioneer. At least two separate murals have been painted in his image; one located on Winston and Main, the other at Gladys Park in the Skid Row District.

Los Angeles Times, LAIST, and West Coast Styles were first to honor Jeff with editorials, with still no words written by LA Downtown News or any of the BIDS, with representatives who once boldly expressed Jeff's Skid Row Formation Committee mission to separate from DLANC in 2017 would only lead to further division in the DTLA community.

Perhaps proclaiming our town's most gallant nonprofits in Skid Row as "poverty pimps" out of frustration and wanting to break free from DLANC to have more of a say in the city and county policies concerning his district didn't gain Jeff many friends within their ranks and donor base, however, he was a well-known member of the DTLA community, former member of DLANC, invited to Downtown News "Best Of" Galas yearly, and worthy of articles in the LA Times.

Several community vigils have also been held to honor "the Mayor of Skid Row," and City District 14 councilmember Kevin De Leon has written (but not yet submitted) an official motion to rename Gladys Park as General Jeff Memorial Park.

General Jeff, who fought admirably to improve the conditions of the Skid Row community died October 23 rd due to congenial heart complications.