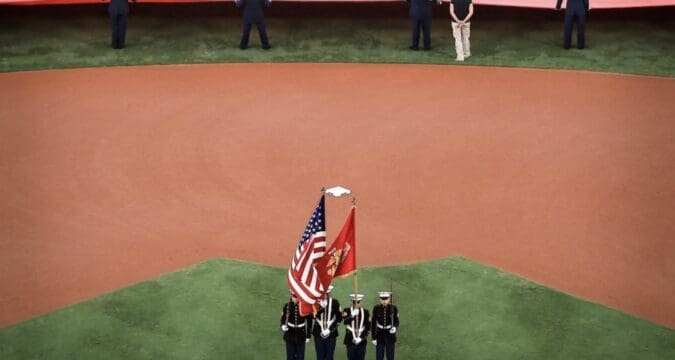 The Dodgers are hosting approximately 200 active-duty service members of our nation's U.S. Army, Marine Corps, Navy, Air Force, Coast Guard, Space Force, and veterans and their families on Thursday, November 11 from 11:00 a.m. to 3:00 p.m. at Dodger Stadium for a special Veterans Day event presented by the Los Angeles County Department of Mental Health.
The National Anthem performed by Corporal Kasie Wagner, United States Marine Corps from the First Marine Division Band.
Sign up to receive our popular Get2DTLA Newsletter!
The Dodgers honor military personnel and veterans year-round with initiatives including the Military Hero of the Game on-field recognition that takes place during each Dodger home game.
The Los Angeles Dodgers franchise, with seven World Series championships and 24 National League pennants since its beginnings in Brooklyn in 1890, is committed to a tradition of pride and excellence. The Dodgers are dedicated to supporting a culture of winning baseball, providing a first-class, fan-friendly experience at Dodger Stadium, and building a strong partnership with the community. With the highest cumulative fan attendance in Major League Baseball history, and a record of breaking barriers, the Dodgers are one of the most cherished sports franchises in the world.
The Dodger organization has been recognized for its leadership in nearly all facets of its operations, as 2020 World Series champions, ESPN's Sports Humanitarian Team of the Year and the Sports Business Journal's Team of the Year. www.dodgers.com