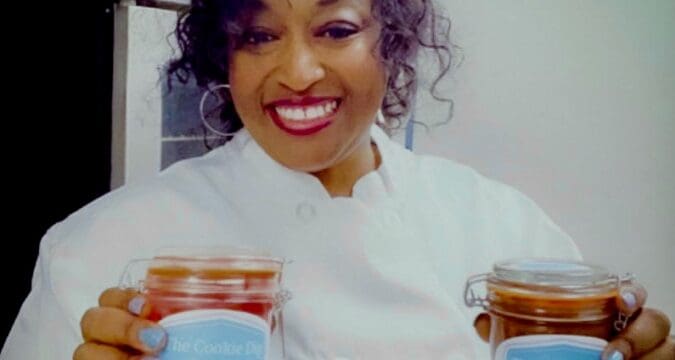 Accessory to the World's most famous snack. The People have spoken: CEO Zakiya Ellick "The Cookie Dip Company" takes the cookie lover experience to an entirely new level."
Zakiya Ellick has created "accessories" for cookies using innovative concepts mixed with premium ingredients that overwhelmingly burst with flavor. Since 2018, hundreds of happy "First Time Cookie Dippers" have crossed her path, sampling then buying jars of her naturally flavored creamy cookie dips made in flavors that include Vanilla Bean, Butter Toffee Bourbon, Mango Chili, and Milk Chocolate Horchata.
The 43-year-old has always had a taste for good food and was able to tailor her knowledge as a student of the African American Culinary Institute of America to create her delicious dips. Today, she is best known for her positive, upbeat attitude and her bold flavors of Cookie Dips that have ultimately set her apart in the industry and pushed the imagination beyond the mere pleasure of what a bare cookie bite had to offer. With Cookie Dips ordinary cookies take the sweet tooth on an entirely new journey.
What started as support from family and friends after discovering the unforgettable tastes of Ellick's Cookie Dips flowered into monthly opportunities followed by a revelation at the Playboy Jazz Festival. It was then Ellick decided to incorporate and "The Cookie Dip Company" was born.
"I am looking forward to expanding my brand and getting my products into upscale and specialty grocery stores nationwide."
With a booked schedule of events and an ever-growing line of fans, surely her dreams of store-bought Cookie Dip will come true before long.
To become a "First Time Cookie Dipper" catch up with The Cookie Dip Company at your neighborhood farmer's market or weekend artisan show. Favorites include the Banana Cream and Butter Toffee Bourbon Cookie Dips. Ellick says these are the best sellers loved for flavors that are bold, refreshing, and comforting.
www.thecookiedip.com