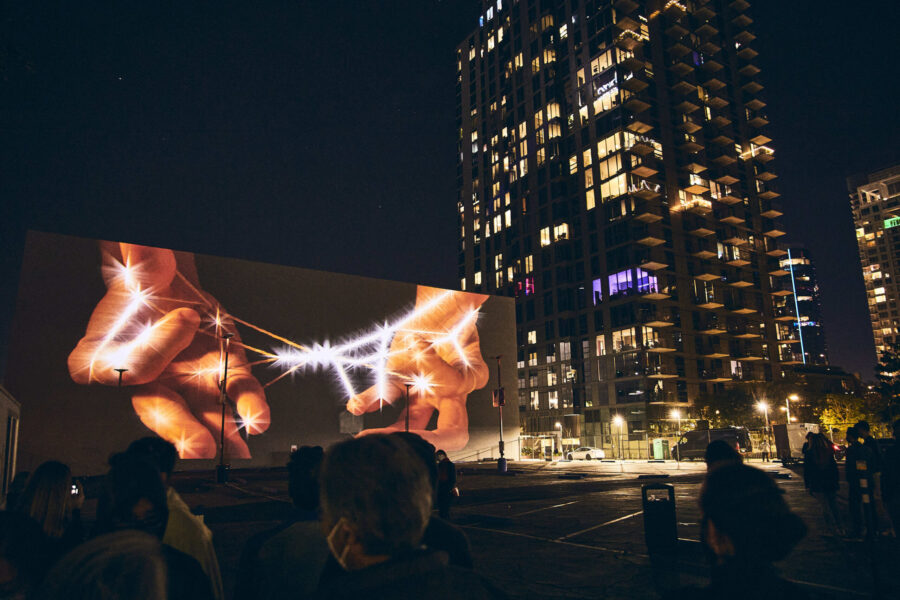 Last year, a barely publicized art exhibit utilizing city buildings as projector screens, projected artworks shinning through the darkness like a light at the end of the tunnel for a Covid stricken Downtown.
Attracted by the projections, the streets of South Park soon drew unexpected crowds as news of the nighttime luminescence traveled over social media and by private message.
This year, the exhibition returns September 17th. LUMINEX 2..0 explores the meaning of 'Projected' in step with the artists' perceived 'Realities' – addressing the medium itself, attributing their emotion or desire to the audience, promoting a particular image or view, and providing commentary based on forecasts of data and trends. Through augmented reality (AR) installations, immersive artworks, a digital drone activation, live performances, sound and video feeds, cultural consumers will traverse between IRL and augmented realities.
The artist-led exhibition will expand to feature 12 internationally acclaimed and leading artists across 12 site-specific installations scaled to the architecture of the urban facades — all within a 5-block walkable radius (W Pico Blvd, S Hope St, W 11th St, S Olive St, S Broadway).

Artist line-up includes: Refik Anadol, Nancy Baker Cahill, Sarah Rara, Luciana Abait, Akiko Yamashita, Carole Kim, David Van Eyssen, Leah Smithson, Nate Mohler, Ryan P Griffin, Mark Hashimoto, and Elizabeth Leister.
New this year is an exhibition-wide Augmented Reality experience. A QR Code will direct residents and visitors to the LUMINEX Channel on the Hoverlay AR App. The AR App will power an interactive map, as well as activate holograms of each artist, and enhanced reality at select installations.
LUMINEX 2.0 is presented by Show Imaging, in partnership with Panasonic Connect, Arup, Hoverlay, Snap Inc., Downtown L.A. Proper Hotel, the South Park Business Improvement District, and NOW Art. https://luminexla.com/