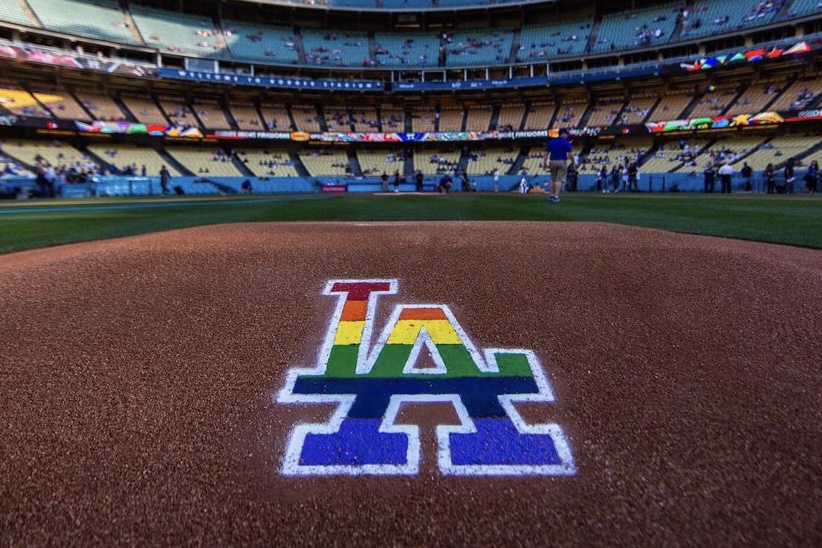 The Los Angeles Dodgers will host their ninth annual LGBTQ+ Night at Dodger Stadium on Friday, June 3 at 7:10 p.m.
Sign up to receive our popular Get2DTLA Newsletter
Prior to the game, the Dodgers will once again partner with LA Pride to host the official 2022 LA Pride kickoff party at Dodger Stadium in the Right Field Plaza Bar from 5:30 p.m. until first pitch at 7:10 p.m.
Produced by non-profit organization Christopher Street West Association, LA Pride is Southern California's biggest LGBTQ+ celebration and producer of LA's official, original Pride parade.
The Dodgers will recognize former Los Angeles Dodger Glenn Burke, the first openly gay MLB player, with his siblings Lutha A. Burke Davis, Joyce Henderson, Carol Maas, Paula Hunt and Sidney Burke in attendance. The Burke family will have the honor of throwing out the ceremonial first pitch for this special game.
"The Dodgers are once again proud to celebrate the LGBTQ+ community during this annual event, which has become one of the most anticipated nights of the season," said Lon Rosen, Executive Vice President and CMO, Los Angeles Dodgers. "We are also very happy to recognize Glenn Burke and honor his memory with his family in a very special pre-game ceremony."
Erik Braverman, Senior Vice President, Marketing, Communications & Broadcasting, Los Angeles Dodgers added: "The Dodgers have a long and proud history of diversity and inclusion. Our year-round commitment and partnership with the LGBTQ+ community is something the organization takes very seriously. I am beyond excited to welcome back LA Pride as an official partner and so many other great community organizations who have been with us since the beginning."
Other special guests for the evening include Billy Bean, another former Dodger and the only other Major League Player to come out publicly after his playing career.
The National Anthem will be performed by international LGBTQ+ recording artist Wils, a singer-songwriter who brought a voice of change for the LGBTQ+ community in Asia after coming out as gay.
Presented by Blue Shield, LGBTQ+ Pride Night will also include Friday Night Fireworks and will feature a special music mix by DJ Bowie J. Fans are invited on the field immediately following the game for the fireworks show.