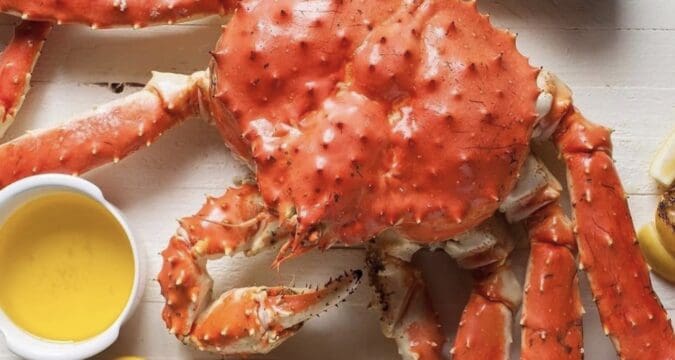 Each selection must not only be delicious, not only be savory and melt in your mouth but make us never want to stop chewing again. Not only is the dish required to have an excellent presentation and a great inspirational story behind it, but the dish must also transport us away from the horrors of the world, take away our pain, and deliver us from evil. Amen.
Here's a list of DTLA WEEKLY's 10 Greatest Bites in Downtown Los Angeles.
WATER GRILL – Finance District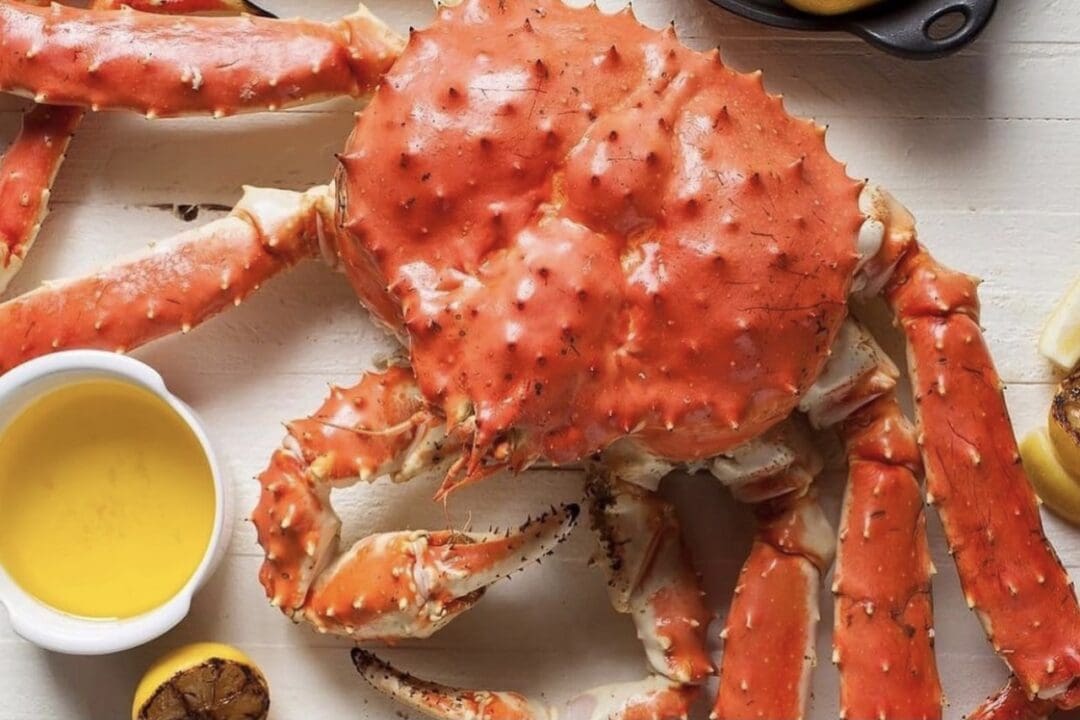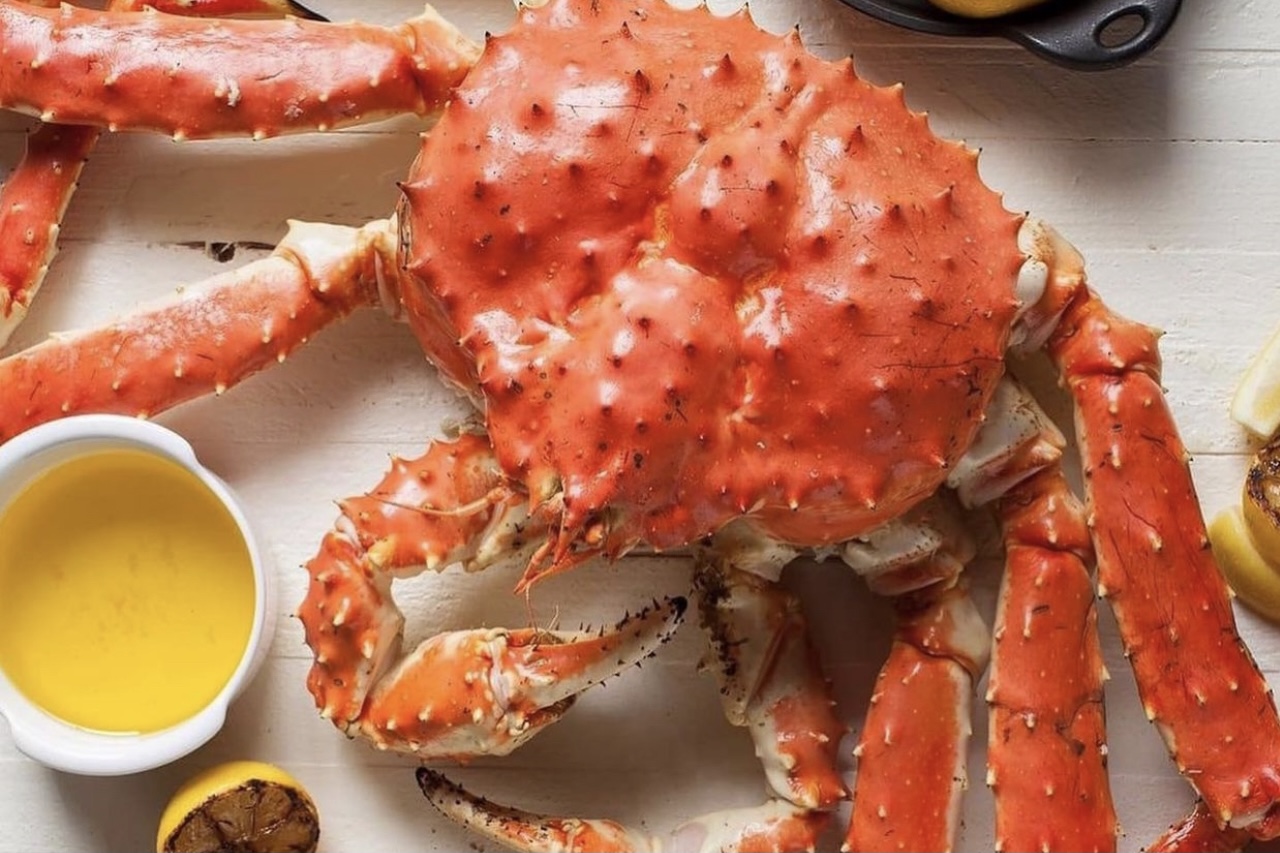 Sail the seven seas or dive the deepest oceans of the earth; you're just not going to find a more exemplary seafood dining experience Downtown than at Water Grill.
Located in the historic PAC Mutual building on 6th and Grand, Water Grill has everything our city needs to make a great impression; perfected service, upbeat, friendly atmosphere, seafaring decor (which makes you feel like you're in a hull of an old wooden ship), and the absolute freshest seafood around.
Appreciate the feeling of being appreciated? This is what you'll find at the Water Grill.
Manager Steven Castro, Executive Chef Jonathan Moulton, and a tiny golden seahorse mascot make sure that each guest is comforted and completely satisfied during their stay. The best part about the Water Grill, despite what you may expect from a restaurant of its caliber, is that it's priced quite reasonable.
Wild salmon, shellfish platters, poke, jumbo crab cakes, live wild North American hard-shell lobster, fresh salads, rolls, paired with signature cocktails, imported craft beers, and fine wines are just the tip of the iceberg of what diners may enjoy at Water Grill.
Freshly caught straight out of the Pacific, Water Grill just introduced Wild Alaskan Halibut reimaged, with newly added plates of Pan Roasted Halibut Cheeks, Roasted Halibut Tail, Tempura Fried Halibut Cheek Salad, Marinated Halibut Collar, and Pan Seared Halibut dishes.
With all the splendor of the Water Grill, it was hard to choose which memorable bite should make our list of 10 Great Bites in downtown Los Angeles.
First, on our list, we chose Wild Barents Sea Red King Crab Legs served with homemade coleslaw and drawn butter.
The Barents Sea is a marginal sea of the Arctic Ocean, upon which none of our friends are going seafood shopping way up there, making this dish a rare delicacy.
The Red King is the largest King Crab species with a leg span that can reach up to 5.9ft.
Ours wasn't that big; in fact, it fit nicely inside the dish that held the melted butter.
We wanted to reach ecstasy, and after eating crab our entire adult lives, we discovered the proper way to eat any crab is to take in huge enormous bites. Bites so big they fill your mouth with so much pleasure, your eyes roll to the back of your head. Chewing what seems like forever, you drift away. You have arrived; the world has been saved, the worst is over.
Set sail in the Arctic seas, go with the flow of the majestic Copper and Fraser Rivers, and roam the waters of the Prince William Sound and Queen Charlotte Islands each time you dine at the Water Grill. @watergrill
COCKTAILS THAT MATCH AT HATCH – FINANCE DISTRICT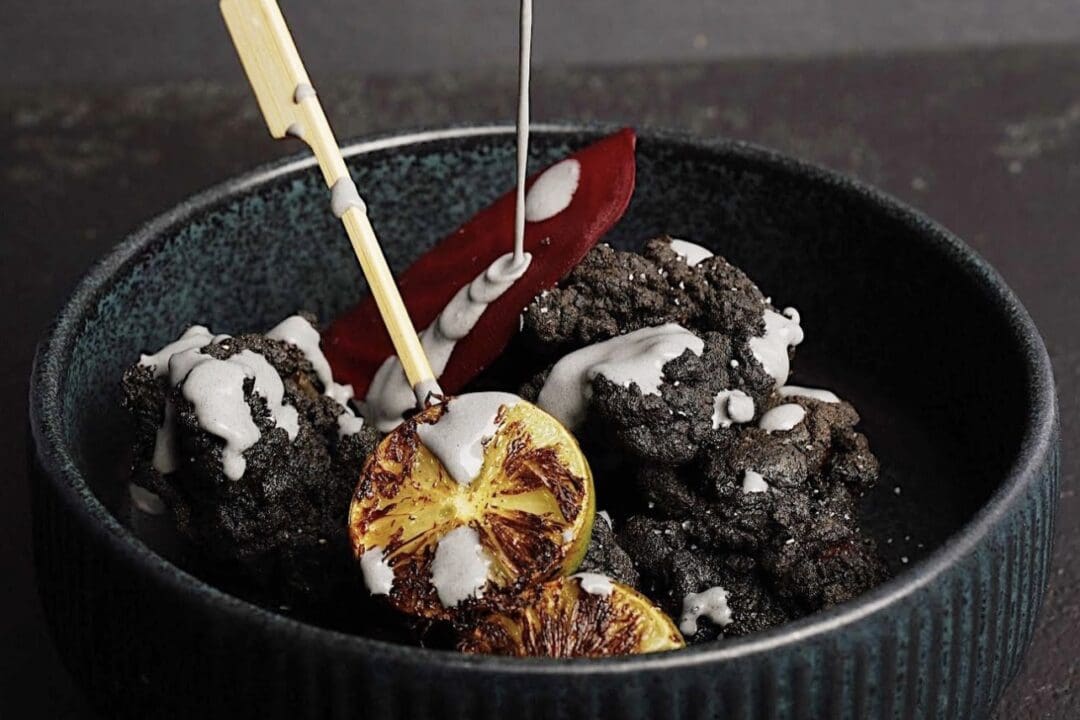 Never before has there beåen a place where cocktails and bites complement each other so well than at Hatch Yakatori Bar in downtown LA.
Opened in 2018, Hatch started off serving bite-sized morsels of Japanese/Californian fusion impaled on wooden skewers. A Hatch skewer is just large enough to complement any happy hour menu but they have long since developed a diverse menu offering; full plates, along with salads, sides, and desserts.
Hatch makes our list of 10 Greatest Bites because of their unique menu, presentation, and ability to offer items that you can't find anywhere else in downtown LA.
The quant list includes bacon-wrapped chicken, skirt steak, pork belly, ahi belly, and skewered veggies that pair well with their specialty cocktails found at this culinary temple while exploring TheBloc on 7th and Flower.
Remember when we said unique? Hatch recently presented downtown with a new gem. BLACK CHICKEN KARAAGE, priced at $12, is a hearty plate of two-day brined fried organic chicken thighs, battered in squid ink, served with house pickles, grilled lime, and black ranch dip.
This dish is dark and delicious.
Tender well-seasoned chicken hidden within a crispy blackened exterior leaves the bites to resemble tiny volcanic rocks, accentuated with a sweet beet, cut in the shape of a flower.
Dipped in black ranch before being led to sacrifice, these delicious morsels speak to the God of chewing to unleash the power that is Hatch Yakatori.
@hatchyakitori
THAT GARLIC SAUCE AT ZANKOU CHICKEN – FINANCE DISTRICT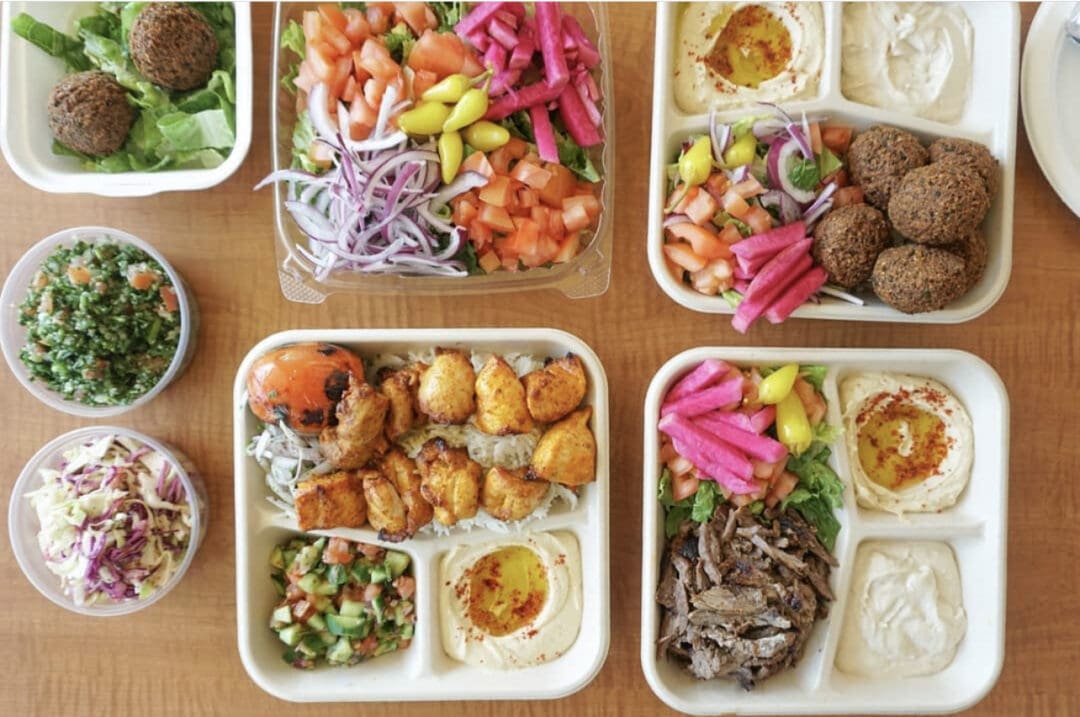 History will show that their famed Zankou garlic sauce put them on the map as one of the most incredible tasting rotisserie chicken spots in all of Los Angeles.
But how did we get here?
The Mediterranean fast-food chain that started in Beirut, Lebanon in 1962, now a household name, poised to takeover the streets of Downtown LA, is family owned and operated and stands as a symbol of hard work and dedication despite an unforeseen family tragedy midway.
First Hollywood, then Glendale, Pasadena, Burbank, and now downtown Los Angeles, Zankou Chicken makes our list of 10 Greatest Bites in Downtown not only because of their fabulous tasting garlic sauce but also for hearty rotisserie chicken and beef plates complete with sides of decent proportion at an affordable price.
Today, Downtown can enjoy Zankou's Kabob plates and wraps, Tabouleh Salad, Basmati Rice, Cabbage Salad, and even have parties catered with loads of little cups filled with all that garlic hoopla.
@zankouchicken
BUFFALO CHICKEN PIZZA AT BRAAZO – FASHION DISTRICT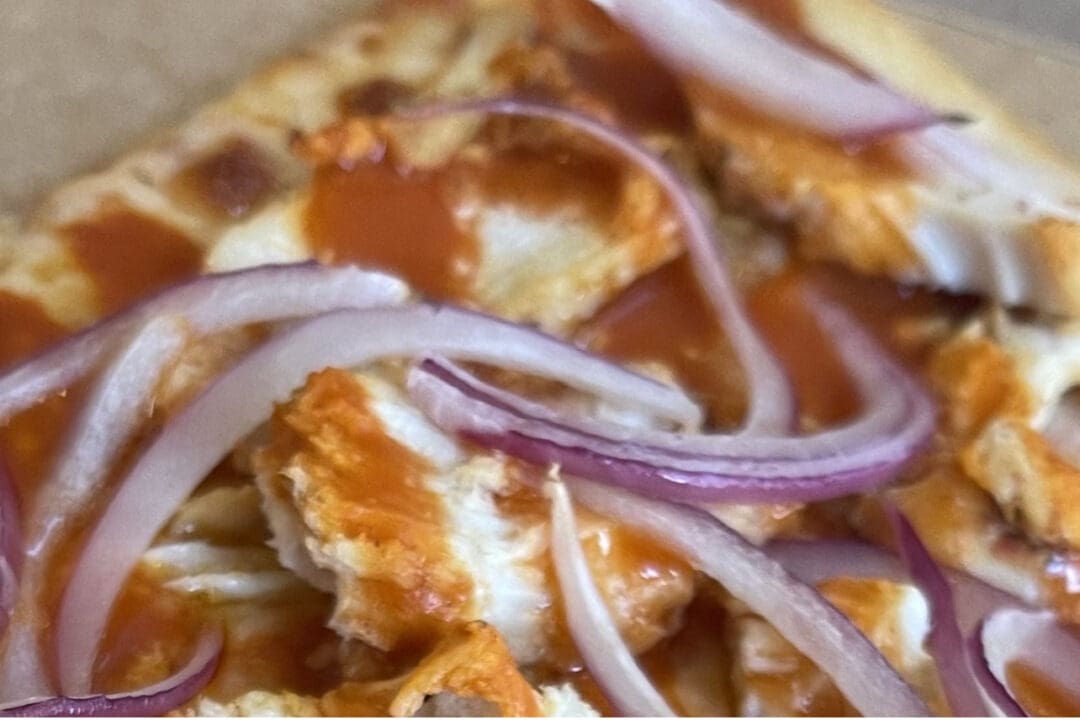 When the good fellas of Braazo Pizza, Owner Trigran and his son, took over and renamed one of Downtown's most famous pizza joints, they became the first pizza parlor to pay tribute to New York-style pizza in Downtown LA successfully.
Ask any New Yorker; true skills come from a family of experienced wise guys capable of hand-tossing kneaded dough high into the air and then baking that dough into crispy thin-crust perfection.
It's all in the crust, but the secret lies within the heavy doors of the pizza oven and setting the correct temperatures, so the thin crust stands up without becoming too soggy. The pizza crust should be able to fold nicely down the middle. This avoids the pinch of dropping the toppings. If you still have the outside crust after eating, left alone stranded on the plate, then rest assured that pizza did not come from a made man but from an imposter.
Braazo is a boss, paying homage to NY pizza with pies; a true New Yorker will have no trouble adapting.
But, what Downtown loves about Braazo Pizza is its work ethic. This is a no-nonsense pizza parlor with high temperatures that pushes out pizzas around $18 on-demand in a matter of moments – consistently hot, fresh and delicious.
And Braazo doesn't stop there. Braazo serves chicken wings, salads, pasta, and wine and beer, allowing us the choice to sit down and enjoy or order to go, or relax with classic delivery.
Each pizza is going to come fresh; it's going to come hot. It's going to be delicious every time.
On our list of 10 Greatest Bites, we have got to choose Braazo's BUFFALO CHICKEN PIZZA for our list.
The pizza itself is simplistic, just slices of chicken baked atop buffalo chicken sauce and mozzarella covered in red onions and ranch sauce, but the flavor combination is straight gangsta. Find a greater-tasting pizza bite in the Fashion District? – Forgettabout it!
@braazopizza
CALAJO CATERING FUN WITH UBE – WAREHOUSE DISTRICT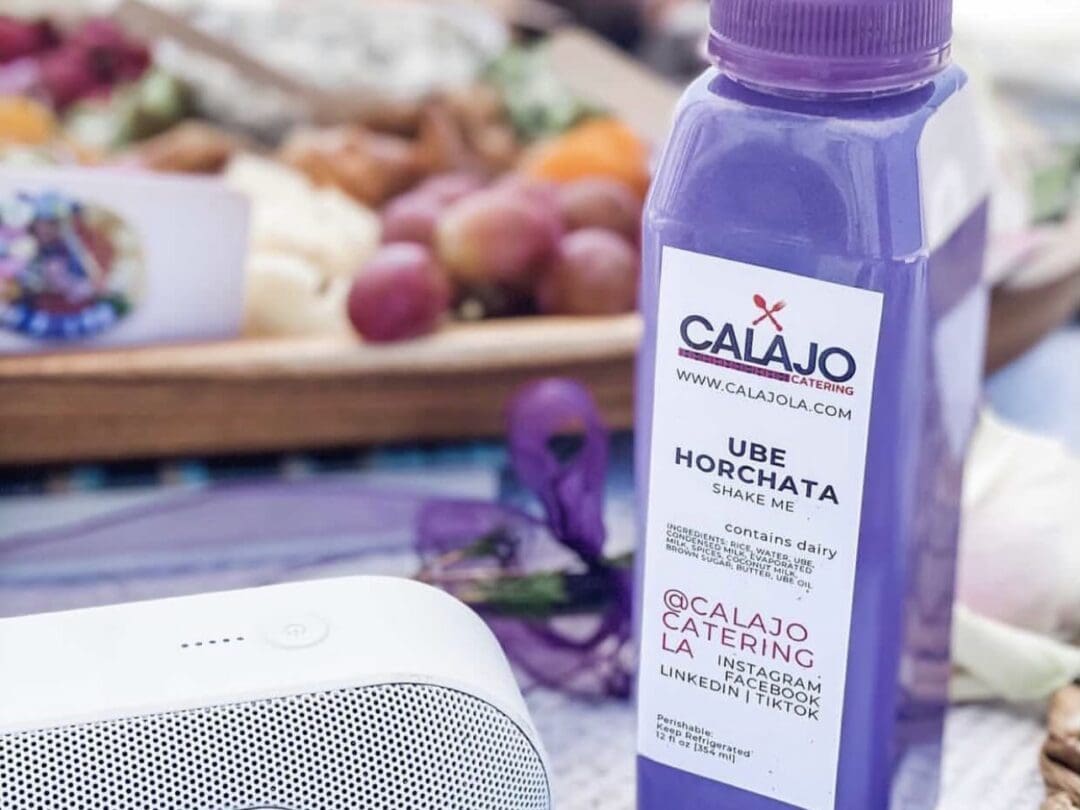 At the spirited family gatherings they host in their Santa Clarita home, the tradition is that Carlo Avanceña always cooks and his wife, Jennifer, always bakes. Motivated by the pride, they take in their family heritage, the pair have always loved cultivating unique dishes together, using delectable, nuanced flavors rooted in their Filipino culture.
"We grew up in homes where family and gatherings were always a priority. I think our first best friends were our many first cousins", Jennifer, owner and baker of Calajo Catering, tells us.
The couple now runs a street market in DTLA, serving sweet and savory treats and Filipinx-inspired delicacies. Inspired by their family's creative culinary traditions, the seasoned hospitality professionals are working hard to include others in on the fun.
This family-owned bakery offers a wide variety of made-to-order ube goodies, including ube crinkle cookies, rice cereal bars made with homemade ube marshmallows, donuts, cakes, macarons and other desserts.
An ube, you might be wondering, is a pretty purple yam originating from the Philippines! It has a unique, floral, and not too sweet flavor and gives the macarons, cookies, pies, and cakes created by Calajo those dreamy, purple hues.
Calajo Catering not only offers ube treats, but prolific entrées – specialty pasta, seafood paella, short rib adobo, empanadas, longanisa pork milk buns, fried crab, and other dishes that are certain to make the mouth water.
Jennifer and Carlo also work hard to support the underprivileged communities in DTLA by hosting community drives seeking donations for essentials such as pre-packaged foods, disinfectant wipes and disposable face masks.
"In addition to food, the community is also our passion.
We understand the importance of community as it's a community that helps one grow and thrive. We hope to see our efforts for others to follow suit to show that kindness is contagious", Jennifer encourages.
Ultimately, Jennifer and Carlo want DTLA Weekly readers to know that "dreams can come true; and anyone can do anything they want to do with hard work, passion and love for what you do and support, we are all capable of doing anything we want to do".
Jennifer says. "We found a way to bring our dreams to life at one of the scariest moments of our lives: being laid off from our careers that we dedicated over 20 years of our lives to plus during the first known pandemic within our generation. We learned to not live in fear and to take each moment as an opportunity to grow, share and help".
Calajo Catering is available for pickup, delivery and even nationwide shipping!
Curbside pickup is available Tuesday through Friday between 12:00 PM and 7:00 PM PST. Event catering, event planning, event consulting, and even custom menu development are also services offered by Calajo.
Vegetarian, vegan, gluten-free, and keto/low-carb options for baked goods and catering services are also available.
You can find Calajo Catering at Filled Market in Downtown Los Angeles on various Saturdays from 11:00 AM and 4:00 PM PST. @calajocateringla
DONUT FRIEND – DOWNTOWNS NEW FAVORITE BESTIE – HISTORIC CORE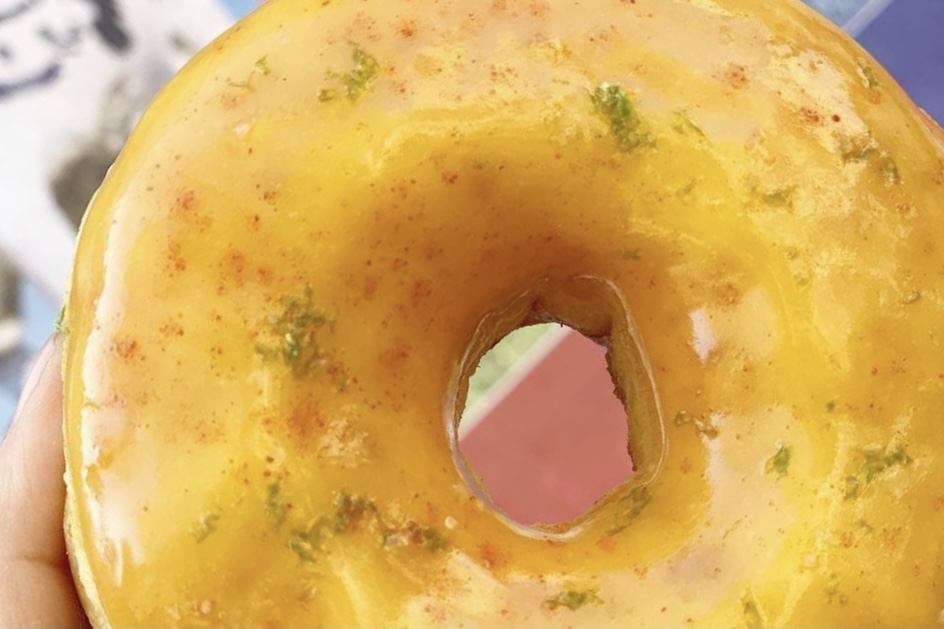 Donut Friend will always be downtown's favorite bestie.
They say nobodies perfect, but yes, these donuts friends are perfect, as the plant-based, dairy-free donut shop on Broadwa y keeps a steady line of acquaintances who enjoy the bond between sweet whipped crepes, glazes, and fruit toppings, and soft plant-based raised dough.
Toasted shredded coconut, chocolate chips, vegan creme fillings, raspberry jams, fresh fruits all make their caked donuts relationships work.
Still, it's the Yo LA Mango raised donut with mango, chili, and lime zest glaze that makes our list of 10 Greatest Bites in downtown LA.
Yo LA, you're the best friend we've ever had. You came to us in our time of need when we thought we had tried every other donut known to man. We'd long given up on finding a donut as compatible with our taste buds as you. However, you have proven yourself to be that friend that sticks around (especially on your fingers). A true friend is there for us in our time of need. Your sweet mango glaze touches the lips with such a sweet kiss, it makes us want to take this friendship to another level. @donutfriend
TAQUITOS GALORE AT CIELITO LINDO – COURTS DISTRICT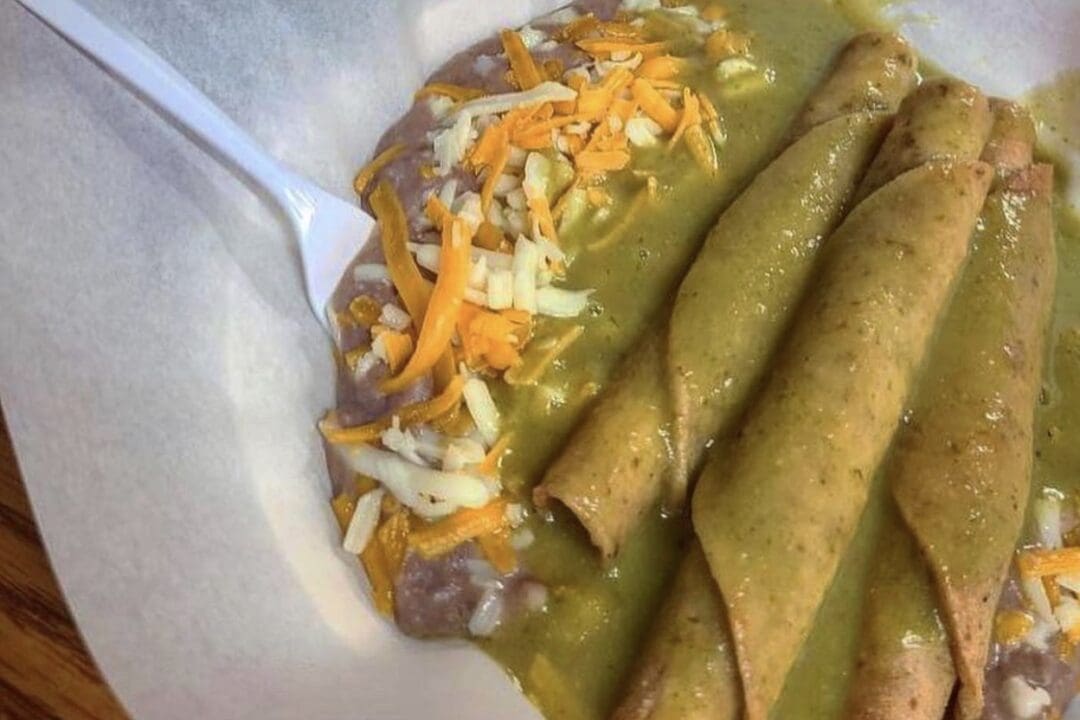 It's almost a century since Aurora Guerrero left her rural mountain village of Huanusco, Zacatecas, Mexico, with a secret recipe that would one day become an iconic staple for Angelenos everywhere.
High on our list of 10 Greatest Bites in downtown Los Angeles, ladies and gentlemen, "The beautiful baby – Cielito Lindo."
Visit Olvera Street (the founding place of Los Angeles) or drive by Cesar Chavez and Alameda, and chances are you will see a line of patrons waiting patiently to share in the experience.
Cielito Lindo is downtown LA culture at its finest. You'll find grandparents and grandchildren holding up this tradition that has lasted almost 100 years.
The menu is simple consisting only of tamales, beans, beverages, and their signature beef taquitos.
Made to order in front of your eyes, so popular and taste bud-friendly, they must fry up at least 10,000 taquitos a day not to mention their one-of-a-kind signature Avocado Sauce, used as a cover and dipping sauce, we're told people buy by the buckets.
Since 1934, they've been serving their taquitos the same way. Downtown Weekly has been coming to this place since 1987, during a time when you'd be lucky to get a seat inside their petite table section. Guess what, downtown LA?
Cielito Lindo now serves Spanish rice. And the rice is good – it's terrific.
You can pick these taquitos up with your fingers and dip them in the sauce as long as you have plenty of napkins. Or you can use a fork to swirl them in the beans and pull the taquitos out along with melted cheese to reveal Downtown greatness, history, and culture all wrapped up into one bite. @cielitolindo
KAPOOR AKBAR'S NEW KATI ROLLS – CHINATOWN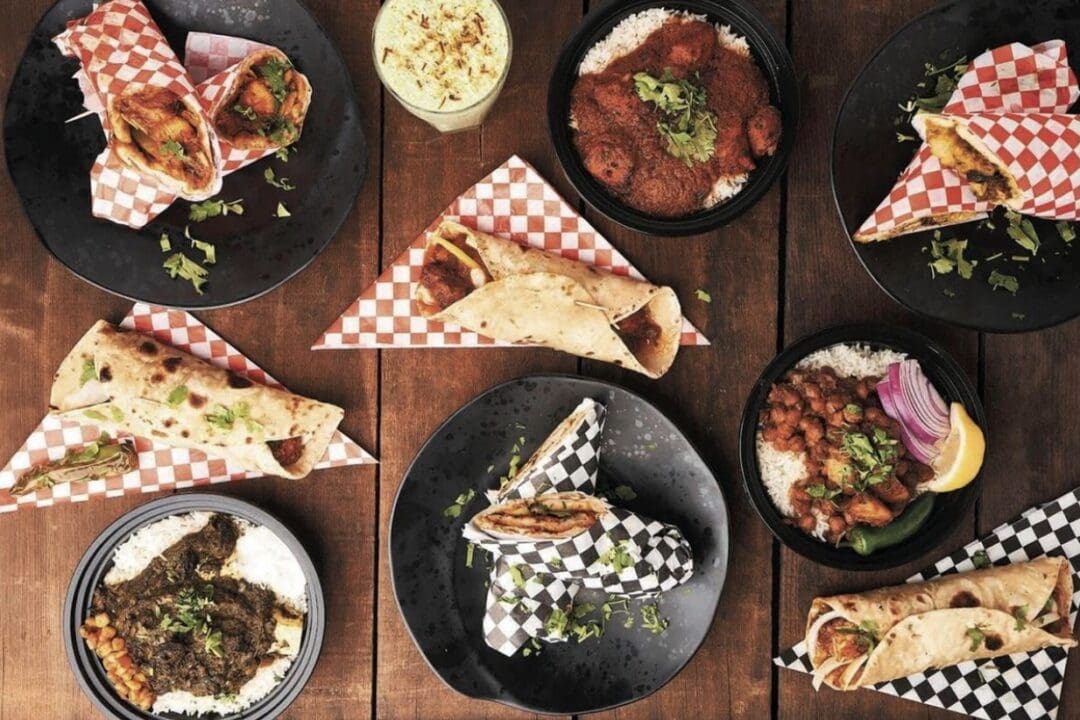 Out of the handful of Indian cuisines offered in Downtown, Kapoor's Akbar ranks up there with the best of them.
That may be because Chef Avinash Kapoor has a way of cooking with fire!
Located on the cusp of Chinatown and Bunker Hill, Kapoor's still uses a traditional Tandoori oven to release flavors of antiquity found nowhere else in the City.
Fresh from the oven to the plate, here comes the sizzle.
Kapoor's Akbar serves Indian classics Chicken Tikki Masala, Pork Vindaloo, and fried samosas with sides of perfectly prepared bharta and balsamic rice, among his most popular dishes. However, the Chef is not shy when presenting Downtown's favorite Indian fusion dishes, such as his ever-popular Crab Curry and Coco Lamb. Trust that all the Chef's dishes are BOMBAY, yet we have found something extraordinary with his latest edition, the Crispy Fish Kati Roll.
Kapoor's Akbar now serves the first Indian Kati Roll ever to hit the streets of Downtown. It's a delicious mix of Indian food wrapped in a crispy paratha bread or a chewy naan-upon which it gets a second name called the Frankie.
The Kati Roll varieties are all tasty; they come in Chicken Tikki, Chicken Tikki Masala, Paneer Makhani, Tofu Makhani, egg and vegetable of course but, it's the Crispy Fish Kati Roll that's going to knock your socks off.
This traditional Indian street food compares to an American wrap. Still, it differs thanks to its perfectly seasoned, crispy fish and vegetables coupled with the contrast of chewy naan, allowing the flavors to linger in the mouth just a bit longer, forcing you to enjoy the treasures of India with every single bite.
It is truly a pleasure to add this brand new menu item to our list of 10 Greatest Bites in downtown Los Angeles. @katirollco

BURGER REVOLUTION AT HOTBOX BURGERS – EXPO USC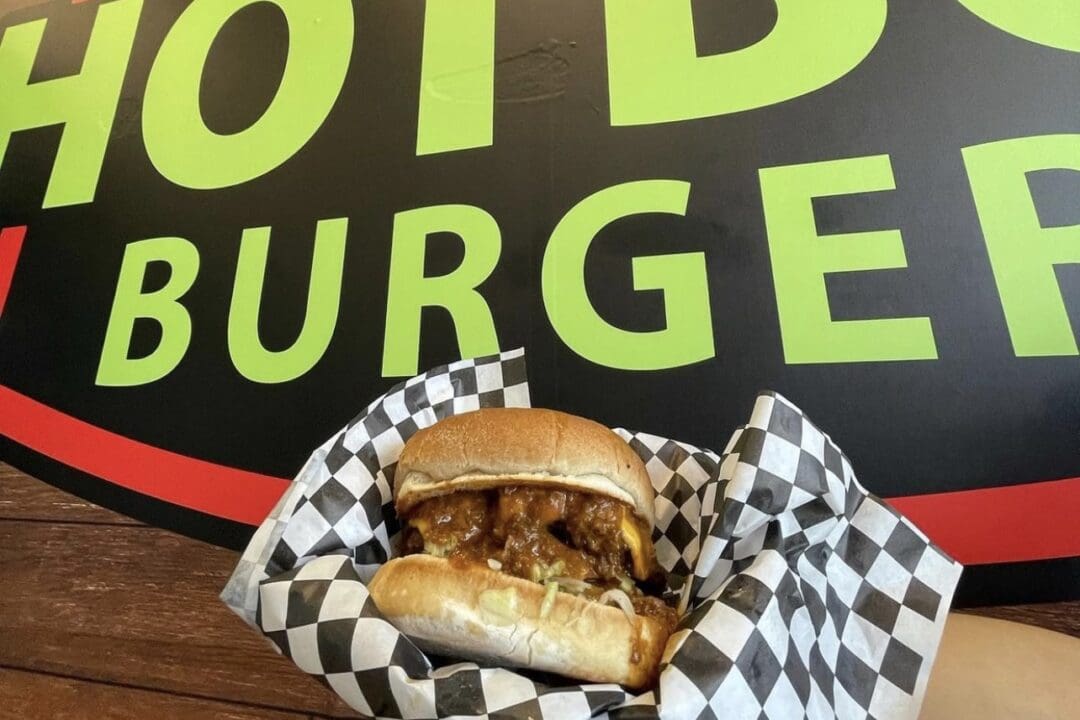 For years HotBox Burgers emerged from inside a tiny trailer just big enough to hold a grill, small fridge, cash register, and storage space. Upon opening each day, the little trailer would quickly fill wth a four-person crew, aromas from the grill, and pure unadulterated heat, hence the name Hotbox Burger.
Outside the tiny window, hungry patrons came to order the beef, turkey, and plant-based burgers according to their liking with added toppings of cheese, onions, tomatoes, lettuce, bacon, pastrami, chili, and mayo.
Here was a line of genuinely happy people sharing the experience of knowing it wouldn't be long before they were celebrating mouth-watering sensations with every bite.
At their Vermont/MLK location, just across from LA Coliseum, the tiny mobile kitchen was surrounded by the drive-thrus of major commercial burger chains. Yet, loyal customers stayed determined to bypass the heavy marketing and familiar tastes of these nearby competitors, quickly after discovering the flavors at HotBox, to become apart of a growing rebellion from frozen meats, over-processing, chemically laced, and generic conveyor belt customer service.
With an army of returning customers, HotBox set its sights on opening its first brick and mortar. With grit and determination, they stormed the gates turning in an old cell phone center inside a strip mall into thier first successful brick and mortar.
Victory!
As culinary rulers of their strip mall destination, Hotbox Burger offers an alternative to Subway to the left and Louisiana Fried Chicken to the right, allies that help crown HotBox Burger as one of the greats.
Although HotBox has space for seating and table service, they managed to stay true to their grab-and-go policy, allowing patrons to come in, place an order, wait for a spell and leave with one of the most delicious burgers in the land.
We're talking well-season burgers handcrafted with all fresh ingredients, seasoned well enough to calm any critic.
Burgers are an American staple, with origins that date back hundreds of years. With so many different combinations of toppings, we all have our favorites. We can trust fancy restaurants will always keep an affordable burger option on the menu for those who wish to watch their budgets.
At Hotbox, however, all the burgers are affordable and pair well with fries and their signature milkshakes. You know, any burger we suggest is going to have to be extraordinary.
So here it is, folks… Introducing the
Downtown Weekly QUADROOLPAL BURGER
loaded with four separate all-beef patties seasoned to perfection with onions, lettuce, tomatoes, and
American cheese with a hearty helping of pastrami. THIS IS… DOWNTOWN.
HotBox Burgers – 1030 W Martin Luther King Jr. Blvd #108, Los Angeles, CA 90037. @hotboxburgers
CELEBRATING INDIAN DIVERSITY AT TULSI – OLD BANK DISTRICT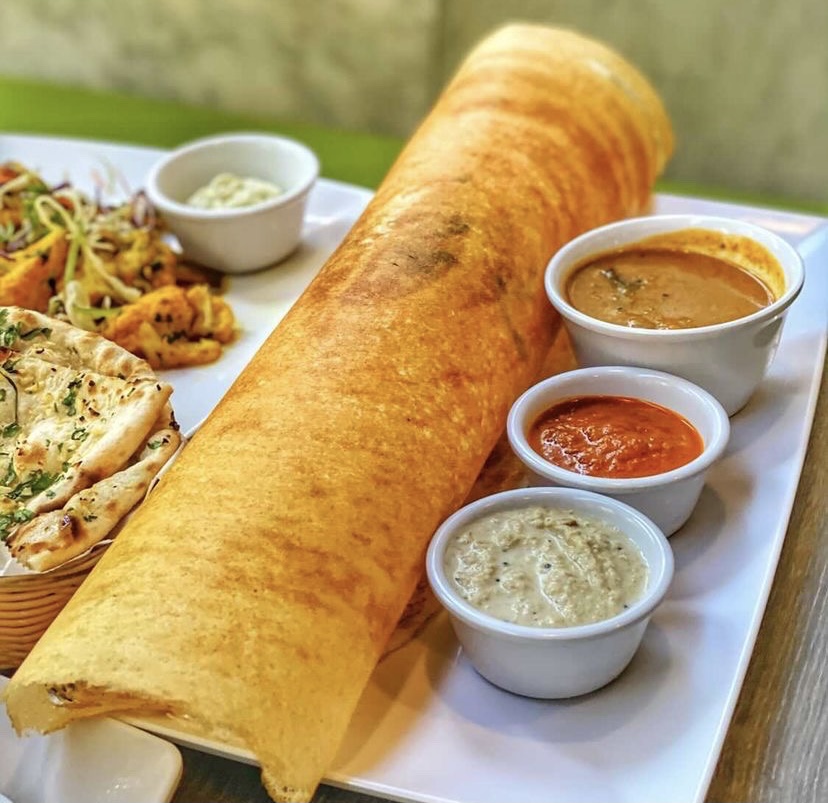 Downtown has always been a melting pot of diverse cultures. This diversity makes us great and what makes Tulsi Indian Eatery a perfect fit for our community.
Located in the Old bank District on 4th and Main, known for an exotic mix of Asian Pho, sushi, fine French dining, sweet cupcakes, and Tex/Mex Italian fusion, Tulsi now complements the district with plant-based dishes and sweet, nourishing lassi.
Yet, when we think about Indian food, we seldom envision a nationwide Indian food chain, seeing as plenty of Indian Food restaurants are single mom and pops passing down traditional family recipes. However, this is precisely the concept the creators of Tulsi are putting together and it's working out very well.
Soon, Tulsi will do for Indian food what Panda and PF Chang have done for Chinese cuisine, all thanks to visionary CEO Chirag Shah.
Shah, an accomplished lawyer by day and "foodie" by night, is living the dream of opening a top-notch fast-casual Indian restaurant in DTLA that caters to the growing vegetarian community.
One down and the world to go…
Just last month, Shah opened his second Tulsi location in Northridge.
Both locations offer full regional menus prepared by master regional chefs; who strive to provide a high-quality Indian fast-casual dining experience.
Menu items at Tulsi include a very affordable mix of Tulsi Curry Combos, Paneer Tikka Tacos, miniature fried mimosas, and town favorite Soya Chaap Poutine; French fries topped with soybean curry in creamy tomato sauce.
This month, Tulsi added a happy hour menu of fine wines and imported beers from India to wash them all down, and soon, a revolutionary new lassi, we vowed we would keep secret until the time is right.
Now, thanks to Tulsi, one of DTLAs greatest bites is something most have never even seen or heard of before. This great bite is called Dosa.
Here, the thin crepe-styled pancake is rolled into a long tube, making it fun to look at and fun to eat as it takes up most of the diner's tablespace. Our table spent 15 minutes playing with the Dosa tube before taking our first bite. It was truly great.
The atmosphere inside Tulsi is light and airy and reminds us of all the great major franchises; the only thing different is that this major franchise will have its tale of origin in the heart of our great city.
Tulsi Indian Eatery is located at 408 S Main St, Los Angeles, CA 90013.
@tulsindianeatery