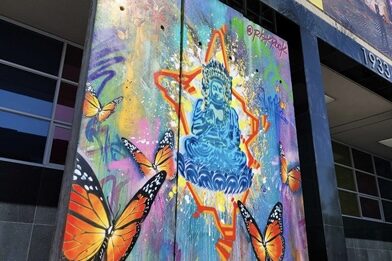 Kelly "RISK" Graval has been synonymous with the Los Angeles art community for over 30 Years. From his early days as a founder of the West Coast Graffiti movement to gallery and museum exhibits around the globe, including the 2012 "Art In The Streets" at the LA MoCA and the hugely successful "Beyond The Streets" exhibits in Los Angeles and New York. His work is shown at top galleries in Los Angeles, San Francisco, Toronto, New York, Miami, and London.'
Now RISK's artwork is featured as part of the STREET ART ALIVE experience at downtown's newest digital art gallery, THE LUME Los Angeles. RISK was commissioned to honor two of the three sets of highly anticipated original pieces of the Berlin Wall.
The pieces are currently on display as part of the 360-degree multi-sensory experience featuring 200 street artists from 20+ Cities, including Los Angeles, New York, London, São Paulo, Melbourne and Berlin.
Sign up to receive our popular Get2DTLA Newsletter
Historically, long stretches of the Berlin Wall have been used as a canvas for political statements and powerful social commentary by artists from across the globe.
Each individual Berlin wall at THE LUME Los Angeles measures 14' x 4' and weighs four tons. Grouped in rows of three, the total size per installation is 14' x 12' and sit prominently at the entrance into the exhibition front doors. RISK's "Anarch to Monarchy" portrays the Buddha and butterfly images to reflect hope and positivity.
"I wanted to do something bright and positive. The colors I use in my murals come from two sources. They reflect the old Krylon "California Colors" spray paint line that I used doing Graffiti in LA many years ago," said RISK. "When I was doing graffiti I lived a life of Anarchy. My life was doing graffiti at night, punk rock and Venice Beach. Over the years, I have transformed into fine art. I have four daughters and my life is positive. The Butterflies reflect that. So, I went from 'Anarch to Monarch'."
RISK also added, "It was an honor to paint on a section of the Berlin Wall. The importance and history of the wall is something everyone should know and appreciate. As an artist, I am not overtly political in my work. I prefer more subtle social commentary."
"My approach to painting on these sections of the wall was to do something colorful, bright and hopeful. With everything going on in the world and the historic importance of the Berlin Wall, I wanted to paint something that gave people hope for a bright future."
"Street art and graffiti are important art movements. It has taken a long time for the traditional art world to recognize Street Art and Graffiti as legitimate art movements. The public has recognized the importance of Street Art and Graffiti for years. Being a part of a significant multimedia experience celebrating the importance of Street Art and Graffiti means a lot to me."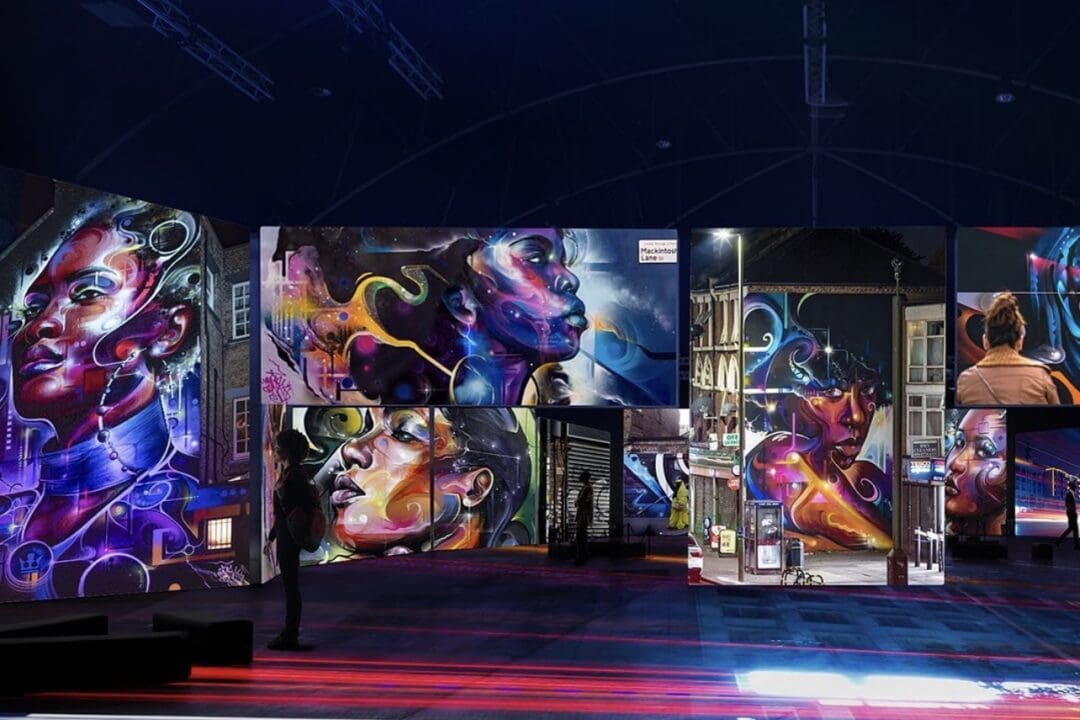 STREET ART ALIVE allows visitors to discover the sheer diversity of street art as a movement and take a journey through the motivations of the artists who live, breathe, and express themselves on the streets. The experience explores the varied themes of VIBRANCY, REJUVENATION, FIGHT FOR YOUR RIGHT and FRESH TAKE ON HISTORY in a way that appeals to all senses in a truly multi-sensory environment.
To bring this highly unique and authentic experience to life, THE LUME digital art galleries and creators and producers of STREET ART ALIVE worked in collaboration with prolific artists including Blek le Rat, considered the Godfather of stencil art, D*Face, known for vibrant pop art-inspired murals and Lady Pink, nicknamed "First Lady of Graffiti," one of the first women active in the early '80s New York City subway graffiti subculture. The experience also features murals by Dourone, as well as Los Angeles' Aly Kourouma aka Timbuctu State, and graffiti art by Aaron "Woes" Martin and Jayski-One from The Boom Bap Kids, Yoshi Takahashi aka MR44, and many more.
The STREET ART ALIVE experience runs through the summer with tickets available from $39-$99 at thelume.com/losangeles.