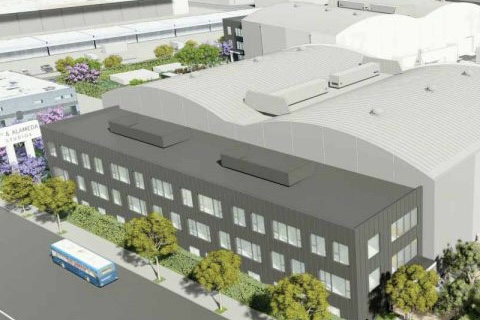 Atlas Capital Group has submitted plans to redevelop the downtown Los Angeles Times Printing Plant site into a more than 832,000-square-foot creative campus with 17 sound stages and movie/television production facilities. According to property records, Atlas Capital purchased the plant from Harridge Development Group in 2019 for $240M.
The project, which goes by the name of 8th and Alameda Studios, will cost roughly $650 million and is estimated to create 200 plus short-term construction jobs and approximately 1,500 permanent sound studio and support service jobs.
According to Jeffrey Goldberger, co-founder of Atlas Capital Group, the project will become a notable generator of job and tax revenues by creating a platform that tech and media companies can utilize to supplement job losses from the Downtown Los Angeles area.
"From start to finish, this project will create hundreds of short-term construction jobs and more than a thousand permanent movie, television, and sound production-related jobs while resulting in no displacement of residents, housing, or small businesses," said Goldberger in a release.
The development of 8th and Alameda Studios occurs in two phases. Phase one will include constructing four buildings with six sound stages, a production "mill shop," and a nine-story parking garage estimated to hold over 1,500 parking spaces.
Phase Two consists of redeveloping the plant into 11 sound stages alongside executive offices, a full-service restaurant with an outdoor patio, a commissary, a mezzanine cafe, and a fitness center.
The LA Times tells the DTLA Weekly that the development will not interfere with its future printing operations.
"We appreciate the consideration that Atlas Capital has given to the Los Angeles Times and our print production facility, which is located on the property, and that we have the opportunity to remain in that location without any disruption to our operations well into the future."
The sale and redevelopment of the plant comes at a time when newspapers throughout the country continue to suffer from significant losses. In 2018, US newspaper circulation reached its lowest levels since 1940. As a result, newspaper revenues declined significantly between 2008 and 2018, which, in turn, led to a steep 62% drop in advertising revenue from $37.8 billion in 2008 to $14.3 billion in 2018.
The Los Angeles Times is no stranger to this, as it recently implemented cost-cutting strategies such as furloughing jobs and pay cuts due to a loss of advertising revenue. The paper has also struggled to meet its digital subscription goals. Additionally, it also reported that the Los Angeles Times and San Diego Tribune suffered losses "north of $50 million" in 2020.
Dr. Patrick Soo-Shiong, biotechnology billionaire and owner of the LA Times, recently came under fire by staffers after he "abstained from voting" against the acquisition of Tribune Publishing by the hedge fund, Aiden Capital. The hedge fund has a reputation for cutting both personnel and property costs. Many in the newspaper industry are disturbed that Soo-Shiong, the second-largest stakeholder in Tribune Publishing Co, failed to leverage his 24% ownership and prevent the takeover with a no-vote. Soo-Shiong is estimated to have earned between $150 to $160 million in cash from the deal.
Rick Edmonds, a media business analyst for the Poynter Institute, tells DTLA weekly that the plant serves as an attractive sale for the LA Times as any potential equity made from the deal will likely cover operating expenses and technology for the paper leading into the future.