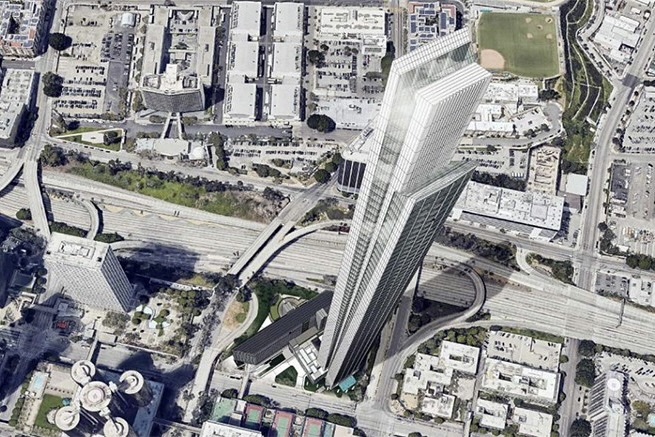 After the jury deliberated for less than three hours, Shen Zhen New World I LLC was found guilty of all eight counts it faced: three counts of honest service wire fraud, four counts of interstate and foreign travel in aid of bribery, and one count of bribery.
Based on the actions of its agents, including its billionaire Chinese real estate developer owner, a downtown Los Angeles-based company was found guilty today of paying more than $1 million in bribes – including luxury trip expenses, casino gambling chips and a sham loan – to then-Los Angeles City Councilman José Huizar to obtain city approval to build a 77-story skyscraper.
The owner of Shen Zhen – Wei Huang, 57, a resident of Shenzhen, China, who also maintains a residence in San Marino – is also charged in this case, but he has yet to make a court appearance in this matter. He is a fugitive believed to be in China.
According to evidence presented at trial, in 2010, Shen Zhen – on behalf of its owner – purchased the L.A. Grand Hotel in downtown Los Angeles. The property was located in the 14th City Council District, whose representative at that time was José Huizar. As part of his roles on the Los Angeles City Council, Huizar was the chairman of the Planning and Land Use Management Committee, commonly referred to as the PLUM Committee, which oversaw major commercial and residential development projects in the city.
In June 2018, Shen Zhen filed an application with the Los Angeles City Planning Department to redevelop the L.A. Grand Hotel into a skyscraper featuring a mix of residential and commercial uses.
From February 2013 to November 2018, Shen Zhen, acting through Huang, provided Huizar and his aide George Esparza with cash, casino gambling chips, flights on private jets and commercial airlines, stays at luxury Las Vegas hotels and casinos, expensive meals, spa services, prostitution services, political contributions, and a $600,000 collateral for Huizar to confidentially settle a pending sexual harassment lawsuit against Huizar by a former staffer that threatened his career.
At the time Shen Zhen provided these items, it did so intending to influence Huizar to take official acts to benefit the L.A. Grand Hotel redevelopment project, a project that would have transformed Shen Zhen's hotel into a 77-floor mixed use skyscraper that would have been the tallest such structure west of the Mississippi River.
Specifically, Shen Zhen intended that Huizar benefit the project by presenting motions and resolutions in various city committees; voting on the project in the PLUM Committee and City Council; taking action in the PLUM Committee to expedite the approval process of the project; exerting pressure on other city officials to influence the approval process of the project; and introducing and voting on city resolutions to enhance the professional reputation and marketability of Wei Huang.
United States District Judge John F. Walter scheduled a January 23, 2023 sentencing hearing, at which time the company is expected to face a multi-million dollar fine.
Huizar and former Deputy Mayor Raymond Chan have pleaded not guilty to the charges against them, which include racketeering conspiracy and multiple bribery counts, and are scheduled to go to trial on February 21, 2023. Esparza pleaded guilty in July 2020 to one count of racketeering conspiracy, and is scheduled to be sentenced on June 5, 2023.
Federal prosecutors have now convicted a total of nine defendants along with receiving over $3 million in criminal penalties to resolve their investigation into two other major real estate development companies, as a result of Operation "Casino Loyale," the ongoing corruption investigation into Los Angeles City Hall being conducted by the FBI and the United States Attorney's Office.
Salvador Huizar, José Huizar's brother who testified as a witness for the prosecution in the Shen Zhen trial and is expected to testify at his brother's trial, is scheduled to be sentenced on May 15, 2023 after he pleaded guilty to a felony charge of making false statements to federal investigators.
In the first Huizar-related trial in this case, a federal jury on June 27 found real estate developer Dae Yong Lee, a.k.a. David Lee, 57, of Bel Air, and 940 Hill LLC, a Lee-controlled company, guilty of felony charges, including fraud and bribery, for providing $500,000 in cash to Huizar and his special assistant in exchange for their help in resolving a labor organization's appeal of their downtown Los Angeles development project. Their sentencing hearings are scheduled for January 30, 2023.
Assistant United States Attorney Mack E. Jenkins, Chief of the Public Corruption and Civil Rights Section, Assistant United States Attorneys Susan S. Har and J. Jamari Buxton, also of the Public Corruption and Civil Rights Section, and Assistant United States Attorney Patrick Castañeda of the International Narcotics, Money Laundering, and Racketeering Section, are prosecuting this case.
Any member of the public who has information related to this or any other public corruption matter in the City of Los Angeles is encouraged to send information to the FBI's email tip line at pctips-losangeles@fbi.gov or to contact the FBI's Los Angeles Field Office at (310) 477-6565.