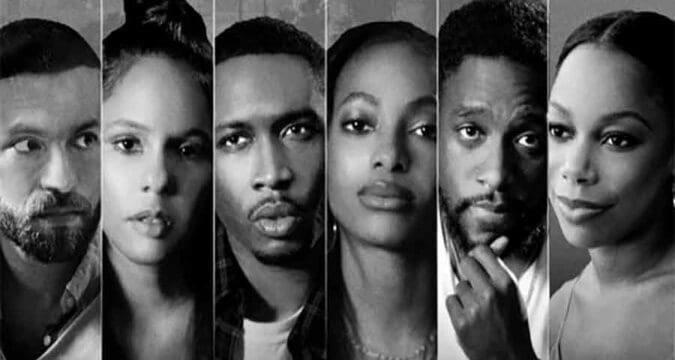 Fans of the hit CLEO TV 's Tough Love will be glad to know the new series TOUGH LOVE: LOS ANGELES airs Wednesday, November 25, 2020 with a simulcast broadcast premiere on TV ONE.
A spin-off of the Emmy-nominated web series TOUGH LOVE, this 10-episode series follows a new group of young, unapologetically Black millennials living in Los Angeles, as they participate in a social experiment about love and relationships within the Black community. As they start to open up, they reveal intimate secrets and discover deceit that might jeopardize their tight-knit friendship circle.

At a gathering honoring the birthday of Mya's (Lauren Wilkins) late brother who has been murdered by police, members of this group begin to show cracks in their façade. Mya is on a daily hunt for justice, while also battling anxiety and depression. However, her boyfriend Rashad's (Jamy Pierrevil) questionable interactions with other women are threatening to make matters worse. Singles Raymond (Javon Terrell) and Story (Kamri Cole) are trying to navigate the dating world but might form a deeper connection with each other. Engaged couple Denise (Symphony Canady) and Brian (Lance A. Williams) are working to strike a balance between their careers and wedding planning. Though their lives are set to #itscomplicated status, they decide to come together to help out with fees for Mya's legal battle by participating in a paid relationship study. As they begin to open up during sessions, the secrets they've tried so hard to hide become immediately uncovered which forces them to consider their role in one another's lives. 
The TOUGH LOVE LOS ANGELES cast includes:
Lauren Wilkins as Mya
Jamy Pierrevil as Rashad
Kamri Cole as Story
Javon Terrell as Raymond
Lance A. Williams as Brian
Symphony Canady as Denise
Melyssa Ford as Dena
Richard Nevels as John
Eric Tidwell as Keith
TOUGH LOVE was created by Caleb Davis and Roni Davis and written by Casandra Mann. The series is produced by Creative Direction Group. Dexter Cole is Senior Vice President of Program Scheduling and Acquisitions for TV One.