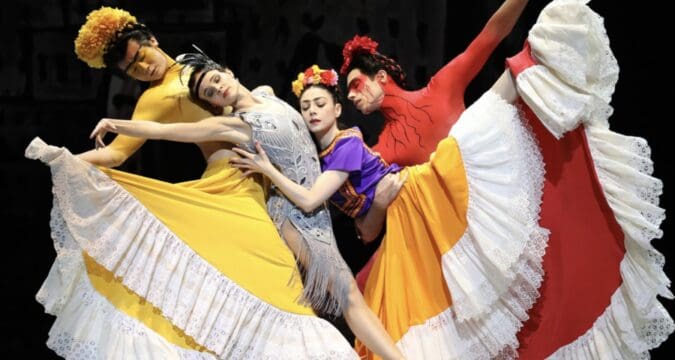 The Dutch National Ballet, the largest dance company in the Netherlands, will conclude the 20th dance season of Glorya Kaufman Presents Dance at The Music Center with the U.S. premiere of Frida from July 14–16, 2023.

Choreographed by Annabelle Lopez Ochoa and composed by Peter Salem, Frida pays homage to the renowned Mexican artist Frida Kahlo. The production explores Kahlo's complex and colorful life, delving into themes such as her loneliness, her relationship with Diego Rivera, her bisexuality, and her artistic self-expression.
As part of their residency, the Dutch National Ballet will participate in The Music Center's Dance in Focus Film Festival: REFLECTIONS, presented in association with Dance Camera West. In addition, Annabelle Lopez Ochoa conducted three master classes for high school and college dancers from July 5–7, 2023.

Prior to the Sunday matinee performance, there will be a pre-show talk on Jerry Moss Plaza at The Music Center with Dutch National Ballet's Artistic Director Ted Brandsen.
Rachel S. Moore, President and CEO of The Music Center, expressed excitement about partnering with Dutch National Ballet for the U.S. premiere of Frida, calling it a captivating finale to the 20th season of Glorya Kaufman Presents Dance. Moore believes the production will captivate Frida Kahlo enthusiasts and those interested in learning more about her life and artistic vision.
For the past 60 years, the Dutch National Ballet has been a leading force in the development, production, and presentation of ballet at an international level. With nearly 80 dancers from around the world and a tradition of innovation, the company strives to bring the beauty and passion of dance to a wide audience. Frida, a full-length ballet inspired by the riveting and tragic life story of Frida Kahlo, was created from scratch by Annabelle Lopez Ochoa and Peter Salem. The performance will be accompanied by a live orchestra conducted by Matthew Rowe.
To engage and inspire students and educators, The Music Center will offer three master classes taught by Annabelle Lopez Ochoa herself. These classes will cater to students from Lula Washington Dance Theatre, college-level dancers, and students from Straight Up Abilities.
A distinguished panel of industry professionals, including Javier De Frutos, Kelly Hargraves, DaEun Jung, Dawn Stoppiello, and Price Suddarth, judged the nearly 300 dance films submitted in three categories.

The winning films were announced on Friday, June 23, and will be screened for free to the public starting on Wednesday, July 12, on the LED screens at Jerry Moss Plaza and on The Music Center's website. The screenings will continue throughout Dutch National Ballet's residency at The Music Center, and performance ticketholders will also have the opportunity to view the winning films in Stern Grand Hall located inside The Music Center's Dorothy Chandler Pavilion.
The Music Center acknowledges the support of Sony Pictures Entertainment for The Music Center's Dance in Focus Film Festival: REFLECTIONS.