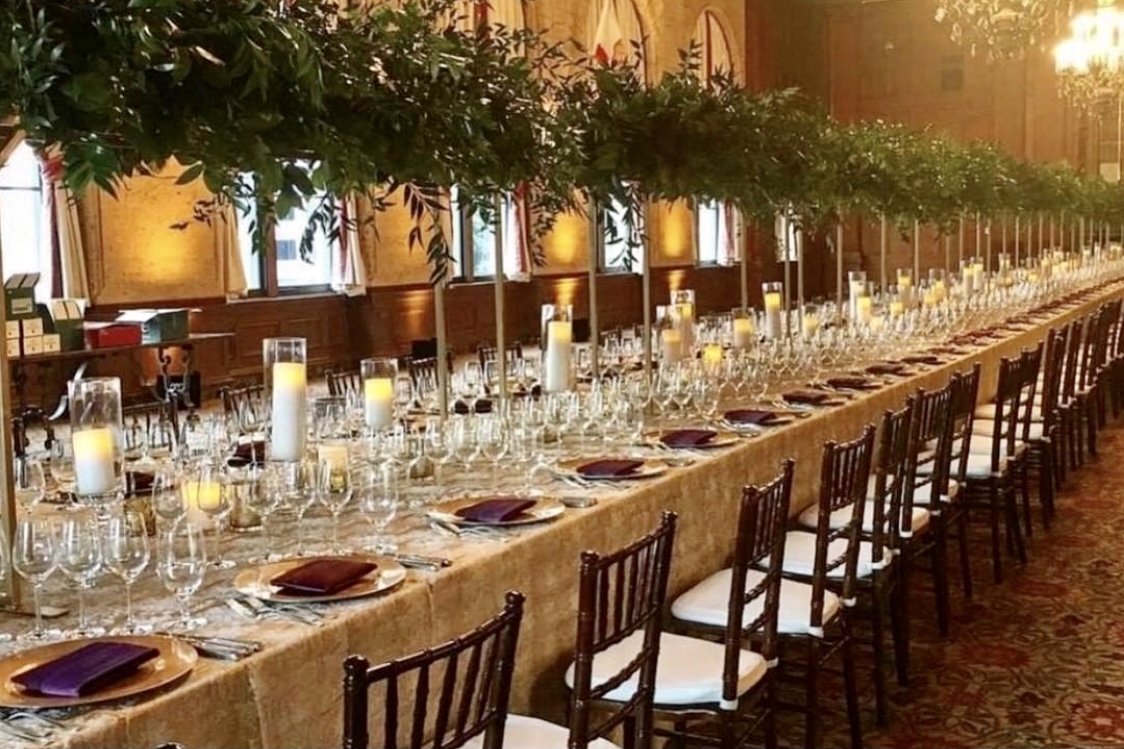 Whether you're planning your NYE countdown at home, high on top of the world, or in an underground club deep below its surface, Downtown LA is the place to be to bring in the new year.

Here's a countdown to the 10 Greatest Places to party for New Year's Eve 2022.
Ten – Stay Home!
This year, there are more than enough good reasons to enjoy your New Year's Eve in the safety and comfort of your own home.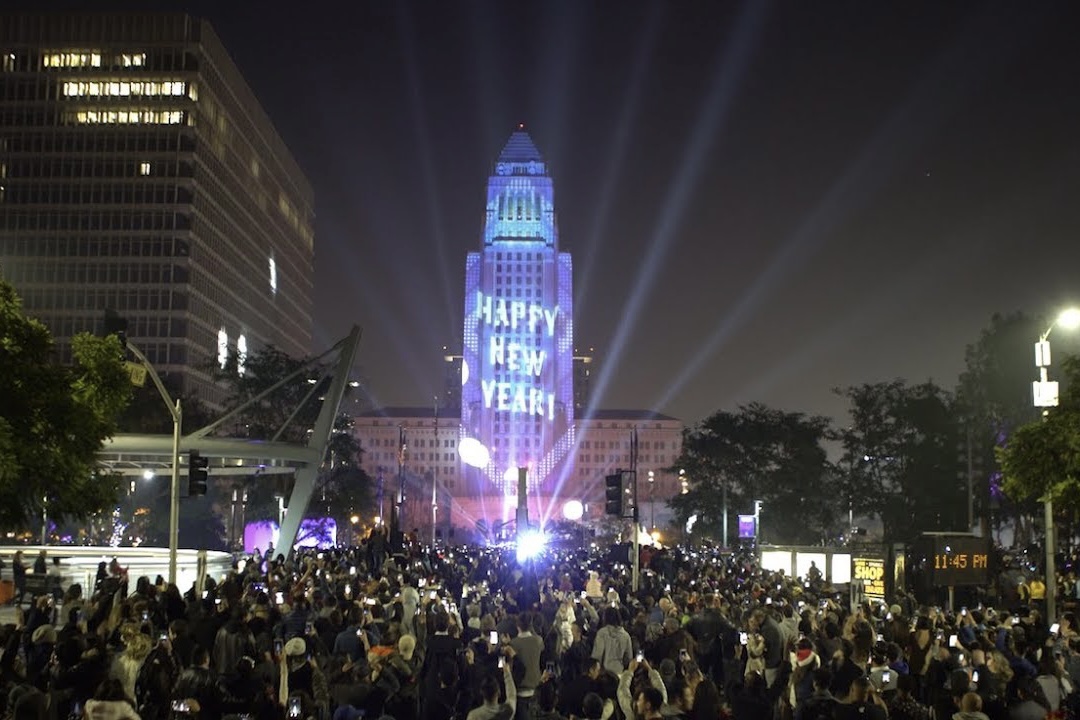 You may miss out on the whole group countdown-hugs-kiss a stranger thing, but you won't miss out on the fireworks or the festivities if your management throws a tenant party… or…
You can tune in to watch Grand Park's NYELA live one-hour special broadcast and streaming event.
Grand Park's NYELA will feature a dynamic lineup of performances beginning with the Afro-Dominican rhythms of songstress Esty, followed by the R&B-influenced alt-hop beats of South L.A.'s DUCKWRTH, Kinky and back-to-back DJ sets by Peanut Butter Wolf and J.Rocc.
Sign up to receive our popular Get2DTLA Newsletter
The celebration will culminate with Grand Park's signature midnight countdown featuring an exciting showcase of stunning 3D graphics and light on the iconic Los Angeles City Hall building.
Viewers can tune in or log on to the flagship West Coast countdown celebration on Friday, December 31st, from 11:00 pm – 12:01 am, streaming on Grand Park's YouTube channel.
Nine – Save time and money with a DTLA Bar Crawl
Bar crawls are for those who prefer the variety of local bars in Downtown Los Angeles over the stagnation of spending NYE in one place with the same group of people.
Participating bars understand a working man's budget; to play along, they will offer bar crawl participants plenty of perks.
You may not have excellent bottle service, open bar, or catered bites, but you will get discounts on menu items, free welcome shots, and a chance to skip the line outside.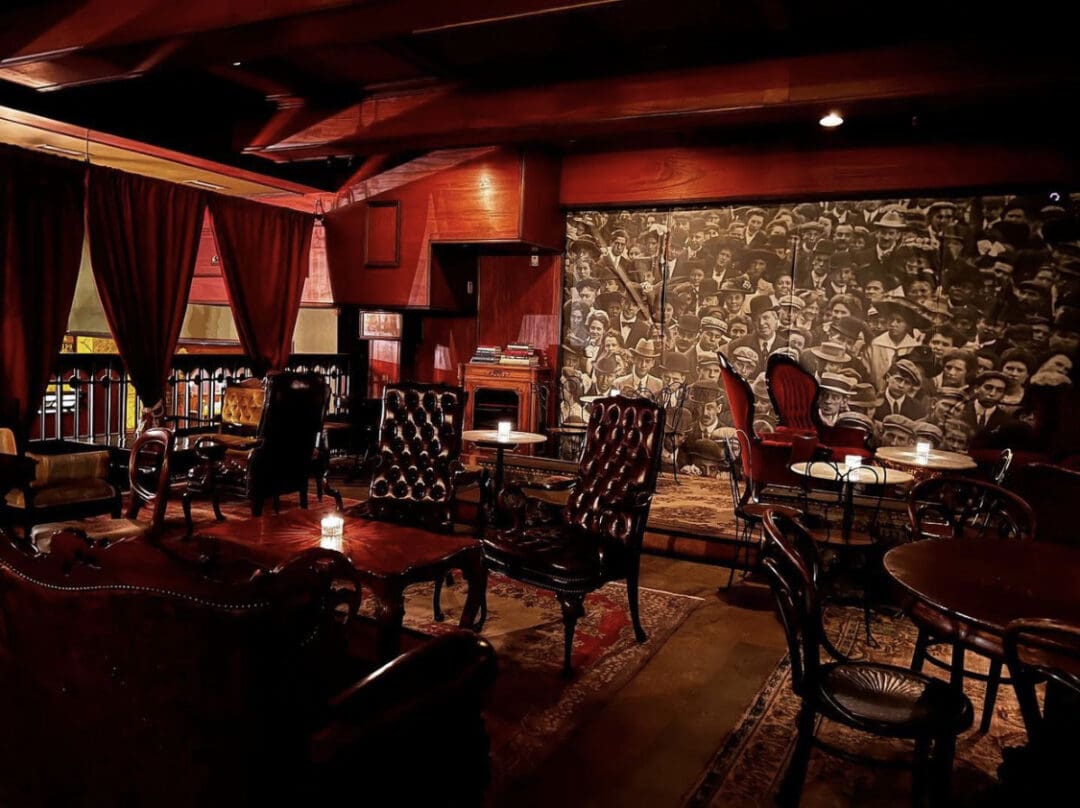 While New Year's Eve in Downtown may be expensive with party tickets ranging from $60 to $3000 a night, spending $20 for a bar crawl wristband may just pay off. If you want to skip the middle man and crawl about on your own, we suggest you begin at The Wolves in the Historic Core or Little Bear in the Arts District.
Eight – Live Nation Almost Presented: Dita Von Teese – Update Cancelled
Nothing brings in the New Year like DTLA burlesque. From nightclubs to full-on stage productions, some of the most glamorous burlesque performers ever to grace the earth have performed on our stages.
Too bad Orpheum Theater won't be hosting its traditional New Year's Strip Tease with the Queen of Burlesque, Dita Von Teese. What was to be an evening of show-stopping performances with a stellar lineup of the brightest stars in modern burlesque is now postponed.
It looks like partying in historic theaters will not be a thing this year, as The Globe, Belasco Theater, and the Ace Hotel ground floor gala all seem to have scrapped their annual NYE plans.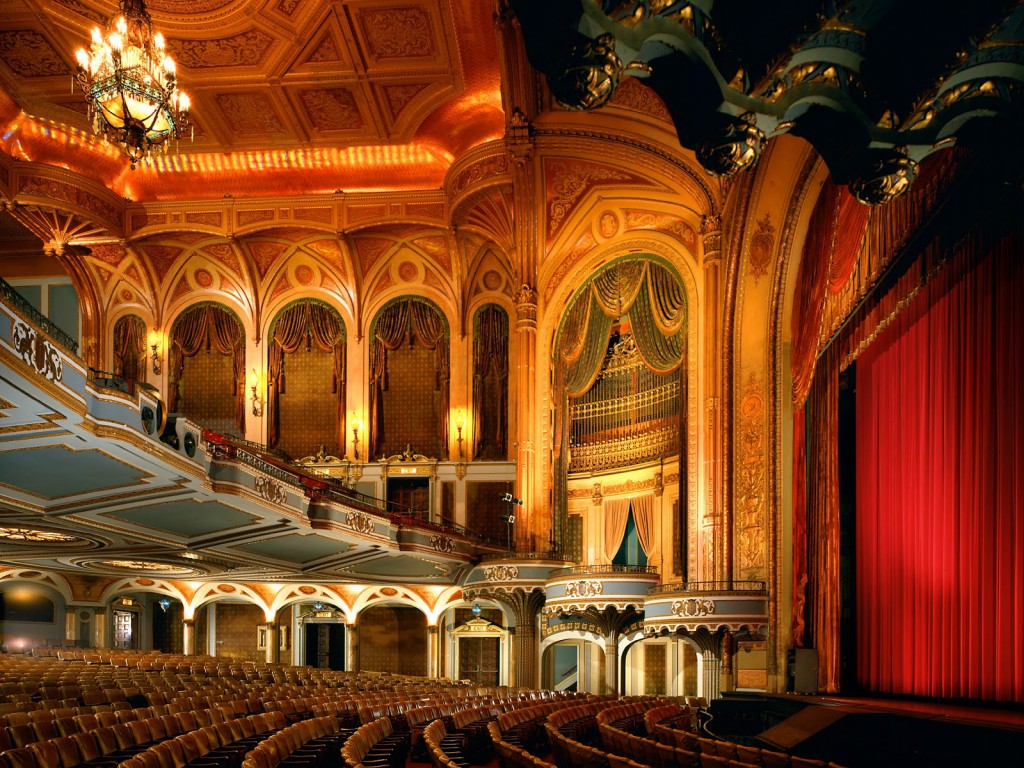 As an alternative, DTW recommends an immersive dining experience at the new restaurant atop The Ritz-Carlton, Los Angeles, at Le Petit Chef. Here's a theatrical dining experience presenting nightly showings of tempting gourmet meals perched on top of the hotel's 24th floor, offering guests sweeping views of the Downtown LA skyline and impeccable service.
Updated 12.29: The Globe will host the Boulet Brother's 2022 Queer New Year, December 31st, 740 S. Broadway Street, LA, CA, 90014.

Seven – Groovy Energy of Hope Street Village
Hope Street Village will undoubtedly be groovy this NYE with its never-ending flow of energy springing from the international flavors at Kai's Table, crossing quickly over to Prank Bar before bouncing back again towards King Cigar Lounge, Byou Restaurant, and the Palms. With all five venues featuring outside patios looking to celebrate NYE, Hope Street at 11th keeps South Park in the party mix this New Year's Eve.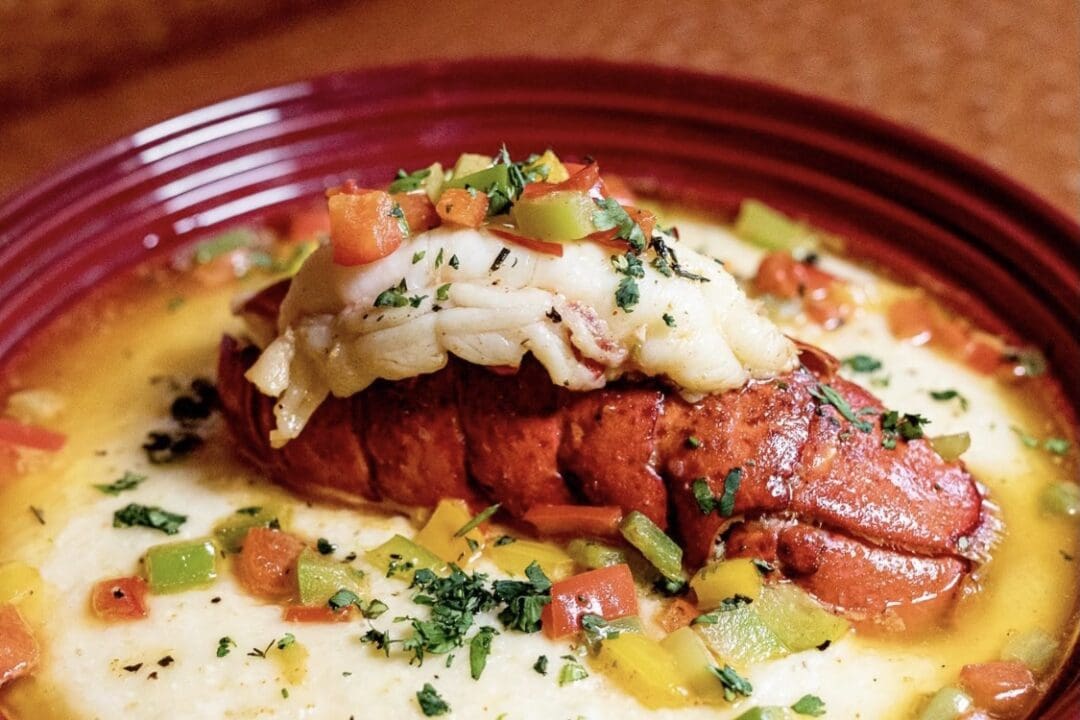 Six – Party Under the Earth.
If partying underground is your thing, there are a few nightclubs hidden below the surface of the earth willing to help you bring in the New Year with a bang!
Situated fifteen feet below Flower St. and 8th, Queensberry offers ultra cocktails, club mix, hundreds of hanging disco balls, and an electric disco floor anxiously awaiting your dancing feet.
There's only a $20 door charge, and VIP tables are available. The only thing is you'll have to find it. In the true spirit of a Downtown speakeasy, Queenbury's entrance is hidden within an alley on 8th between Flower & Figueroa.
Another underground favorite not too far away is Lilly Rose. Lilly Rose has gained praise since it opened in the basement of the Wayfarer Hotel in 2019. Lilly gets started early with a lighter pre-celebration meal from 2 pm-6 pm featuring special releases from Dammann Tea.
Later on the evening, for roughly $150, guests are promised an open bar until midnight, tray-passed bites, music, dancing, and Lilly Rose drinks.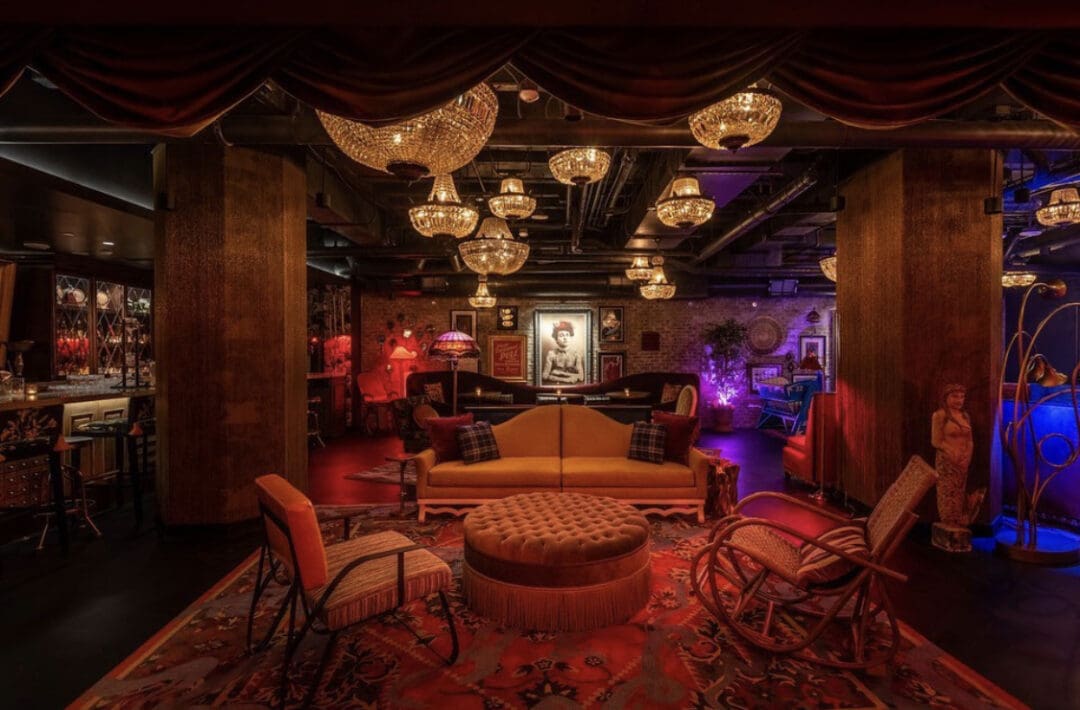 If the basement is too deep, take a ride up to the roof. From 5 pm-11 pm, The Rooftop at the Wayfarer offers a 4-course prix fixe dinner plus a complimentary glass of champagne starting at $85 per person.
Five …Party High Above the City!
If rooftop NYE parties are your thing, you'll be happy to know Downtown LA has got a city full of them.
From the Historic Core to Bunkerhill, outdoor rooftops are by far the most sought-after NYE party destinations, and for a good reason. Here are a few more recommendations…
This year DTLA rooftops are all about pairing fresh air, dancing, and a champagne toast!
Four …For sushi and electric lights, take the elevator up 21 stories to Takami Sushi and after sushi, sake, and a toast; then dance the night away at Elevate Lounge. When Club Elevate opens its interior walls, all of Downtown becomes your backdrop. Reservations required.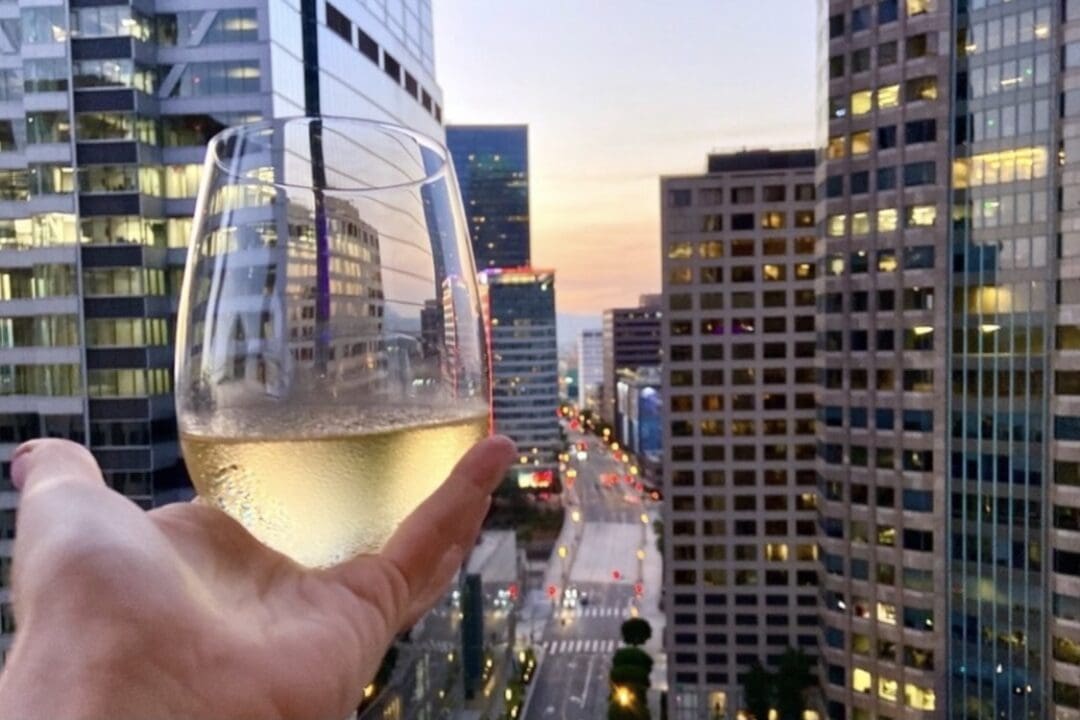 Three…With Ms. Fish taking reservations in the basement and hospitality hubby keeping an eye on the nest at Perch, this Historic Core beacon lights up the night with a bird's eye view of Pershing Square, the Biltmore Hotel, and a glimpse of the Spring Street Strip. www.perchla.com
Two – Cocktail Wonderland at Clifton's Republic – Postponed
No need to express our town's disappointment with recent cancellation of the reopening of Clifton's Republic on NYE. What was poised to be DTLAs most amazing comeback of the year with four levels of curiosities, mixed drinks, live music and burlesque was recently put on hold. Guess we'll have to wait to rub their 200-million-year-old meteorite, sip cocktails and dance the Charleston until January of next year.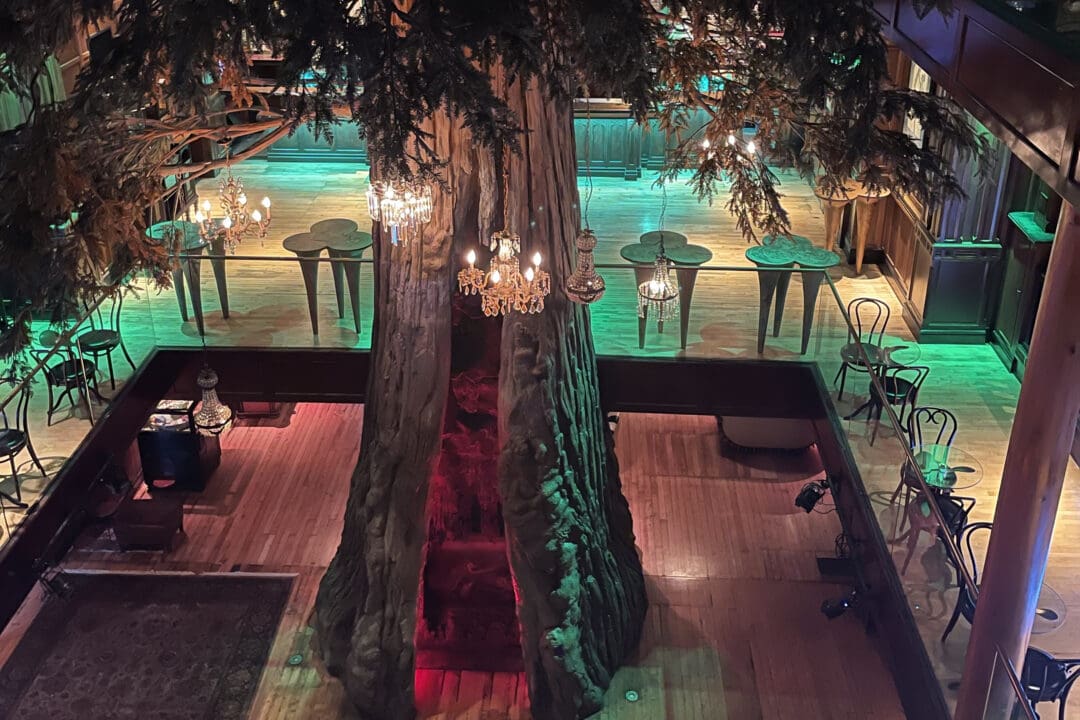 Good news… Clifton's will be announcing their full public re-opening later in January with the reintroduction of the fabled cafeteria and nights of wonder within the long awaited Shadowbox coming soon!
One – Sweeeet Dekkadance at Intercontinental Hotel
Come celebrate with the cast and crew of Downtown Weekly and toast to the New Year in style at downtown L.A.'s most refined and highest rooftop bar – Spire 73. Enjoy live DJs with dancing, festive cocktails, and small bites, but not before doing the tongue dance with almost every sweet delectable shellfish known to man at Dekkadance NYE Seafood Buffet.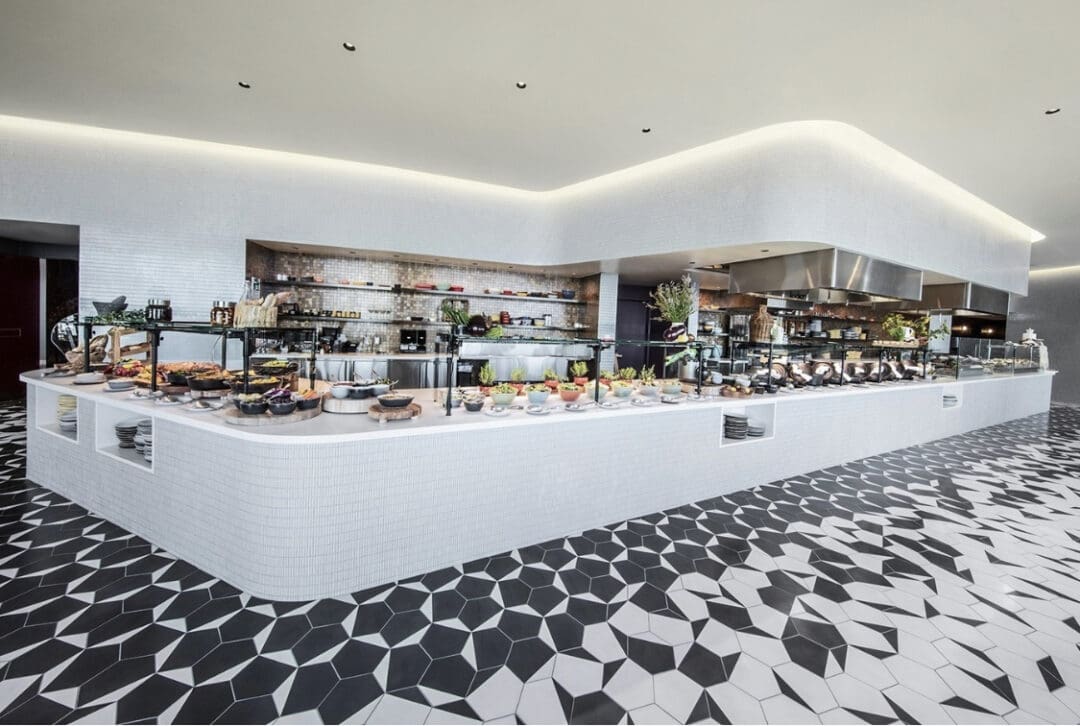 The InterContinental's is the tallest open-air bar in the Western Hemisphere. This tremendous celebration is at the top of all of Los Angeles. See you when we come down. 900 Wilshire Blvd., Los Angeles, CA 90017. dtla.intercontinental.com