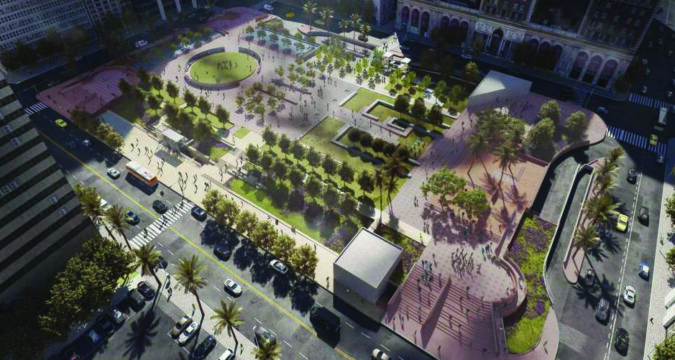 After seven years of meticulous planning and design contests, the eagerly awaited makeover of Pershing Square, a central gem in Downtown Los Angeles, is finally taking its first strides towards transformation.

A groundbreaking ceremony held recently marked the commencement of a $21.6 million revitalization project, primarily focusing on the park's western perimeter, adjacent to Olive Street, right across from the iconic Biltmore Hotel.
This initial phase of the renovation project will cost $21.6 million and is expected to be completed in Fall 2024. It will involve demolishing the existing cafe structure, which obstructs the view of the park from Olive Street.

The plan includes the creation of a new street-level entry plaza and the installation of two glass elevators to provide access to the underground parking garage beneath the park.
The roots of this project trace back to a public design competition held in 2015, where the city selected a winning concept known as "Radical Flatness." The vision aimed to open up the park by shaving down the roof of the subterranean parking garage, creating a more inviting public space.
Initially estimated at over $110 million, the project has adopted a phased approach due to cost concerns, avoiding alterations to the garage.
The current work on Olive Street, recognized as Phase 1A, is led by Gruen Associates as the architect of record. Phase 1B will follow, focusing on similar upgrades to enhance the park's edges facing 5th and 6th Streets, estimated at a cost of $16.5 million.

The second phase will extend these improvements to the Hill Street side, further increasing accessibility and engagement. Lastly, the third phase will tackle enhancements to the central area of the park.
Pershing Square boasts a rich history dating back to the 19th century, with original designs by city engineer Fred Eaton and later, a Beaux Arts design by architect John Parkinson in the early 20th century. The park's current appearance was established in the early 1990s by architect Ricardo Legorreta, featuring stylized earthquake fault references and nods to the city's aqueducts. However, it has faced criticism for its labyrinthine walls, which have isolated the park from its surroundings.
While the park's appearance will evolve, its role as a beloved public open space will persist. Downtown Los Angeles, which has one of the lowest park-per-resident ratios in the city, eagerly anticipates these improvements.

Currently ranking 78th in the nation for park access and amenities, the city aims to bolster its green spaces, providing residents with more opportunities for outdoor leisure.
As Pershing Square embarks on this remarkable journey of transformation, it symbolizes a commitment to enhancing the quality of life for all residents of Downtown Los Angeles.
With improved accessibility and aesthetics, this iconic park is poised to become an even more vibrant centerpiece of our urban landscape.