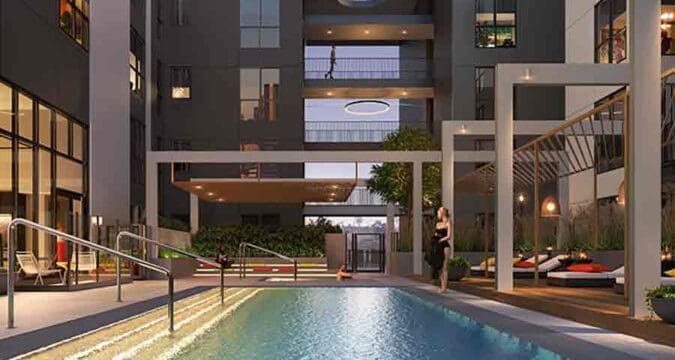 High Street Residential, the residential subsidiary of Trammell Crow Company, along with its partner, Principal Real Estate Investors, unveils Llewellyn, a 318-unit apartment community in the east Chinatown enclave of Mission Junction, a thriving LA neighborhood with an evolving local culture. Spanning a full city block at the corner of 1101 North Main and Llewellyn Streets, the new apartment community comprises two-bedroom, one-bedroom, and studio apartments with enviable amenities. Now pre-leasing for January 2021 move-ins, Llewellyn is an opportunity you do not want to miss.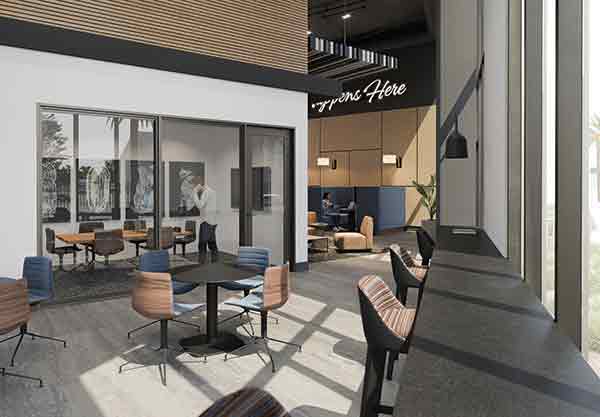 Are you like many other professionals, creatives or entrepreneurs who do the majority of your work from home? Llewellyn living is ideal for you. The community, which largely features two-bedroom floor plans, is perfect for renters who work remotely, giving them a private workspace within their very own homes. Another ultra-unique feature of this building is the two-story, 1,700 square-foot co-lab workspace with breakout meeting rooms, available for use by all residents. Plus, if you are in the business of music or sound, or even if it's just a hobby, Llewellyn offers a one-of-a-kind sound-proof "jam room" to make all your recording and podcast dreams come true.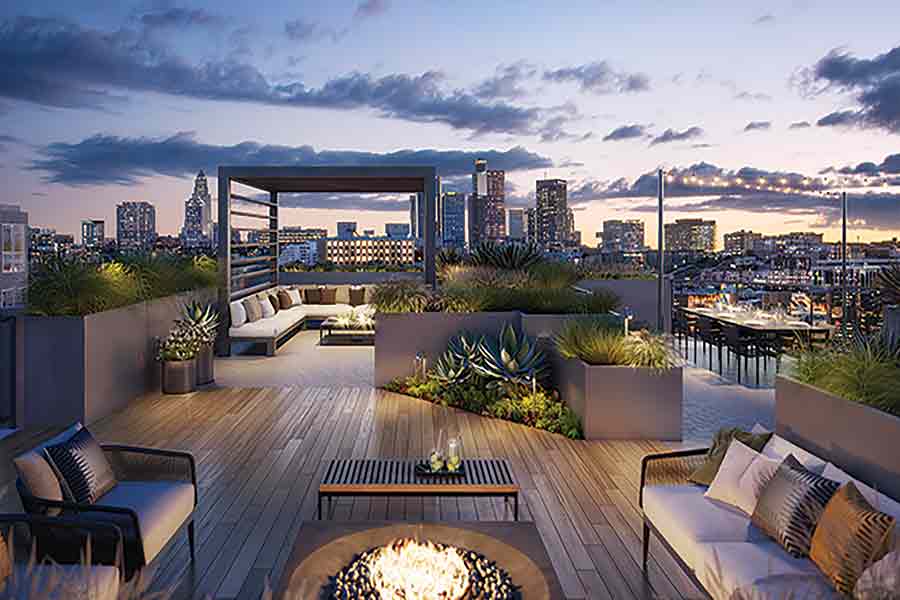 Biking and outdoor enthusiasts have direct access to the adjacent Los Angeles State Historic Park and LA River bike paths (which are great for walking and jogging). Cyclists will also benefit from three bike-parking rooms, a master parking room with seating to relax or to put on cycling shoes, and a bike service room with a workbench, tire pump and bike parts vending machine – a super trendy but hard-to-find apartment community feature. Finally, Llewellyn will allow residents to check out Llewellyn-branded cruiser bikes as a courtesy amenity to explore the neighborhood.
The new apartment community will also serve new families and the many folks who share the cost of rent with a roommate. Fifteen spacious ground-floor units are perfect for families, offering personal entrances and access to private outdoor patios with extensive landscaping to give the feel of having your own backyard. With an on-site children's play area and several nearby parks, Llewellyn offers endless options for families with young ones.
Having a furry family member, you may be in the market for first-rate pet-friendly housing. Pet owners will also love Llewellyn's ground-floor units with landscaped patio areas, which include gates, perfect not only for kids to play, but fur-babies as well. Your pet will be beyond pampered and well-cared for if you choose to use the building's pet grooming room with its hydraulic-lift table, washbasin and blower dryer. And again, there is that giant 32-acre pet-friendly park directly across the way.
Residents of Llewellyn will also enjoy an abundance of additional perks, nearly impossible to find in one building, including three landscaped courtyards; two rooftop decks with cabanas; mountain and cityscape views; heated pool and spa; an indoor-outdoor fitness center; and multiple indoor-outdoor entertaining spaces with flat screen TVs, barbecues, fire pits and ice makers.
After overseeing the building's planning and getting to know local business owners during its construction, Alex Valente, Senior VP of High Street Residential, anticipates Llewellyn will breathe new life into the Mission Junction community:
"Llewellyn will fill a void in the market for those seeking a breathable alternative to downtown Los Angeles that provides access to both urban and outdoor pursuits. The community has a broad appeal, and we look forward to welcoming the first residents in the new year and helping them explore the vibrant Mission Junction neighborhood and the incredible local businesses that operate here."
Part of this broad appeal, as Valente points out, is the neighborhood itself. If you are a social butterfly or simply enjoy exploring the sights and sounds around you, the neighborhood of Mission Junction places Llewellyn residents within arm's reach of some of the best that Los Angeles has to offer: modern dining at Majordomo, craft beer at Highland Park Brewery and the soon-to-open Homage Brewery, local wine at Angeleno Wine Company, award-winning coffee at Chimney, unique grocery finds at Lax-C, art exhibitions on Chung King Road, baseball games at Dodger Stadium and so much more.
Valente also knows that part of what sets Mission Junction apart and draws people in is the new creative class that has assembled in area:
"Over the last several years, this unique corner of Chinatown has drawn in some of LA's best creators – from urban artists and craft producers to chefs, winemakers, and brewers. Llewellyn offers a functional, amenity-rich home base for these individuals, while also inviting other bright minds to continue energizing the community."
The benefits you get from the location of Llewellyn are unmatched in all of LA. Mission Junction is just removed downtown Los Angeles, but still a short walk, train, or car-ride away from almost anywhere in the LA Metro area. It's simply the best of both worlds. Llewellyn is located two blocks from the Chinatown Metro Gold Line Station and also houses on-site covered parking for residents and guests. It is conveniently located to major freeways with the communities of Silver Lake and Pasadena each only 15 minutes away by car.
Mission Junction also maintains a long tradition of cultural diversity as the neighborhood transcended in the 1880s, with immigrants from Europe, Mexico, and China settling in the area after LA's first transcontinental railroad station was built. Llewellyn derives its name from Llewellyn Iron Works, a historic metalworking facility that built the city's first ornamental lamp posts (called "Llewellyns") and provided the structural steel that built landmark Los Angeles buildings including the ironwork inside the iconic Bradbury Building.
Need we say more about this incredible new offering from High Street Residential? Truly having something for everyone, boasting unparalleled amenities, and a neighborhood history and community that is second to none, do not hesitate to experience living at Llewellyn.
Pricing for studios starts at $2,125, one-bedrooms at $2,375 and two-bedrooms at $3,250. Listings are viewable here.