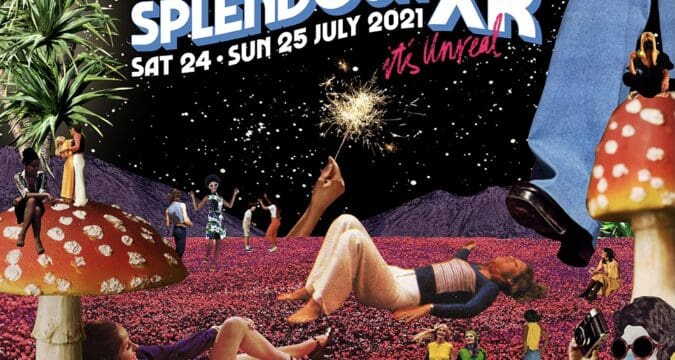 Splendour in the Grass is thrilled to introduce Splendour XR, a bold and world first extended reality edition of your favorite Aussie festival. It's online, priced to be affordable and It's Unreal!
Splendour XR will hit your screen of choice fromSaturday 24 & Sunday 25 July.Available on mobile, tablet, browser, desktop and VR.
Always the innovators, when COVID pulled the plug on live music around the world, team Splendour set to work and is now preparing to flick the switch on a world first online experience, unlike anything you've seen to date, that will take Splendour in the Grass to audiences around the globe.
Available on mobile, tablet, browser, desktop and VR, Splendour XR combines technology, art and over 50 of your favorite music artists, in a true virtual Splendour in the Grass festival experience rolled out over two days.
Indie rock royalty, critically acclaimed and genre defying singer-songwriters, viral pop sensations, hip-hop heroes and sought after collaborators, pioneering dance producers and artists who push way beyond boundaries into the unknown, will perform across Splendour XR's stages alongside the hottest Australian acts of the moment.
DAY 1 – KHALID. DENZEL CURRY. DUKE DUMONT. TASH SULTANA. MASKED WOLF. RUSS MILLIONS. BAND OF HORSES. LITTLE SIMZ. VIOLENT SOHO. AURORA. PHOEBE BRIDGERS. VERA BLUE. PINK SWEAT$. CLIENT LIAISON. GRIFF. POND. TAYLA PARX. DUNE RATS. METHYL ETHEL. THE CHATS. TRIPLE ONE. CAT & CALMELL. KING STINGRAY. THE SOUTHERN RIVER BANDDAY
2 – THE KILLERS. VANCE JOY. GRIMES METAVERSE (SUPER BETA). THE AVALANCHES. OF MONSTERS AND MEN. KAYTRANADA. BLACK PUMAS. HOT DUB TIME MACHINE. MILLENNIUM PARADE. THE JUNGLE GIANTS. OCEAN ALLEY. JUNGLE. WHAT SO NOT. KING GIZZARD & THE LIZARD WIZARD. SINÉAD HARNETT. HOLLY HUMBERSTONE. SPACEY JANE. CROOKED COLOURS. AMYL AND THE SNIFFERS. WAFIA. AVIVA. THE SNUTS. BAND-MAID. ZIGGY RAMO. GRETTA RAY
Forget avatars, Splendour XR is bringing you the real deal, your favorite artists performing never-before-seen live sets that have been created especially for this global online event.
Build your virtual self and move through an imaginatively embellished but faithful recreation of Splendour's Byron Bay venue. And just like Splendour IRL, you'll create your own schedule, travel from stage to stage to watch your favorite artists and all while virtually meeting up and partying with your mates along the way.
Kick off your Splendour XR day with yoga at Global Village and expand your mental bandwidth at Splendour Forum. Kids getting in your grill? Set those rug rats up with Little Splendour and buy yourself some chill time. Then dive in all over again!
Splendour XR has been created in collaboration with San Francisco based platform developers Sansar, the world market leaders in social virtual reality.
"Working with Splendour we have been challenged to go above and beyond anything we've done before. This is going to be the most impressive virtual live event that the consumer market has ever seen, and we can say that with absolute confidence" said Pouyan Afkary, Business Development, Sansar.
Alongside the music, art and festival feels, XR will also hone in on some more serious topics, like raising funds for live music industry workers, mental health and wellbeing, and sustainability.
Splendour XR will include an online medical centre to assist any patrons who are struggling with their mental health in this Covid world. And XR is committed to managing emissions and creating a clean and green platform with a minimal carbon footprint.
"Splendour has always offered patrons a deep programming experience with The Forum, Global Village, Little Splendour and more on offer alongside our favorite artists. We could not be more excited about Splendour XR and the opportunity to take the Splendour goodness online to our existing community and also to new audiences around the globe." said Splendour in the Grass Co-producers Jessica Ducrou and Paul Piticco.