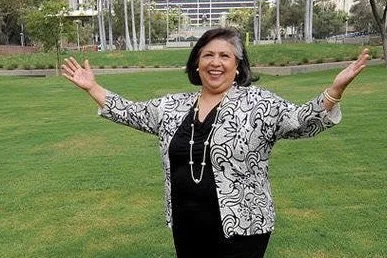 Gloria Molina, a remarkable trailblazer in American politics, an ardent activist, and former Los Angeles County Board Supervisor, passed away at the age of 74, as announced by her family on Sunday.
Born on May 31, 1948, Molina's indomitable spirit propelled her through a distinguished career, serving as a dedicated member of the Los Angeles City Council, the California State Assembly, the Los Angeles County Board of Supervisors, and the Los Angeles County Metropolitan Transportation Authority.
Emerging as a prominent figure in the Chicano movement, Molina made her entry into politics in 1982, challenging the dominant, male-dominated Eastside political machine to secure a seat in the California State Assembly. Her groundbreaking victory marked her as the first Latina elected to the Assembly, igniting a streak of electoral success that would redefine political landscapes. With an unmatched determination, Molina became the first Latina to be elected to both the Los Angeles City Council and the Board of Supervisors, where she diligently served for an impressive 23 years. In 2015, Molina sought re-election to the Los Angeles City Council, but unfortunately faced defeat against incumbent José Huizar.
Throughout her illustrious career, Molina pioneered transformative initiatives and championed various causes. She played a pivotal role in revitalizing Los Angeles's Grand Park and wholeheartedly supported the LA Plaza de Cultura y Artes project, leaving an indelible mark on the city. Her unwavering dedication paved the way for future generations of women and Latina politicians, shaping Los Angeles for years to come. Such was her impact that Grand Park itself was aptly renamed Gloria Molina Grand Park in 2023, paying homage to her exceptional contributions.
Mayor Karen Bass, the first woman to hold the mayoral position in Los Angeles, deeply recognizes the profound influence of Supervisor Molina's trailblazing legacy, acknowledging that she stands on Molina's accomplished shoulders. On behalf of a grateful city, Mayor Bass expresses the utmost condolences to Supervisor Molina's grieving family, friends, and community.
"Gloria Molina was a force for unapologetic good and transformational change in Los Angeles. As an organizer, a City Councilwoman, a County Supervisor and a State Assemblywoman, Supervisor Molina advocated for those who did not have a voice in government through her pioneering environmental justice work, her role as a fiscal watchdog, and her advocacy for public health. She shaped Los Angeles in a lasting way while paving the way for future generations of leaders. As the first woman Mayor of Los Angeles, I know I stand on Supervisor Molina's shoulders. On behalf of an ever grateful city, I express my deepest condolences to Supervisor Molina's family, friends and community."
Recognizing her significant contributions, Molina received numerous accolades, including being named the "Hispanic Business Woman of the Year" by Hispanic Business magazine in 2006 and receiving an honorary Doctor of Humane Letters (L.H.D.) from Whittier College in 2014. In April 2023, the renaming of Grand Park to Gloria Molina Grand Park, in honor of her remarkable efforts in its redevelopment, was unanimously approved by the Los Angeles County Board of Supervisors.
As the news of Molina's terminal cancer emerged in recent years, her unwavering determination continued to inspire many. Hilda Solis, Molina's successor on the Board of Supervisors, took the initiative to rename Grand Park, signifying the enduring legacy of Gloria Molina. The motion was unanimously passed by the Board of Supervisors, and the Los Angeles City Council, led by councilmembers Monica Rodriguez and Kevin de León, endorsed the renaming of pedestrian crosswalks as the "Gloria Molina Legacy Pathway."
The Metro Board of Directors paid tribute to Molina by dedicating the East LA Civic Center station in her honor. These gestures serve as testaments to the profound impact Molina had on the city she dedicated her life to.
Sadly, Gloria Molina's battle with terminal cancer kept her out of the public eye, but her spirit and legacy remained a guiding light for those who admired her. Her passing on May 14, 2023, surrounded by her loving family in her Mt. Washington home, leaves a void in the hearts of those who had the privilege of knowing her.
DTLA, a city that experienced firsthand the transformative power of Gloria Molina's leadership, bids farewell to this extraordinary woman with a mixture of deep sadness and profound gratitude. Her unwavering commitment to justice, equality, and the empowerment of marginalized communities has left an indelible mark on Los Angeles and serves as an inspiration for generations to come.
As the city mourns the loss of Gloria Molina, her legacy remains a beacon of hope and a reminder of the incredible impact one individual can make. Her dedication, courage, and trailblazing spirit will continue to shape the future of DTLA and beyond, ensuring that her vision for a more inclusive and equitable society lives on.
Rest in power, Gloria Molina. Your remarkable contributions will forever be cherished and celebrated by a city that owes so much to your unwavering dedication and transformative leadership.