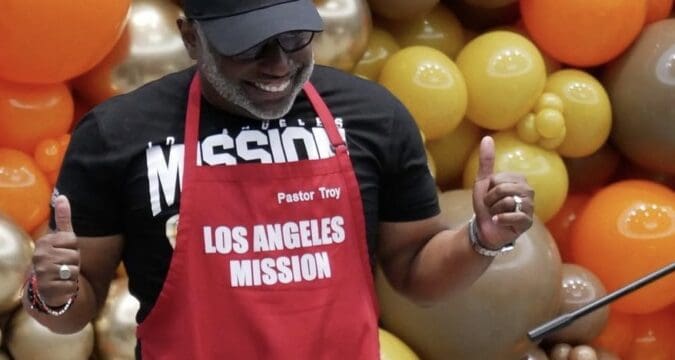 For many years, the Los Angeles Mission has been serving homeless individuals, and their services are especially crucial during the holiday season. This Easter, the Mission has organized an event to provide hot meals and basic necessities to men, women, and children currently living on Skid Row.
The event will be held on Sunday, April 9, 2023. Live shots and setup will start at 4:30 am, allowing TV crews to prepare for the event, which begins at 11:00 am and ends at 3:00 pm. The LA Mission Kitchen will be the hub of the event, where volunteers will prepare and serve hot meals to the attendees.
Photo: Pastor Troy Vaughn, President/CEO Los Angeles Mission courtesy LA Mission
Complimentary parking will be available at 333 S Alameda Street, with shuttle service running throughout the day to transport volunteers and attendees.
News crews can easily access the event and capture footage of staff, volunteers plus interviews with notable personalities in attendance, including LAPD Police Chief Michel Moore, LA County Sheriff Robert Luna, and various celebrities and athletes.
Notable personalities confirmed to attend include Garcelle Beauvais, Blac Chyna, Josh Peck, Harry Jowsey, Georgia Hassarati, Mayra Veronica, Chase DeMoor, Savannah Palacio, and Kate Linder. Chef David Nguyen and Chef Erik Grant of LA Mission will prepare nutritious meals for the event, ensuring that everyone has a warm and welcoming Easter experience.
The event at the Los Angeles Mission gives an excellent opportunity for volunteers to come together and make a positive impact in the lives of homeless individuals. The support of notable personalities and volunteers will create a welcoming and supportive environment, making Downtown LA just a bit brighter this Easter Sunday.
The Los Angeles Mission is located at 303 E. 5th Street, LA, CA 90013. https://losangelesmission.org