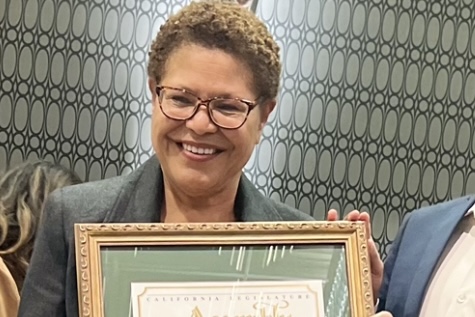 After months of debates and what may have seemed at first like the closest mayoral race in history, Democratic congresswoman Karen Bass just became the first woman elected as Mayor of Los Angeles.
Soon Mayor Bass will move into her new office at City Hall on Main Street in Downtown Los Angeles where she will work on fulfilling her campaign promises to tackle the city's homeless crisis and help cap the increase in crime.
Debate after debate, Ms. Bass stated as mayor she would declare a state of emergency on homelessness and house 17,000 homeless people in her first year. She also has promised more police officers on the street.
No stranger to the campaign trail, Bass was serving her sixth term in the House of Representatives when she decided to join the race for mayor of Los Angeles in September of last year.
Once neck and neck with her opponent, billionaire developer Rick Caruso, after making the world wait an entire week before the final results, in the end, Bass would emerge victorious winning with more than 53 percent of the vote.
"The people of Los Angeles have sent a clear message," Ms. Bass said in a statement on Wednesday. "It is time for change and it is time for urgency."
Bass is a native Angeleno and graduate of Cal State Dominguez Hills, the University of Southern California's School of Medicine Physician Assistant Program, and the USC Masters Program in Social Work. She once worked as a Physician Assistant and as a clinical instructor at the USC Keck School of Medicine Physician Assistant Program.
Remarkably, Ms. Bass can now add heading LA to her vast list of accomplishments which include actively working towards crafting sound criminal justice reforms, fighting for LGBTQ people across key areas of life, protecting intellectual property rights from infringements, and improving the nation's child welfare and foster care systems.
Before her election to Congress, Chairwoman Bass served in the California State Assembly, where in 2008, she made history by becoming the first-ever African-American woman in U.S. history to serve as Speaker of any state legislature. She was one of four legislative leaders awarded the John F. Kennedy Profile in Courage Award.
In the early 1990s, she convened a small group of community organizers, both African-American and Latino, and founded Community Coalition to help transform the social and economic conditions in South Los Angeles that foster addiction, crime, violence and poverty by building a community institution that involves thousands in creating, influencing and changing public policy.
A long way from Capital Hill, soon Ms. Bass will be forced to tackle the harshest reality we Downtowners share and must face day after day – one of which is the most frustrating and consistently nerve-racking occurances known to break down the toughest among us from which there can be no escape. Traffic.
Welcome to Downtown Mayor Bass. Welcome to Downtown.