Within the densely populated streets of Downtown, lost in a labyrinth of buildings, the humor of shade many times outwits the full light of the sun.
Yet, the higher we ascend above the city, the truth of one of Downtown's most luxurious rooftop pools reveals there is more than just one type of oasis in the world; that oasis is HWH Luxury Living in the Old Bank District.
HWH Luxury Living may just be the most fantastic rooftop pool setting Downtown has to offer.
HWH Luxury Living rooftop lounge area features a sundeck with outdoor showers, BBQ area for the day, fire pits, and telescopes for gazing across the LA sky.
In the morning, tenants rise with the sun for early workouts in an open-air, smart gym facility with floor-to-ceiling windows relishing unobstructed views of Downtown LA to the East and West.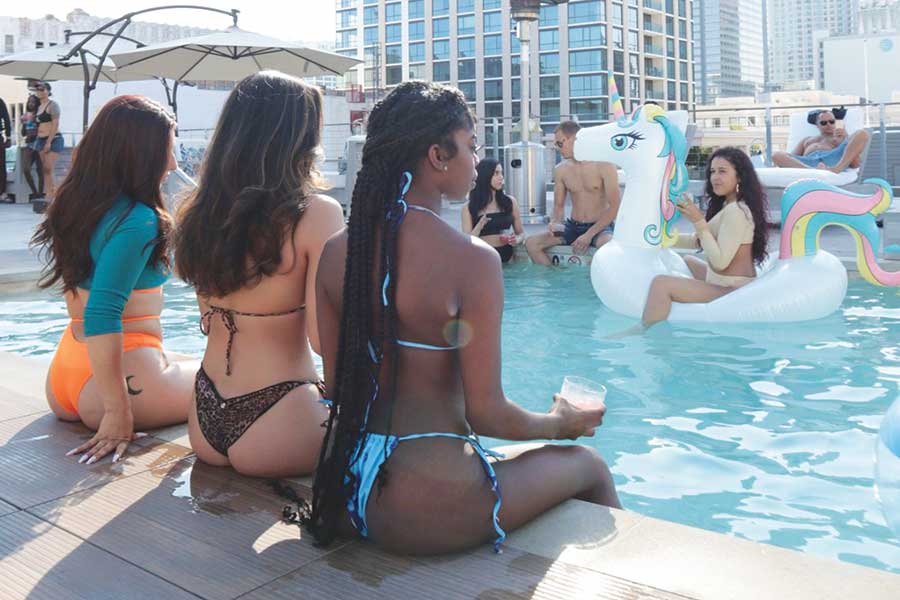 Far West of the rooftop, almost close enough to touch, are protruding giants of steel and glass sheltering a crystal clear temperature-select, saltwater pool, and bubbling jacuzzi pair.
For an added touch, each two-story Penthouse apartment provides an outdoor patio with its own full-size jacuzzi.
For those thinking of moving into this historic gem should know, HWH Rooftop Brunch is served weekends from 11a.m. to 3pm with a side of mimosas and a menu of fresh brunch items poolside.
Sunsets bring out the best of the HWH as surrounding downtown LA skyscrapers mirror the sun's rays, reflecting golden sunshine onto the rooftop pool's gentle iridescent waves.
Reconstruction of Downtown in the early 2000s saw developers envisioning a future of urban dwellings that gave their occupants little reason ever to leave their buildings. These dwellings would become cities within the city where parking lots, dog parks, rec rooms, exercise gyms, and bbq decks with sparkling pools were first branded into each blueprint. Such is the case with HWH Luxury Living.
Wade, a minute! HWH is a not just a luxury high-rise apartment in DTLA, it's a Historic Landmark.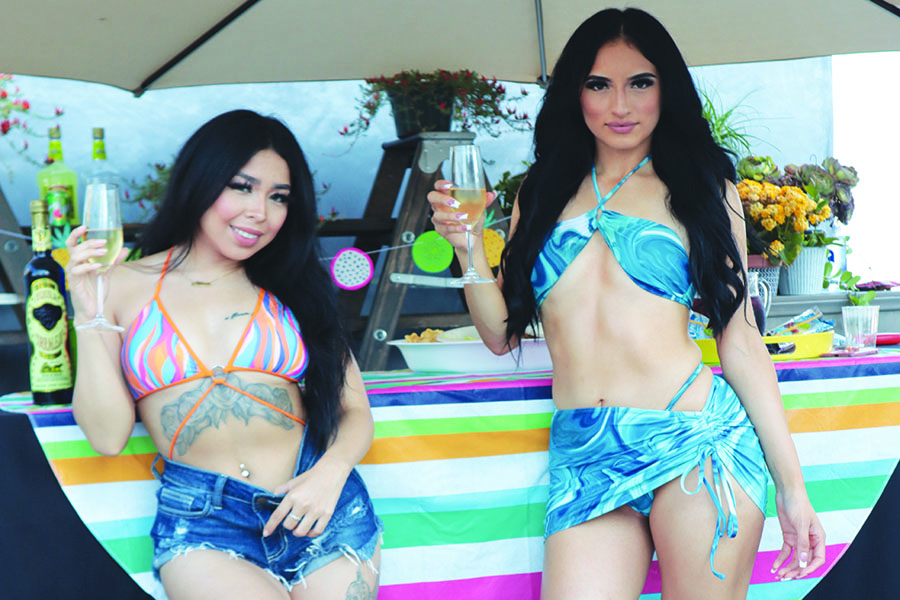 HWH was built in 1903 as a financial institution by investment banker Herman Wolfe Hellman. Repurposed over the century, it now exists as a state-of-the-art luxury apartments. Since its newest reconstruction, residents of our city's most treasured rooftop discover one of Downtown's most extraordinary life experiences; floating in a pool stories closer to the stars.
In Downtown Los Angeles, desirable outdoor rooftop pools can be enjoyed at the top of either of two settings; the rooftop deck of a luxury apartment building or the rooftop of an extravagant hotel.
Our hotels offer poolside cabanas, cocktails, and light to heavy bites. Most offer events with live entertainment and are known to fill quickly and turn even quicker into party frenzies with the right mix of music and chill.
What if you could have that same chill atmosphere on top of one of the best luxury high-rise apartments in downtown, spanning a half-block of space with a 360-degree view, just waiting for a server to take your order?
But, in this case, the drinks, the bites, and the chill vibes are all complimentary. Thursday Nights come alive at the HWH.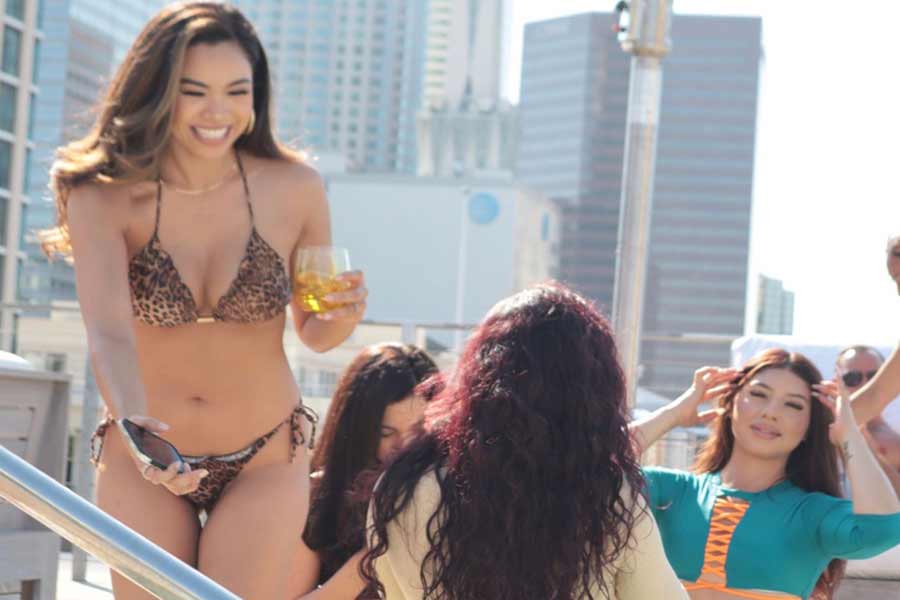 For the young, fabulous tenants and their guests, HWH becomes a hot tub mecca with poolside dancing, Karaoke, complimentary bites, and gatherings around the many illunimated fire pits every Thursday after dark.
The Los Angeles Times; Aug 27, 1902: published,
". . . in this [LA] City, it will be one of the largest and most thoroughly modern structures that has yet been constructed on the Coast…"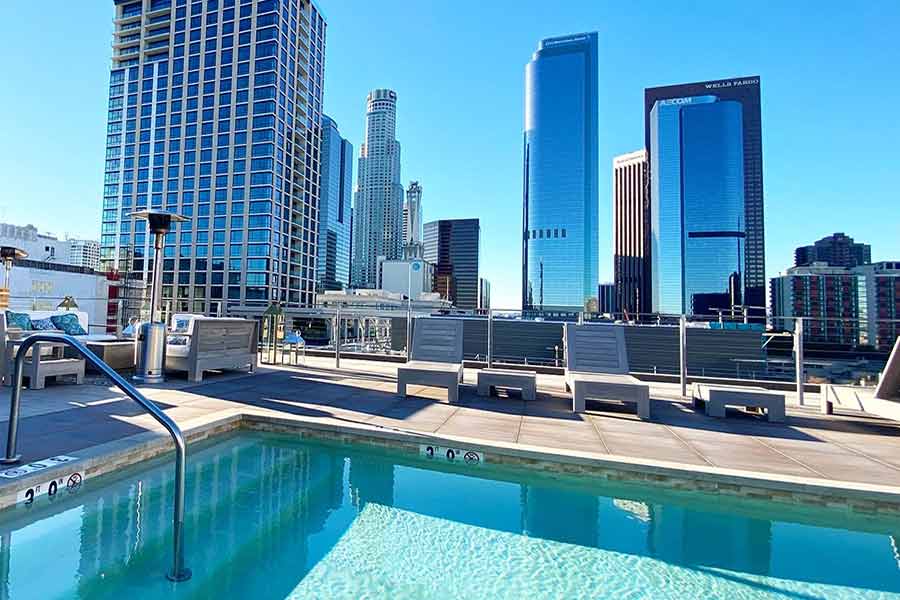 One hundred plus years later, with smart technology, and modern day amenities, HWH Luxury Living, once again, is on course to fulfill its destiny, now. establishing itself as one of the best apartments in downtown LA.