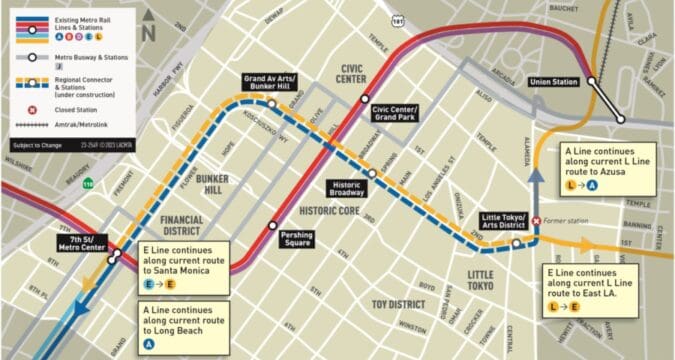 The Metro Regional Connector is almost finished! Newly constructed by Metro, its purpose is to provide riders with a seamless journey from Azusa to Long Beach and from East Los Angeles to Santa Monica an impossible feat, if it wasn't for the genius engineers at Metro and of course, Downtown Los Angeles.

Scheduled to open on June 16, 2023, one of Metro's largest projects to date, the sparkling new Metro Connector experience comes with the promise of greatly enhancing transportation for all.
Say Goodbye Metro L as we know it.
The old Metro lines consisted of Metro L (Gold), to Azuza with joints at Union Station heading to East LA, and the A (Blue), E (Expo) heading to Santa Monica, B (Red) moving to North Hollywood, and D (Purple) Lines dropping passengers off at the lower tip of Hollywood. In the past of these lines with exception of the L (Gold) conjoined at the 7th Street/Metro Center Station.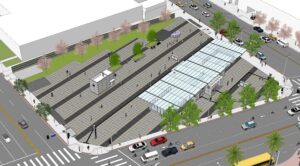 The new project will consolidate the A, E, and L Lines into two rail lines—the new A Line and E Line with underground tunnels leading to three new stations in downtown Los Angeles.
The good news!
Three new stations will, according to Metro, mean accessibility and promoting seamless transfers across various modes of transportation, but for Downtown it's means major population boosts as tons of new visitors will have more chances to explore the best tourist destinations our city has to offer.

The Little Tokyo/Arts District Station will provide better access to tourist attractions, restaurants, and shopping options in Little Tokyo while bringing commuters closer to the arts district.
The Historic Broadway Station, situated near 2nd St/Broadway, will offer convenient access to the renowned Grand Central Market—a food lover's paradise that features an array of culinary delights. Commuters using this station will find themselves just steps away from this amazing food hub.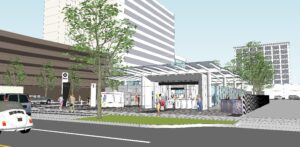 The Grand Av Arts/Bunker Hill Station, located at 211 S. Hope St, will bring commuters closer to the Music Center and the iconic Walt Disney Concert Hall. This station will serve as a gateway for those attending performances, concerts, and cultural events in the area. Moreover, it will provide easy access to the Bunker Hill neighborhood, known for its scenic views, cultural institutions, and upscale residential and commercial spaces.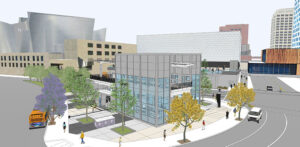 What could go wrong?
Well, Metro has encountered significant challenges in recent years; challenges that have impacted various aspects of its operations and overall commuting experience.

Public safety, homelessness, construction delays, maintenance and budget overruns have cost the people of Downtown time and money. As of late, trust in Metro seems to be heading in a downwards spiral.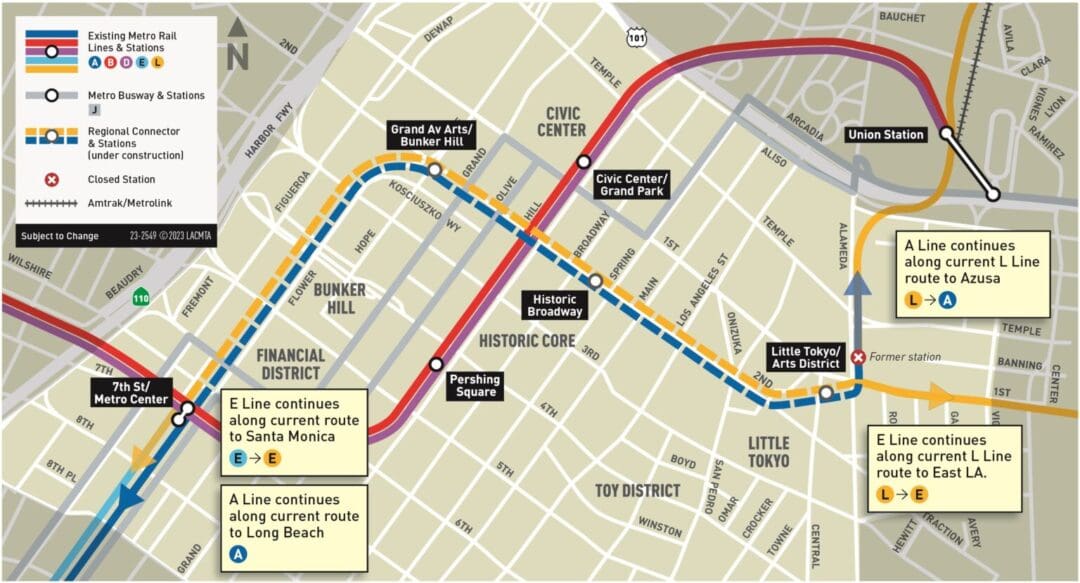 Safety has been a pressing issue for the Metro, as passengers have reported incidents of crime and harassment, and the nightly news fills with reports of thefts, drug usage, violence, harassment, officer involved shootings, and numerous deaths.

These concerns can contribute to a sense of unease and impact the overall perception of safety while using the system. The rise of three new stations has become some what of a concern, rather than the joyous occasion it's meant to me.
The Metro has been working to enhance security measures, increase law enforcement presence, and improve emergency communication systems to address these safety concerns but then there's the issue of Downtown's growing homeless population.
The issue of homelessness has also been a matter of concern within the Metro system. Homeless individuals seeking refuge in stations and trains has created challenges for both passengers and the homeless population. The Metro has been collaborating with social service organizations to provide support and connect individuals experiencing homelessness with necessary resources. However, addressing this complex issue remains an ongoing challenge and then there's the issue of cleanliness and overall maintenance.
The strain of maintaining older Metro lines already under scrutiny for being unsightly, and less sanitary may be exacerbated by the addition of the new connector. The increased demand resulting from the expanded network can further stress the existing fleet. Luckily for Metro and it's daily commuters, with the new connector comes hundreds of new jobs.
And Now for More Good News!
Construction projects associated with Metro system expansion and maintenance which offered downtown communities an array of traffic jams and detours the past two years causing frustration, fuel wasting and unwanted delays. Street closures and detours due to to construction activities have inconvenienced commuters and businesses. Finally, these construction-related delays will be a thing of the past once the three new Metro Stations open in June.
Will This Whole Project Work Out as Planned?
We sure hope so. With the unpredictability caused by the pandemic and the unforeseeable future, only time will tell if the scales will tip in the Regional Connector's favor. The project is reported already $355 million over the projected budget, and just now underway two years later than scheduled.

For certain, Downtown commuters have been anxiously awaiting the opening of the new lines, the engineers of Metro have created something truly unique and innovative the whole world can share, and Downtown is willing to once again give Metro the benefit of the doubt, (as if we had a choice).
Congrats Metro team! Congrats and best of luck!