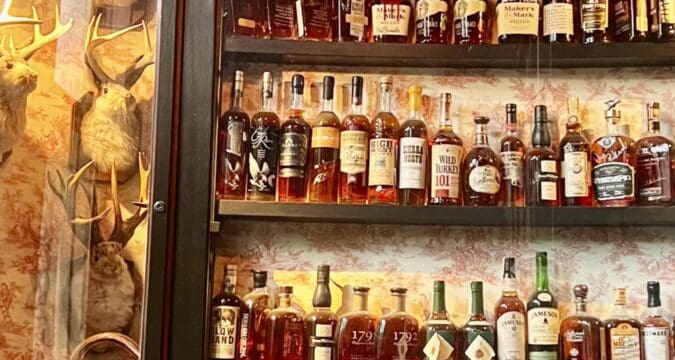 They don't call me Drunk Bunny for nothing! Keeping true to my reputation for being slightly wobbly and mischievous I found myself on my way to Seven Grand's Whisky Emporium, a precursor to the night's 16th Anniversary celebration complete with live bands, cigar smoke and all the varieties of whiskies a silly rabbit could ever hope for.
Still a bit hard to climb the steps due to my enormous liver but my old pal GlenDronach was calling so I managed to make my way up three short flights of stairs past the buckhead trophies and welcoming glowing whisky display to the bar where I was given a magic wristband for $50 and an equally enchanted Seven Grand branded whiskey glass.
Equipped with glass and very enthusiastic whiskey palette, I found myself hopping from one whiskey tasting station to the next learning some of the most incredible whiskey and whisky facts I knew may or may not have ever remembered.
One hop, two hop, three hop four, with each hop I sipped a little more.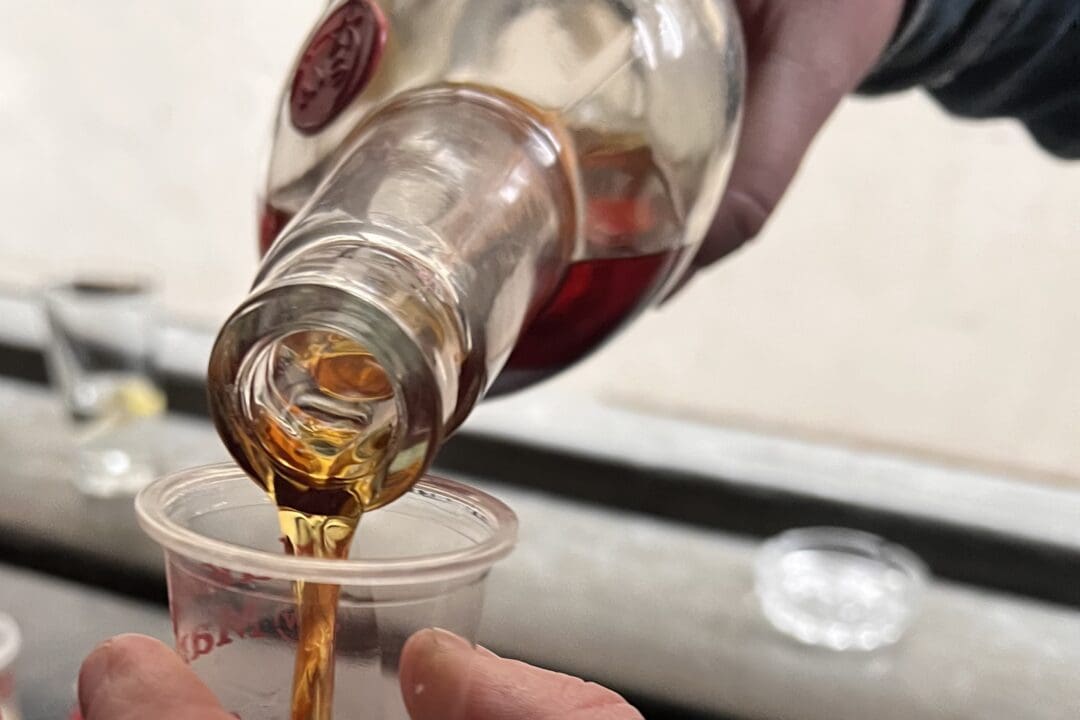 I smell cheese! That's what went through my mind before my eyes fully focused on a charcuterie board of Brie in the distance.
What kind of whisky tasting is this? Up until that moment I figured only wine went with cheese. But I was so wrong. So wrong…And that was just the beginning of 10 Great Facts About Whisky I learned that day.
So… first fun fact. Whisky is for Scottish, Canadians and the Japanese, Whiskey is used for whiskey distilled in Ireland or here in the US.
It was five o'clock somewhere alright. In the heart of DTLA, Seven Grand is legendary. One of many bars brought to the neighborhood by Pouring with a Heart, aka The Official Founding Fathers of Downtown Hospitality. Without them and their fifteen or so Old Fashion style bars who knows if Downtown would have ever become the lively place it is today.
Did you know Kentucky, that magical land of bourbon dreams, produces 95 percent of the world's bourbon whiskey? It's got to be a bourbon paradise, where barrels of Woodford Reserve outnumber the inhabitants, where the air is infused with rich aromas of oak and caramel. Adding a trip to Kentucky to my basket list – ASAP.
As a speakeasy you bet your rabbit hole Seven Grand can teach you a thing or two about moonshine. Mostly manufactured under the cover of darkness, this high-proof liquor had to be brewed in secrecy back in 1920s DTLA, brewed and distributed through the art of bootlegging. I closed my eyes and made pretend this Old Forester was illegal, and in the spirit of freedom, liberty and the pursuit of happiness downed two more shots back to back. After that, I cannot lie. I was tipped-over tipsy. Thank goodness for the brand ambassadors of Compass Point who kept me hopping in the right direction.
At that point I was a rebel in the whisky world, daring others to embrace its potent charms. Did you know Margie Samuels, the distillery owner's wife designed the iconic red-wax sealed Maker's Mark bottle? She wanted her hubby's product to stand out so she suggested an artistic touch.
Never thought I'd stumble upon an event more fun event than Easter, but there I was. With my basket full of barely and rye and a tummy full of Teeling. And that's when I realized, I loved whisky but not as much as Frank Sinatra.
Frank Sinatra was laid to rest with a bottle of Jack Daniel's by his side. Such a classy farewell, and testament to the everlasting bond between the two, feeling emotional this fact almost brought me to tears.
And there's the tale of Bill Wilson, co-founder of Alcoholics Anonymous, who yearned for a final taste of whisky, but was as denied on his deathbed. He needed better friends.
If only whisky could have fought off the grim reaper like it did for Old Charles Joughin, the brave baker aboard the ill-fated Titanic. Joughin became the Angel's Envy after claiming that whisky helped him survive three frozen hours in the North Atlantic. I believe him. I'd believe anything is possible after this many shots.
They say whisky is bad for you, but in reality the average measure of the Balvenie contains a mere 64 calories! Fewer than a banana, so just shut up and pour this bunny another sample.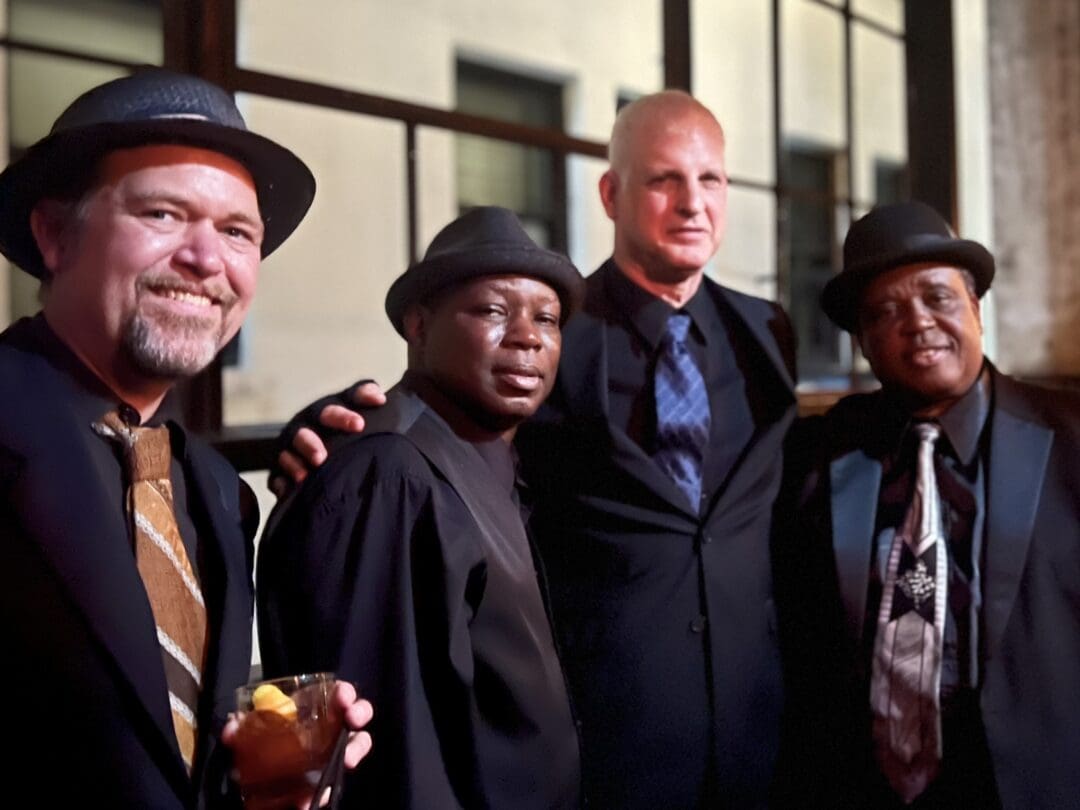 The more I sipped the more I savored the flavors of whisky knowing it won't burden my waistline. As the day turned to night I'd decided to GlenFiddish and dance to the incredible blues coming from a band that called themselves the Midnight Blues Review.
Boy, did I work up a sweat, making whisky drinking an even more enjoyable healthy workout routine. After the show walked up to thank the band…. And that's when I had the pleasure of meeting the bar's longtime entertainment director and bass player, Rick Taub.