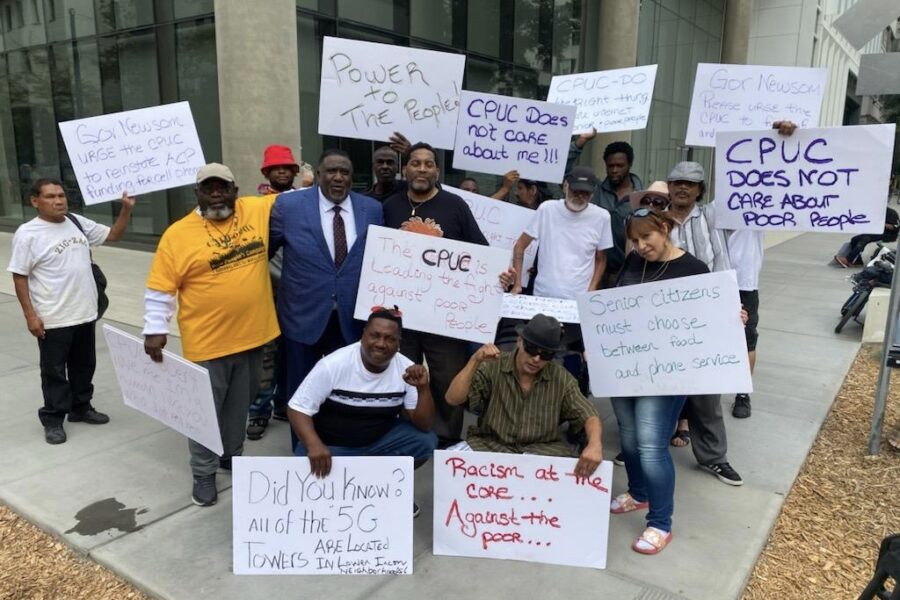 Could the California Public Utilities Commission Be Trying to Destroy the Popular Program Started by President Obama dubbed "The Obama Phone"?
Advocates for disadvantaged communities implored Governor Gavin Newsom to save a program designed to give access to subsidized telephone and internet to the needy.  

Sign up to receive our popular Get2DTLA Newsletter
The program, aptly called "Lifeline", provides much-needed connections to the world for people who can't afford more costly telephone and broadband service plans. It is how hundreds of thousands of disadvantaged Californians stay in touch with relatives, make medical appointments, apply for jobs, and educate their children.
The popular program was originally started under President Ronald Reagan, and then modernized and expanded under President Barack Obama. But the California Public Utilities Commission, a panel of five bureaucrats, has announced plans to cut the program severely. Under the CPUC's plan, people enrolled in the Lifeline program would no longer be able to combine federal and state benefits, resulting in greatly reduced telephone minutes and broadband data.
Statistics show, people of color traditionally lag behind when it comes to accessing the internet – a phenomenon called the "digital divide." Critics of the CPUC's move are deeply concerned that this reduction in benefits will worsen the gap. "The CPUC is treating people of color as second-class citizens, which will increase the digital divide," said Reverend Kevin Carter, a social-justice activist and community leader with the Poor People's Campaign. "Simply put: this is not right."
The proposal to reduce benefits appears to come from CPUC Commissioner Genevieve Shiroma, a former executive at the Sacramento Municipal Utilities District, or SMUD. Shiroma, 67, is the CPUC Commissioner in charge of telephony. "I won't say Shiroma is out of touch, but this proposal does seem a little punitive," said Leroy Candler, President of Fresno Branch of NAACP, outside a recent protest.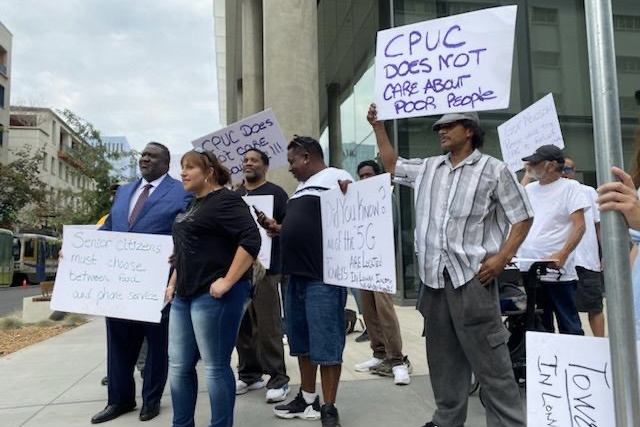 Activists around the state have been steadily protesting since the reductions were announced. Major protests occurred in Sacramento (despite 110-degree heat), in Clovis (where the CPUC met recently) and in downtown Los Angeles, where last week a group of over fifty protesters marched and chanted, expressing their displeasure with the cuts.
"Everyone from disadvantaged BIPOC communities to Ukrainian refugees use this critical program to connect to our increasingly digital world. We implore Governor Newsom and the CPUC to halt any reduction of benefits," said Tecoy Porter, a pastor, and member of the National Action Network, another one of those protesting.
Governor Newsom appoints the CPUC Commissioners. He has previously stood up for "broadband for all," but has not yet taken a public position on this issue.
The CPUC will be meeting again October 6, to decide the fate of the program. At last check of the docket, hundreds of Californians had added a public comment in support of poor people's access to broadband.

To add public comment visit:
https://apps.cpuc.ca.gov/apex/f?p=401:56:0::NO:RP,57,RIR:P5_PROCEEDING_SELECT:A2202007
Click on "Add Comment" upper left-hand corner