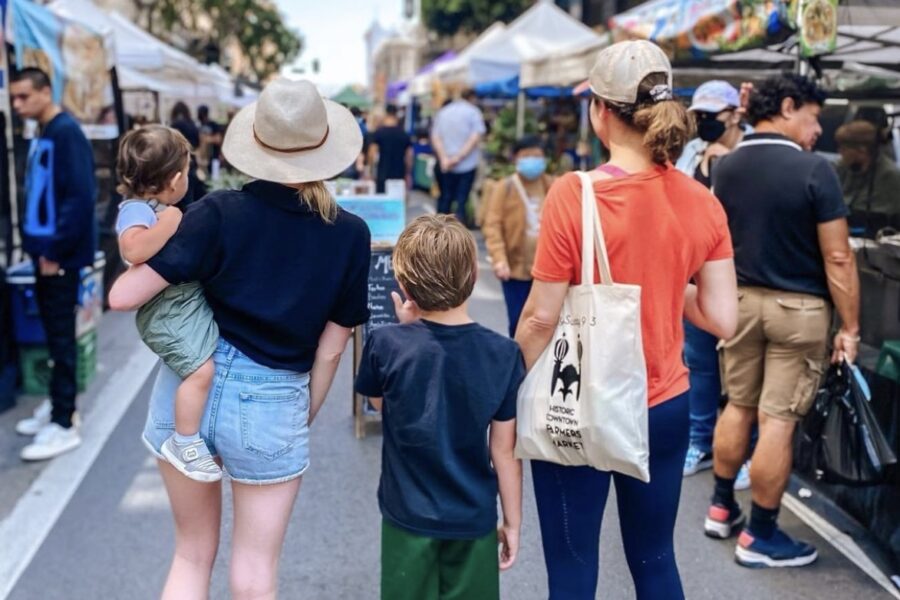 It's Official, DTLA loves Farmer's Markets. From our original FM at Grand Central Market to the Farmer's Market in Skid Row, DTLA offers healthy options from farm to table everyday of the week.
Each and Everyday
Starting off with Mondays, the community of Skid Row address the district's nutritional needs with Skid Row Marketplace. Organized by Danny Park and LA Community Action Network, SRM has created a platform in which local farmers provide affordable, healthy and unique produce to residents as well as stimulate the social welfare of the community through local economic activity.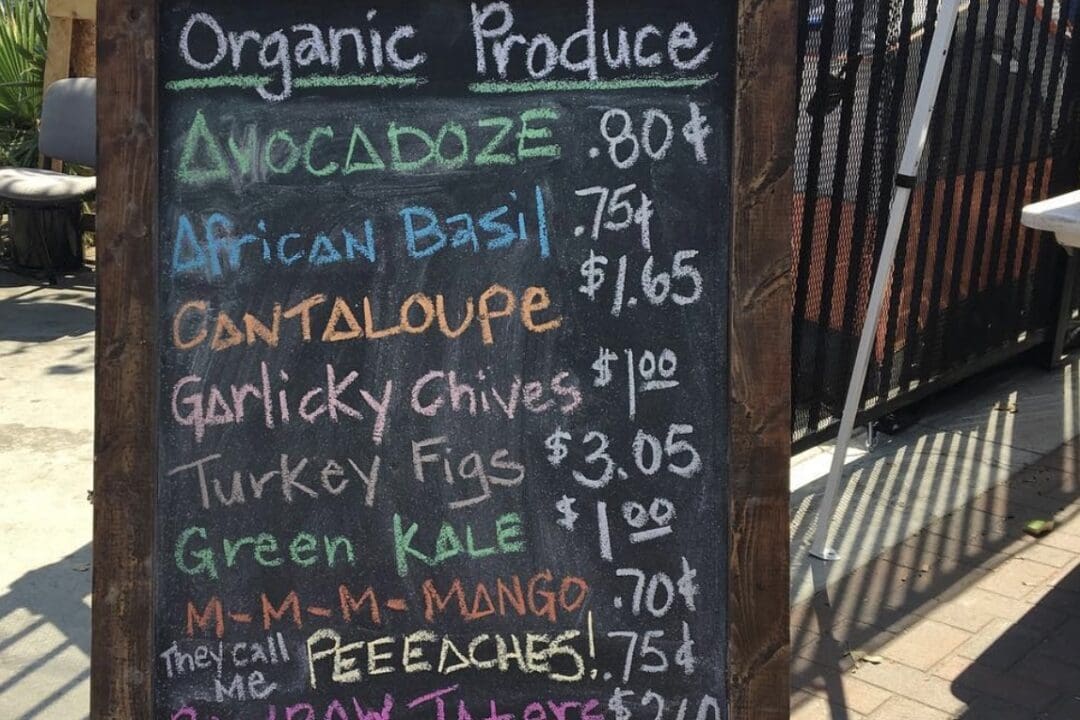 Located at 838 E 6th Street, the market supports local small farmers inclusion and community gardens through a venture that builds community identity. Skid Row Marketplace has daily operating hours from 8am to 6pm.

Sign up to receive our popular Get2DTLA Newsletter
Grand Central Market
Another daily opportunity for farm to table selections is Grand Central Farmer's Market.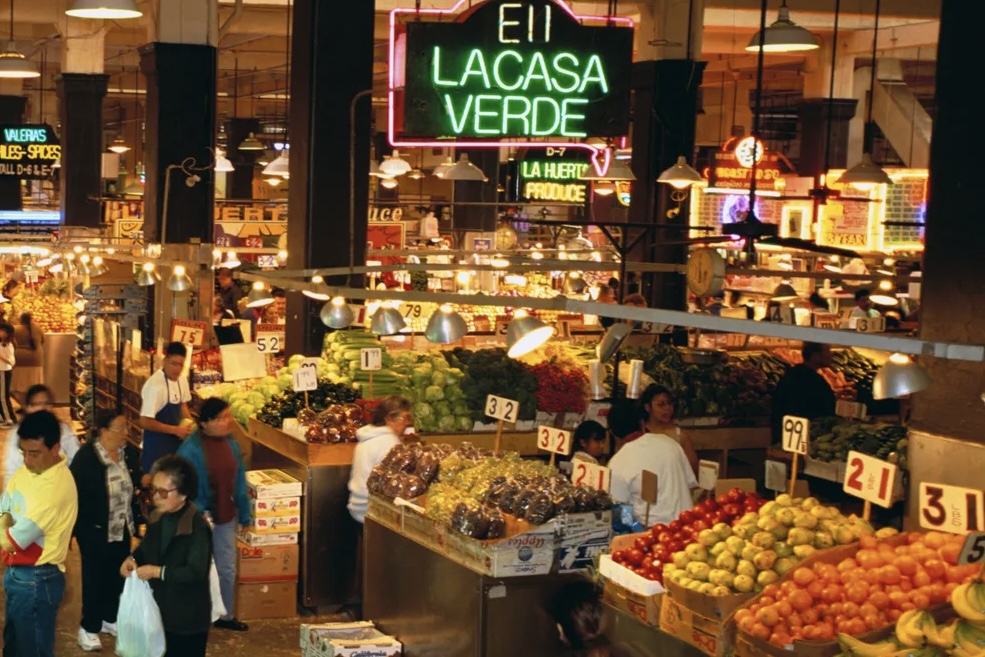 What started off as Los Angeles' largest and oldest public market, opened its doors in 1917.
Since then, GCM has become a home for legacy vendors, showcasing California's
best ingredients, chefs, and entrepreneurs. Current owner Adam Daneshgar continues to solidify Grand Central's place in Downtown history hosting people from around the world who come to the market daily. Grand Central will always have an open table ready for them. The market has daily operating hours of 8am to 9pm.
Tuesdays and the Return of California Market Center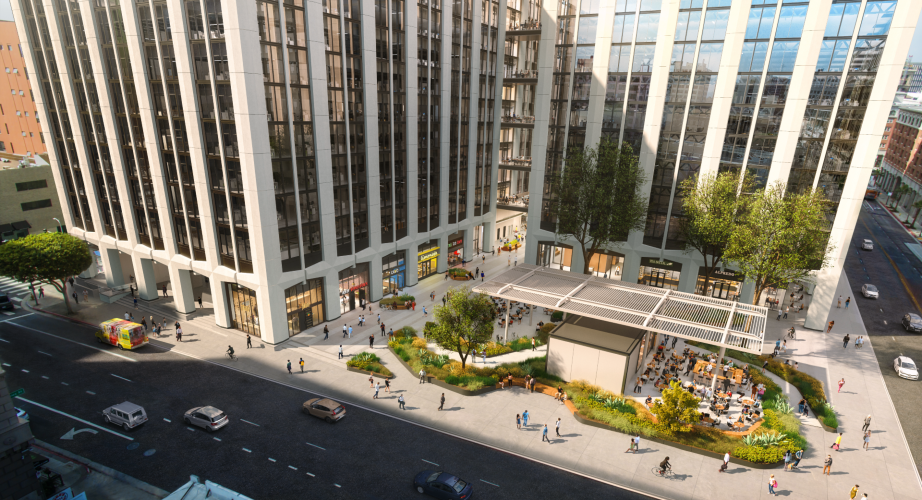 Located at the California Market Center, Tuesday's bring the Heritage Farmer's Market operated by Bing Turner and Matthew Mathiasen. The fashionable marketplace re-opened with the unveiling of a new plaza that spend its days during Covid under reconstruction. With hours from 10am to 2pm rain or shine, CMC Farmer's Market is a market focused on public health and leisure. Unlike supermarket shelves stocked with produce that traveled for days and sometimes weeks, shoppers find farm-fresh produce at CMC that are much fresher.
Wednesday at Pershing Square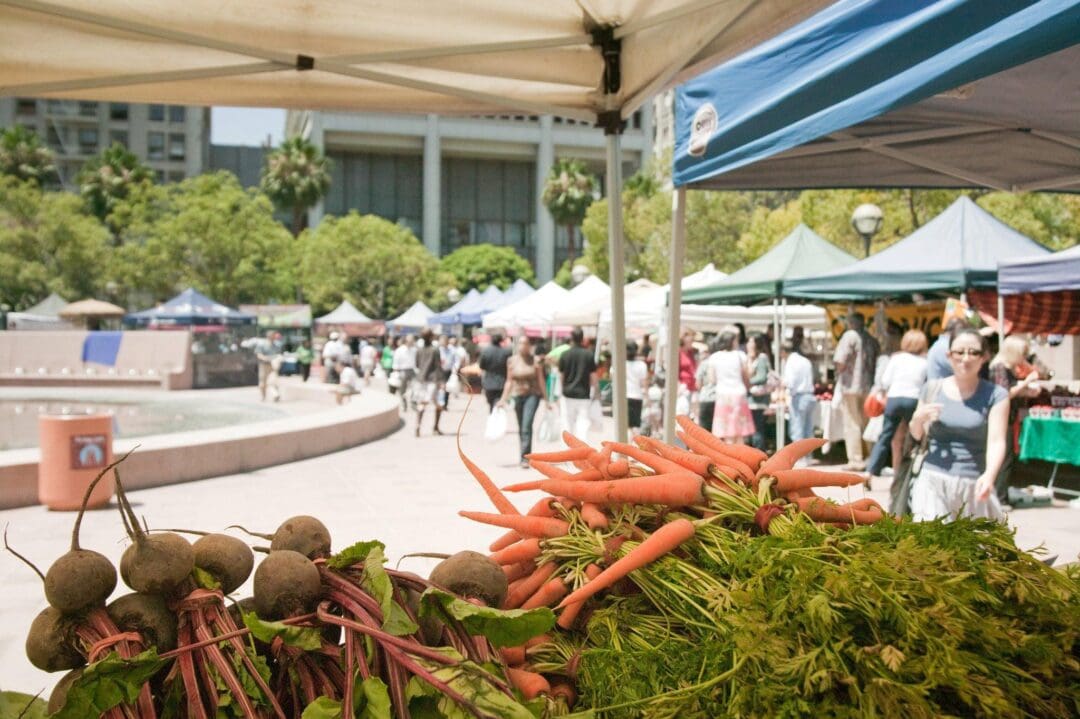 Pershing Square Certified Farmers Market is open on the corners of 6th and Broadway both Wednesday and Thursday. Opening at 11:30am and closing at 2pm, this market displays of the best fruits and vegetables from California growers offering mutual appreciation and an honest experience from grower to consumer.
Thursday at City Hall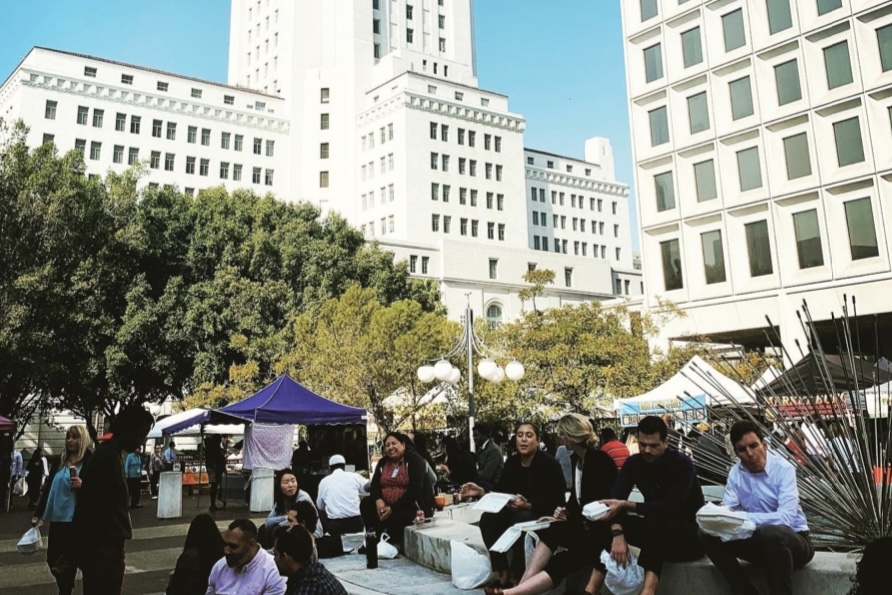 City Hall Farmers Market returns after a 2 1/2 year Covid hiatus each Thursday. Presented by Arts District Neighborhood Non-Profit and CD14 the popular lunchtime market, now in its 13th year, serves as gathering place for those who live and work in the Civic Center area. The market has an online ordering option that takes the hassle out of shopping for your groceries! Order by Tuesday evening and your items are available to pick up on Thursday. 10% of sales goes to the neighborhood Arts District nonprofit, the Los Angeles River Artists and Business Association, LARABA.
Park & Pick at Figat7th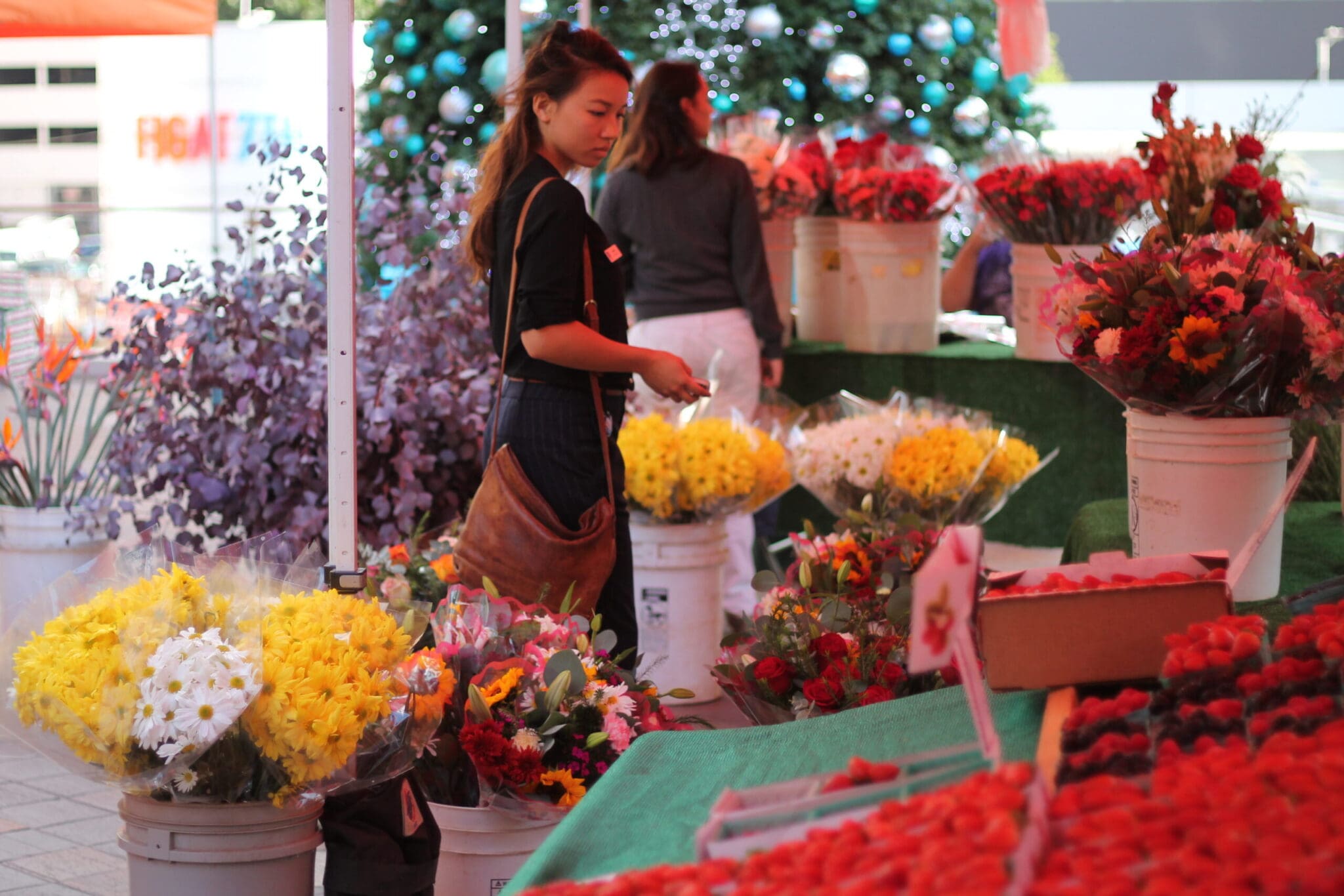 Thursday's also mark the return of the Certified Farmer's Market at Figat7th. In partnership with Raw Inspiration, the market offers an assortment of fresh fruits and vegetables, eggs, kettle corn, flowers, honey, breads, on the plaza every Thursday from 10am to 2pm.
Sustainable Views at Historic State Park
DTLAs newest FM is the LA River Farmers' Market presented by SEE LA happening at Los Angeles State Historic Park. Vendors at the grass covered grounds offer fresh fruits and vegetables, cooked items and artisan wares all promoting healthy eating, sustainable living, and cultural heritage. Every Thursday, from 3:00pm -7:30pm, visitors may explore 32 acres of open space for shopping, picnicking, walking, biking, and other forms of healthy living along with the most amazing views of the downtown Los Angeles skyline.
Friday in Echo Park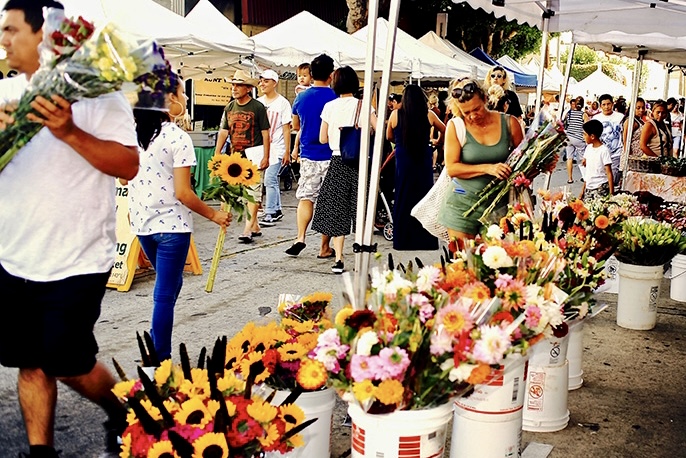 Stock up on your groceries, get some fresh air, and support local businesses. Echo Park Farmer's Market located on Sunset and Logan is open Fridays from 3pm to 730pm. Established in 2006, the Echo Park Farmers' Market has grown steadily to become one of the most popular and well-attended of SEE-LA's certified markets.
Every Friday, 15 local farmers set up their tables and offer up a wide variety of produce and value-added products like jams and jellies, honey, and fresh farm-grown flowers.
Saturdays in South Park
Much like the legendary beanstalk that grew overnight, the South Park Farmers' Market has rapidly transformed into a flourishing hub for the community.
Every Saturday, from 9 am to 2 pm, you can find this vibrant market on Grand Ave. between 11th Street and Olympic Blvd., offering the community of DTLA a delightful array of locally grown produce, free-range meat, artisanal foods, handmade crafts, and the soothing sounds of acoustic music.
Saturdays of the Past
Saturday's, The WALL Food + Flowers + Farmers Market, "The Wall", nestled between two major flower markets and street side vendors unfortunately is no more. What began 8 years ago amid the fragrance of sweet pedals offering food, fun, and entertainment ended sadly due to the increased presence of homeless which impacted the market negatively. Good news for DTLA the same organizers that brought the community such a vibrant market are now operating the Farmer's Market at California Market Center on 9th and Main…but here's some old footage.
Sunday in the Historic Core
Sunday's Historic Farmer's Market is organized by Adam Ruiloba Southland Farmers' Market Association turned 10 this year, it opens from 9am to 3pm. The market between Broadway and Main on 5th in the Historic Core, offers many favorites including homemade bagels, fresh produce, and a diverse cuisine along side arts, crafts and jewelry vendors.