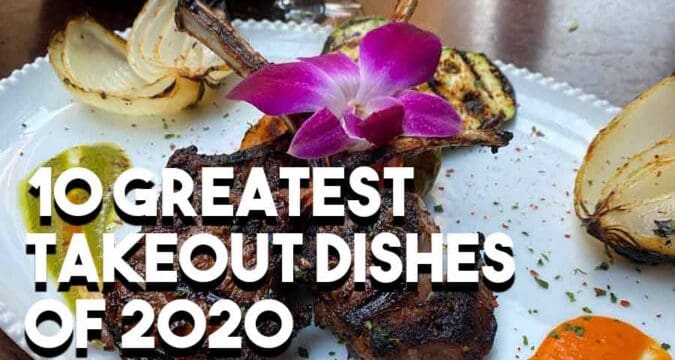 No doubt 2020 put a damper on our restaurant hospitality scene here in Downtown Los Angeles, yet, despite the closures, and toggling back in forth between outdoor dining and TakeOut, DTLA managed to do what it does best, serve diners the Greatest Dishes in all the land. Here's our list of our 10 Greatest TakeOut Dishes of 2020.
Brera Ristoranti – Little Italy of the Arts District
Downtown will forever support Brera Ristoranti. The Arts District just wouldn't be the same without their sister eateries Factory Kitchen and Sixth and Mill.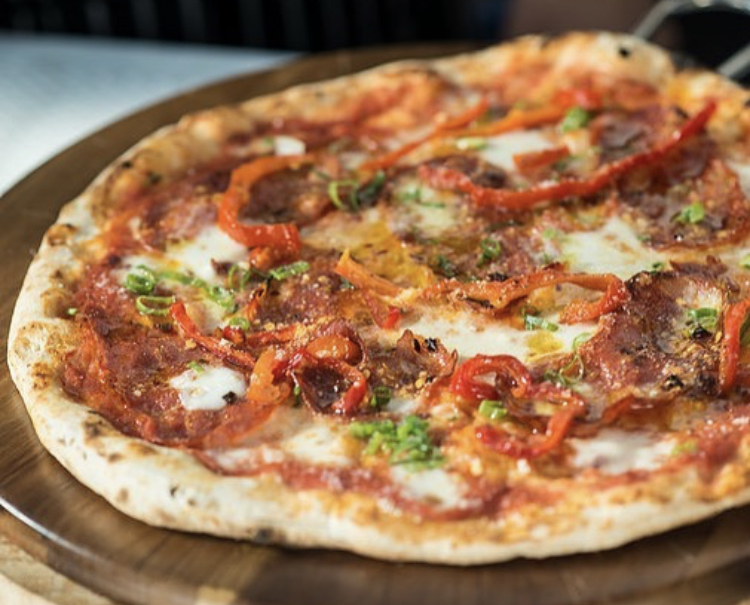 This is the true taste of Italy complete with all the mastery that only great chefs with origins from the region can bring.
Chef Angelo Auriana and partner Matteo Ferdinandi grew up along the Po River Valley in Northern Italy.
Dishes coming from Brera's kitchen offer the closest flavors to Italy imaginable featuring locally sourced and fine imported ingredients that have successfully gone through Brera's particular process of culinary transformation.
When it comes to great dishes at Brera there are many. Yet, if we had to choose one to top the list, it would have to be the pizza.
Pizza you say? Why not the POLPI octopus with its long, soft curved tentacle, charr-roasted over flames setting the bar for octopus dishes from around the world?
Or why not choose the RED WINE SPAGHETTI with Gorgonzola and thyme or the TAGLIATELLE lobster pasta with its compelling display of cocoa pasta, lobster, langoustine, mussels and tomato.
DTLA chose Brera's Pizza because there simply isn't a better tasting pizza.
Brera has one of the only wood fire pizza ovens here. Woodfire cooking dates back to the ancient times of Pompeii where uncovered stone ovens from the fated city are still being used to this day.
Brera's pizza is priced comparable to most except with Brera, you get the freshest, finest toppings money can buy. The pizza has a thin crust and topped with choices of Mozzarella, burrata, mortadella, pistachio, Fennel sausage, tomato, whipped ricotta, spicy salami, and scallions. Any pizza choice is highly enjoyable. Brera Ristoranti pizza will forever be one of the Greats. www.breraristorante.com
Faith and Flower – Lobster and Cocktails From Home
There's nothing like the feeling that comes with opening a TakeOut order filled with the finest dishes money can buy. Like a one way ticket out of our predicament, Faith & Flower of South Park can be best described as gourmet comfort food.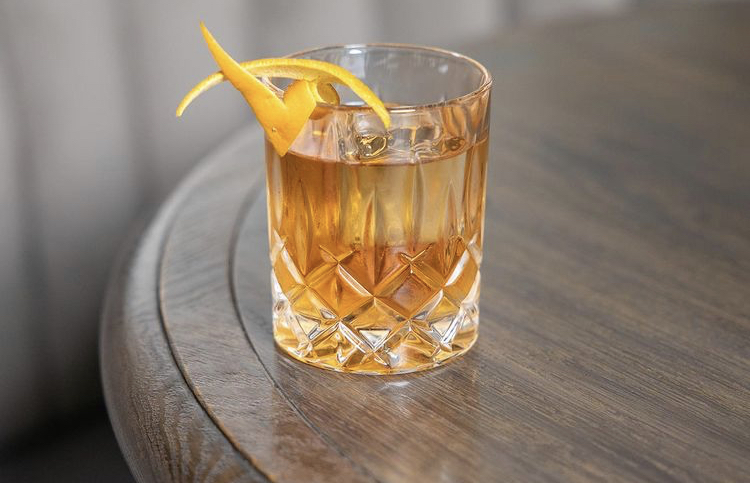 Although Chef Michael Hung's scrumptious plates are so good they should be a sin, don't worry the way he layers flavors and textures will deliver you from evil.
Of course, nothing will ever compare to the food worship that takes place publicly with outdoor dining, Downtown prayers were answered when we learned Faith & Flower would remain open for TakeOut with offers of not only food but of their soulful cocktails as well.
Imagine tenants of the Watermarke Towers, living in their lofts, high above the city, only an elevator's ride to Faith & Flower down below; only to return with TakeOut plates of Bucatini Pasta Frutti di Mare with Maine Lobster, Gulf Shrimp, PNW Mussels, and Saffron Butter. This is heaven. www.faithandflowerla.com
Pasta Roma – High Grades Each Semester
Pasta Roma scored high bringing home an A++ with full hearty takeout bags full of taste and aroma. This cafe-style Expo/USC hotspot kept a conveyer belt of hungry students and workers at the start of the year and quickly converted to TakeOut, sending us home with Italian food inspired by the antiquities of Milan, Italy.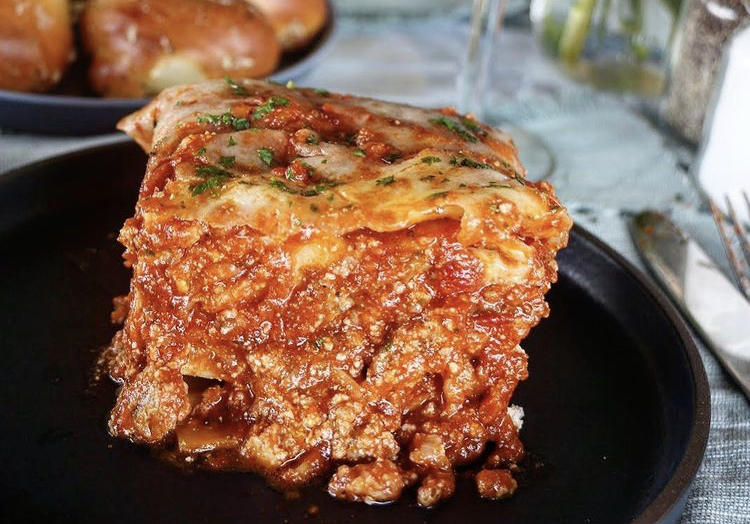 In 2020, Anti pasta, robust salads, specialty pizzas and toasted chicken paninis helped fill TakeOut bags with everything from spaghetti to shrimp fettuccini; all made from scratch, right before your very eyes.
Best of all, Pasta Roma is affordable with most plates ranging between $8-$14. And, thanks to catering options, more than enough to feed an entire family or college dorm.
With so many delicious options, it was hard to determine which Pasta Roma dish was the greatest, however, in the end, we had to go with Pasta Roma's signature Lasagne. It's a meat lover's dream made with chicken, beef and pork and takes extra time to prepare. Lasagne is also one of the oldest known pasta and Downtown loves how Pasta Roma decorates theirs with a zesty ragu, ricotta, garlic and oregano within a thick wrapping of melted mozzarella. www.pastaroma.com
The Seafood Experience
It's true. Downtown loves seafood. We're used to delicately seasoned, steamed, grilled dainty little plates with expensive price tags, and excellent indoor dining service but with The Millennium Biltmore's Watergrill, and Intercontinental Seafood Buffet favorite Dekkadance closed most of the year – we kind of felt like our 2020 seafood adventure had come to an end.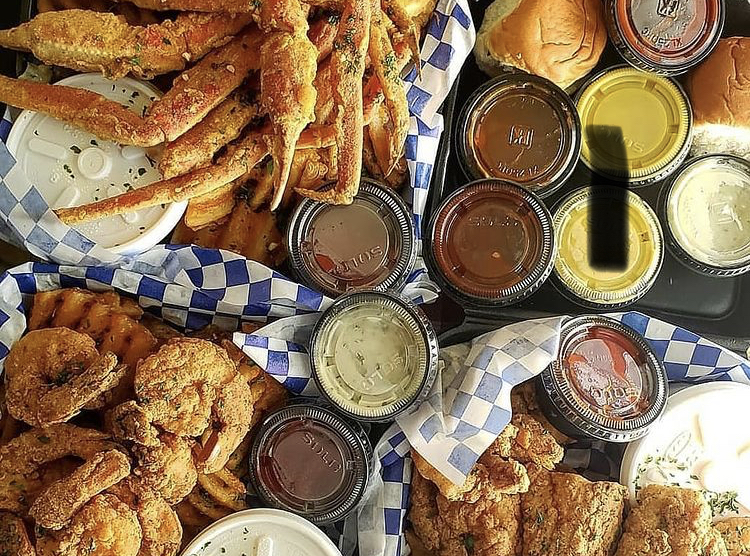 Yet, we discovered the best thing about TakeOut delivery apps was that Downtown could begin to explore the exotic food treasures found far off and away from our little tiny urbanized island.
It was time for a new experience – it was time for The Seafood Experience.
Did somebody say fried crab legs?
We heard that! Seafood Chuck Charles Grant and his partners became a much sought after favorite delivering boatloads of fresh fried and grilled shrimp, perfectly spiced catfish, crispy chicken and yummy hush puppies to the DT.
This Greatest TakeOut Dish of 2020 was a seafood plate that had to be served in an aluminum oven pan, there was just that much.
They call The XPerience – Lobsters, crawfish, catfish, corn cobs, oysters, chicken wings, pulled King Crab, dinner rolls and frog legs?
Yes! Yes and more yes! Seafood Experience you did that! Downtown is not likely to forget about you in the new year. www.seafoodxperience.com
Ships Ahoy!
Kapoor's Akbar – Taste of India
Out of the handful of Indian cuisine offered in Downtown, Kapoor's Akbar simply shines brighter than all the rest.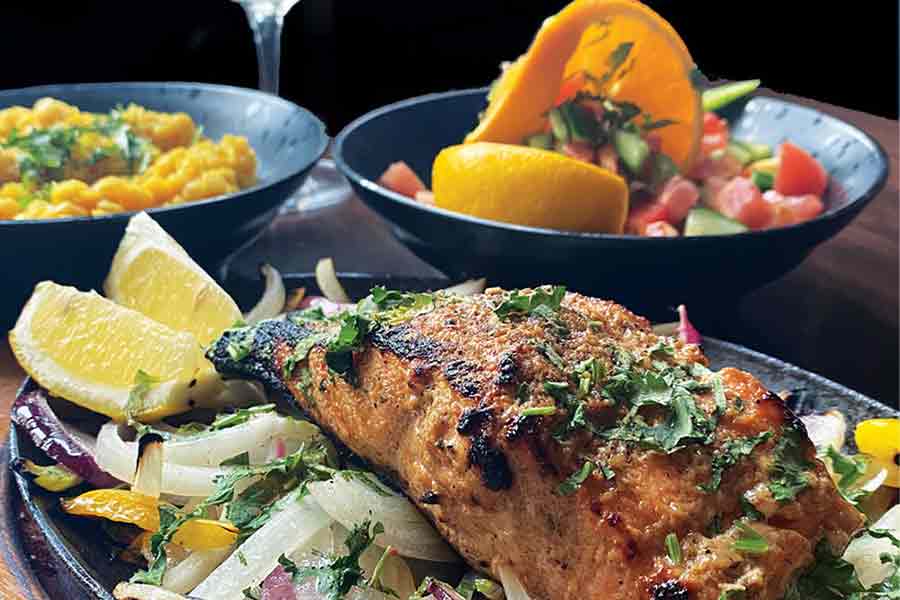 That may be because Chef Avinash has a way of cooking with fire!
Located on the cusp of Chinatown and BunkerHill, Kapoor's still uses a Tandoori oven to release the flavors of antiquity found nowhere else in the City.
Fresh from oven to plate, here comes the sizzle. And although having to put these delicious steaming hot plates of TakeOut in a delivery bag takes away the dine in experience of having one of his plates settle down before your eyes until it's calm enough to eat, the flavor never goes away no matter how far the plate may travel to get to your home.
Kapoor's serves Indian classics Chicken Tikki Masala, Pork Vindaloo and fried samosas with sides of perfectly prepared bharta and balsamic rice. However, the Chef is not shy when it comes to presenting Downtown's favorite Indian fusion dishes such as his ever-popular Crab Curry and Coco Lamb.
Stay Healthy DTLA
Kapoor's prepares everything from the chutneys to the Spicy Garlic Shrimp with the healing spices of the Far East; garlic, onion, turmeric, like we said, it's FIRE, and the Spice is always right.
Kapoor's offers vegan options, keto options and mango and blueberry lassis as well yet, the honor of being named as one of DTLA's Greatest TakeOut Dishes of 2020 has got to go to Kapoor's Chilean Sea Bass.
Chilean Seabass is one of the most sought after fish in the world, originally found in the freezing waters of Antarctica. At Kapoor's, it finally finds a warm place inside the tandoori oven, then into your TakeOut box along with naan, salad, and your choice of sides. www.kapoorsakbar.com
Little Llama Peruvian Tacos
Chef Jean Valcarcel and Co-Founder Angela Wagner are long-time DTLA culinary enthusiasts who took home the trophy for "most delightful looking tacos in 2020".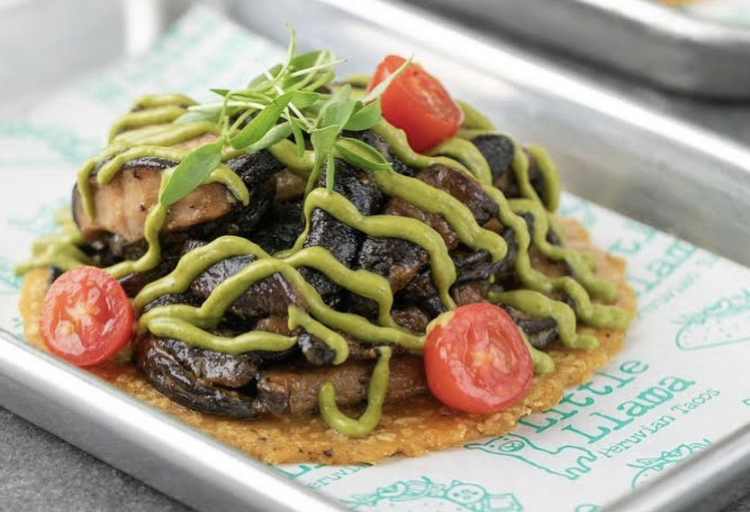 Just take a look! Little Llama's gourmet tacos are more like art pieces that go up in value with every bite.
Once upon a time, Little Llama's Peruvian style tacos (made with 100% organic tortillas) could only be found on Sundays at the Smogasburg pop-up, but now, you can order dozens every day of the week at their bright new brick and mortar located at 222 S. Main Street in the Old Bank District.
Adding Little Llama to the list of Greatest TakeOut Dishes of 2020 was particularly pleasurable because no one can eat just one taco, right?
At Little Llama, Downtown got the chance to fill our TakeOut plates with beautifully arranged tacos and the consensus was the same. In 2020, DTLA found all Llama's tacos, tostadas and bowls to be equally great. Especially the Lomo Saltado Taco, a soul-warming combination of Angus steak marinated in garlic and ginger, crispy Yukon gold potatoes, Huacatay aioli, and tomato escabeche.
The DT had plenty of room to fit Llama's seared-tuna Tostada Nikkei with its fresh take on classic Elote, featuring a mouthwatering mix of charred corn and aji Amarillo crema. And, we just couldn't stop.
Delivery or TakeOut, we made the trip for Little Llama's Shrimp Ceviche Tostadas topped with Aji Amarillo Leche de Tigre, mango & pickled red onion salsa, cumin guacamole. Then we discovered their Pomegranate-Glazed, gluten-free Roasted Pork Belly with fresh corn polenta, cotija cheese, topped with pomegranate arils; flavors that sent our taste buddies on a virtual vacay to the peaks of the Andes mountains.
Best of all, Little Llamas Tacos, tostadas, bowls and burritos are affordable ranging between $4-$15. They also offer Chicha Morada, a traditional Peruvian drink made of Andean purple corn infusion, lime, and warming spices. www.littlellamatacos.com
Manuela – Farm to Home Fine Dining?
If only Manuela hadn't decided to close in mid-December, Downtown would still be enjoying their delicious farm to table fine dining menu we all come to know and love.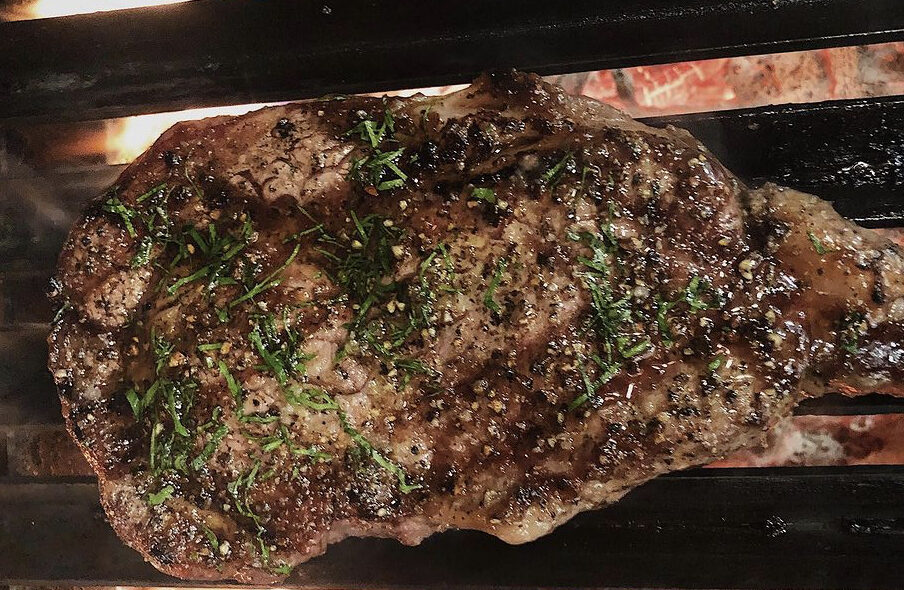 Unfortunately, toggling back and forth between opened and closed wore out the restaurant's patience leaving us all anxiously awaiting their return.
A calming force in the Arts District, Manuela is located inside the Courtyard of the historic and newly restored Globe Mills complex at 901 East 3rd Street.
Among their amazing selection of dishes, the 30-day dry-aged Holstein ribeye served with tallow chimichurri easily tops the list. It's a hardy cut with a pungent aroma that melts in your mouth.
Seems aged-old steaks are kept at cold temperatures which keep the meats just long enough to produce the strongest flavors. The meat does decompose a bit on the outside, but the chef finds a way to relieve the select cut from the inside.
Manuela didn't transition well into TakeOut lifestyle of 2020, but when Manuela reopens in 2021, be sure to dine outside and order enough food to go. The meat is aged 30 days… what's one more day? Plus, fine dining leftovers always hit the spot. www.manuela.com
Rappahannock Oyster Bar – Precious Pearl of the Row
Aka the RappBar is one of the last remaining eateries at the Row, located in the Warehouse District of Downtown La.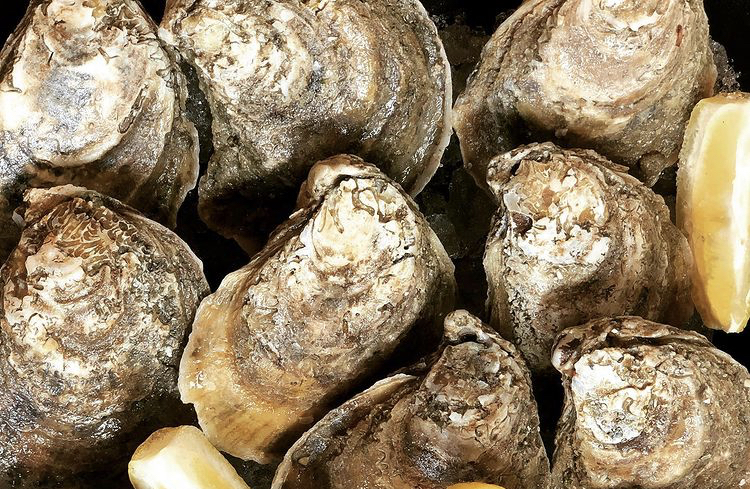 During the first months of 2020, Rappahannock Oyster Bar would remain open for TakeOut and towards the end of the year reopen its patio for outdoor dining.
All of Downtown was elated to return to the Row once again for a chance to breathe the open air, visit the shops and take in signature cocktails and seafaring dishes co-created by Chef Wilson Santos.
Highly noted for his lobster roll, Chef Wilson also shucked over 1500 oysters a day.
After switching their seaworthy indoor and outdoor dining experience into a seafood and cocktail TakeOut sea-port, Chef Wilson Santos cast a line with his amazing TakeOut Oysters that Downtown could shuck at home.
When Downtown Weekly found out not too many neighbors knew just how to shuck, we created the highly entertaining "How to Shuck Oyster Video shown below.
In 2020, fresh oysters from Rappahannock were abound. www.rappbarla.com
10E – Ode to Jacques
Located in the Finance Building is 10e once a local favorite serving Armenian and Lebanese cuisine.
On any given day, one could stop by and be immediately welcomed by an adorable proprietor who went by the name of Jacques. Those who knew Jacques knew that no matter how hectic life was, hospitality was key and just as important as serving a memorable meal was serving a memorable and pleasurable dining experience.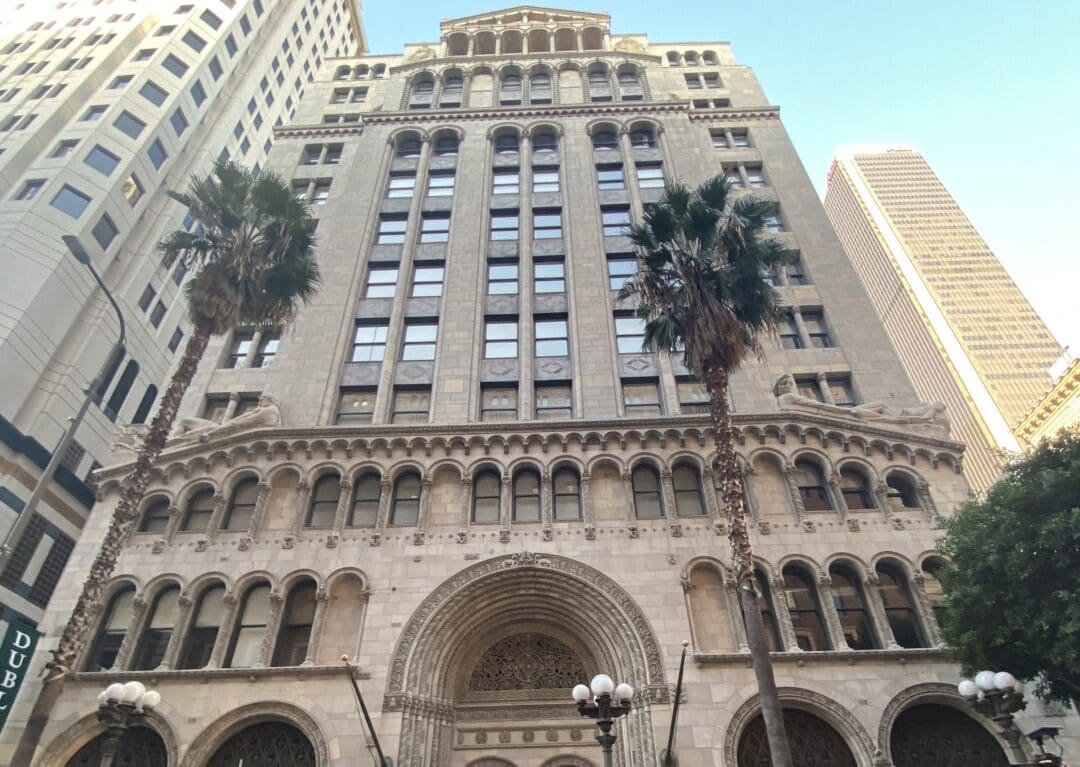 In 2020, Jacque relinquished some of his duties at 10e yet managed to visit from time to time, and although Downtown wasn't able to sit and enjoy his quick wit and heartwarming one-liners, a few staples have remained at 10e.
10e is located at the base of one of Downtown's most adored Historic buildings, the Fine Arts Building, designed by Albert R. Walker and Percy A. Eisen which first opened in 1926. The outside of the building mirrors the reality of a time when artistry and attention to detail mattered most. Its splendid facade is adorned with a quartet of slightly distorted scholars, carved from terra cotta, aside pillars with what looks like cannabis leaves and other carved patterns known to adorn other building of its time in Spain. Hard to miss high above its mezzanine are two enormous relaxed granite figures who both seem not to care they aren't wearing any clothes.
Inside the lobby, famed tile maker of yesteryear, Earnest Batchelder left his mark with one of America's most ambitious displays of tile mosaics, arches, and interior sculptures of brown, bronze and gold.
Yes, Downtown will miss Jacques, but we still have 10e hummus with chickpea purée, tahini and olive oil Mignon. Hands down the absolute Greatest HUMMUS in existence.
And, we still get to enjoy one of Downtown's other great dishes for TakeOut, FRENCHED LAMB RACK ZA'ATAR with roasted pepper and parsley sauce for $28.
Enjoy!
Nick + Stef's Steakhouse
The Patina Group consists of over 3 dozen restaurants worldwide, but only one is as cherished in Downtown as Nick + Stef's Steakhouse.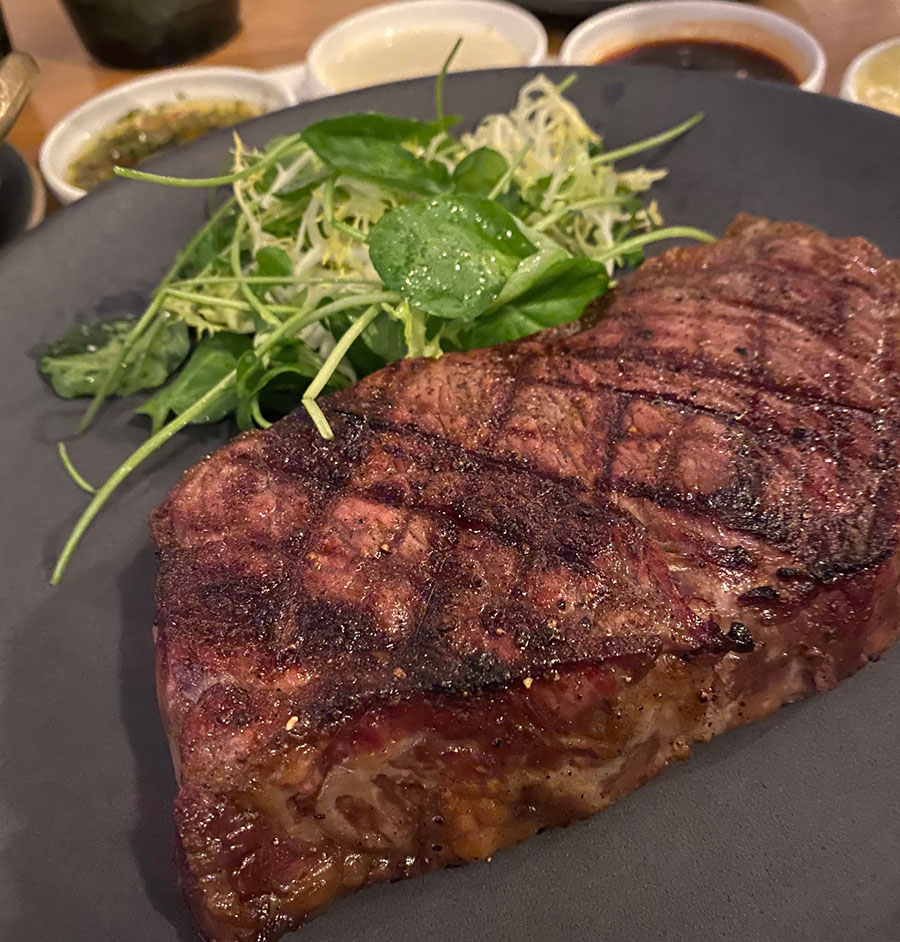 Temporarily closed now, Downtown will have to wait patiently as Nick & Stef's enormous cellar of fine wines and aged steaks continue to do what they do best, age well.
When they reopen don't miss a chance to visit and take home leftovers of Nick + Stef's mesquite-grilled dry-aged in-house New York strip cooked to perfection. www.nickandstefs.com