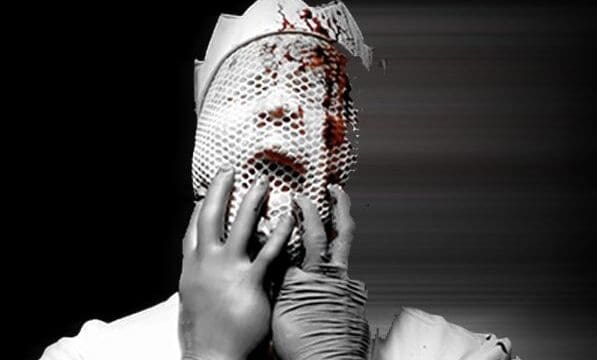 In the last days of two-thousand and twenty, Downtown Weekly accepted an invitation to visit and interview the underworld Goth artist known as Fhedesh.
Once inside, we found ourselves surrounded by the darkness of a colossal space. From end to end, we toured a series of themed sections adorned with vintage collectibles, dark fabrics, handcrafted tables, and tufted sofas and chairs.
The dark arts were evident; complete with pentagrams, melted wax-covered skulls, ironworks, a pair of 6ft glowing upside-down crosses, and what looked to be an empty blood-stained porcelain bathtub.
Peculiarly interested, we gingerly explored several positions upon leather-strapped BDSM mechanisms.
Shortly after, we involved ourselves by stepping inside a fully built Catholic confessional upon which we had no problem avowing some dark secrets of our own.
As if drawn to Fhedesh like a magnet, we found the artist to be as alluring as he was talented. At one point we joined him side by side while he commanded the keys of his vintage piano.
There under the flickering shadow of candlelight, we began to notice, Fhedesh had grown fangs.
Wake Up! It's a Bloodbath.
Fhedesh is an American dark frequency artist and producer based in DTLA. His industrial trap sound and experimental visuals, inspired by elements of vampirism, provide a musical backdrop that inspires the freedom to bend and not only break, but demolish the rules. Talented musician turned vampire, Fhedesh is an artist in his own caliber.
Fhedesh's music explores facets of an underground lifestyle, one that embraces unapologetic creative exploration. He emerged on the scene of late night DTLA after packing out after hours parties in warehouses across Southern California and has since established himself as an artist.

His sound evokes the desire to welcome darkness rather than run from it, as Fhedesh explores concepts of immorality, sexuality, mystery, and luxury in ways no other local artist has.

Since the pandemic, Fhedesh has begun to channel his creative energy into his music videos rather than live performances.
Fhedesh just released a new single and music video called "Wake Up! It's A Bloodbath", a hard-hitting, edgy tune inspired by the current state of the world in all its misery.

"Oh yes, "Wake Up! It's A Bloodbath" was derived from my current state as a society and completely pandemic driven. These trying times have been frustrating for me and my dark art community. It has been a mental bloodbath during these pandemic times," Fhedesh tells me.

"This video is a pure reflection of our hypocrisy within our local and state governments. Many of us are feeling suffocated and can literally feel the pressure of our surrounding society moving in closer while ripping our identity and financial means away." BBeeBe sure to stream "Wake Up, It's A Bloodbath" on Spotify, Apple Music and Google Play and watch the music video on YouTube.

Fhedesh's music and theatrical dark expression draws parallels and inspiration from a variety of genres including rock, industrial EDM, witch house, trap, and more. When asked about his musical inspirations, Fhedesh references a wide range of artists like Delta-9, Gesaffelstein, 3teeth, Panther Modern, Mozart, Arnaud rebotini, Ghoste Mane, and Wings-Paul McCartney just to name a few.

"If you took Industrial – Goth Trap & electronic music, packaged it up and sent it to the underworld. You would have then delivered and embodied my avant-garde," he said.

Fhedesh has always been a procurer of dark art music, and since coming to DTLA he has been able to express dark art on multiple levels; "I'm learning that my sound is what's called experimental, and I think that fits with my fans because they are all about having an experience, and I think that my shows really do that," he continues.

"After dark people feel more free to explore their mischievous desires, freeing themselves from the weight of their day and routine. I would like to think my music plays a role in freeing people by providing a melodious, yet dark and aggressive musical backdrop for their experience."

Fhedesh's listener base is quickly growing not only in the DTLA goth and dark art community, but among fans of EDM, Rock, and Hip-Hop who are also taking notice of his unique sound. For more information on Fhedesh, be sure to follow him on all social media platforms.