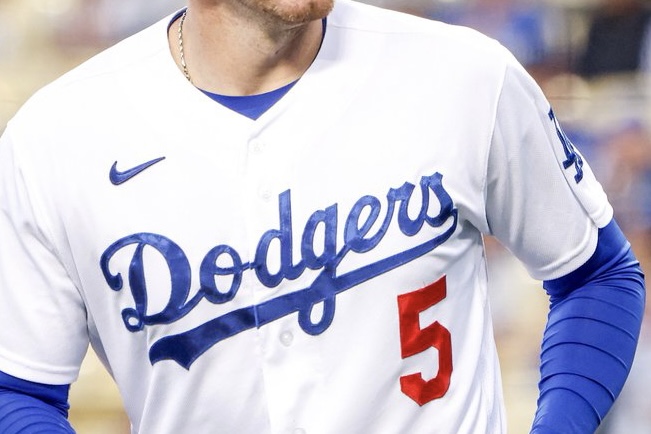 The Dodgers will host approximately 500 pre-selected active-duty service members of our nation's U.S. Army, Marine Corps, Navy, Air Force, Coast Guard, Space Force and veterans and their families on Friday, November 11 from 11:00 a.m. to 3:00 p.m. at Dodger Stadium for a special Veterans Day event.
Military members will enjoy a rotation of activities, including batting practice on the field, photo opportunities with the 2020 World Series trophy, and activations in the Centerfield Plaza and bullpen. As part of the program, longtime Dodger catcher Austin Barnes and Dodger first baseman Max Muncy will take part in a Q & A session hosted by SNLA's Kirsten Watson. In addition, Dodger alumni Billy Ashley and Ken Landreaux will be present to welcome the group and give the guests pointers during their batting practice.
"Dodger Stadium has long been a welcome home for our nation's service members," said Naomi Rodriguez, Vice President of External Affairs and Community Relations for the Dodgers. "This week, the Dodgers are excited to proudly honor and celebrate our Veterans for their sacrifice, service and dedication to our country."
The Los Angeles Dodgers franchise, with seven World Series championships and 24 National League pennants since its beginnings in Brooklyn in 1890, is committed to a tradition of pride and excellence. The Dodgers are dedicated to supporting a culture of winning baseball, providing a first-class, fan-friendly experience at Dodger Stadium, and building a strong partnership with the community. With the highest cumulative fan attendance in Major League Baseball history, and a record of breaking barriers, the Dodgers are one of the most cherished sports franchises in the world.
"The Department of Mental Health (DMH) is proud to partner with the L.A. Dodgers to honor and show appreciation for our U.S. Veterans during a day of enjoyment at the ball park," said La Tina Jackson, Deputy Director, L.A. County Department of Mental Health. "DMH is committed to providing mental health services and connections to our service men, women and families through our Veterans Peer Access Network (VPAN). We are particularly grateful for veterans who have chosen to continue their mission through the VPAN program by serving as Battle Buddies to their fellow service members who are indeed breaking down barriers, building bridges, and saving lives."
The Dodgers honor military personnel and veterans year-round with initiatives including the Military Hero of the Game on-field recognition that takes place during each Dodger home game.
www.dodgers.com/military.