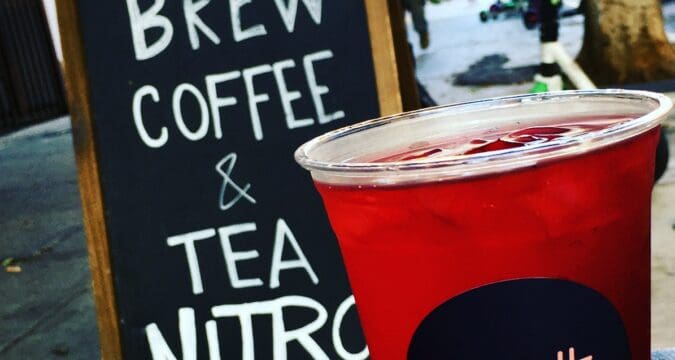 Walking down South Broadway in DTLA, the energy of Boketto Cold Brew will attract you from the inside out – Directly in front of the café is a lime green skate box that anyone can use, the occasional impromptu rap battle, amazing art, and even a black-owned food truck. Inside are delicious coffees and artisan teas, minority-owned products, a couple of friendly faces, and even more good vibes.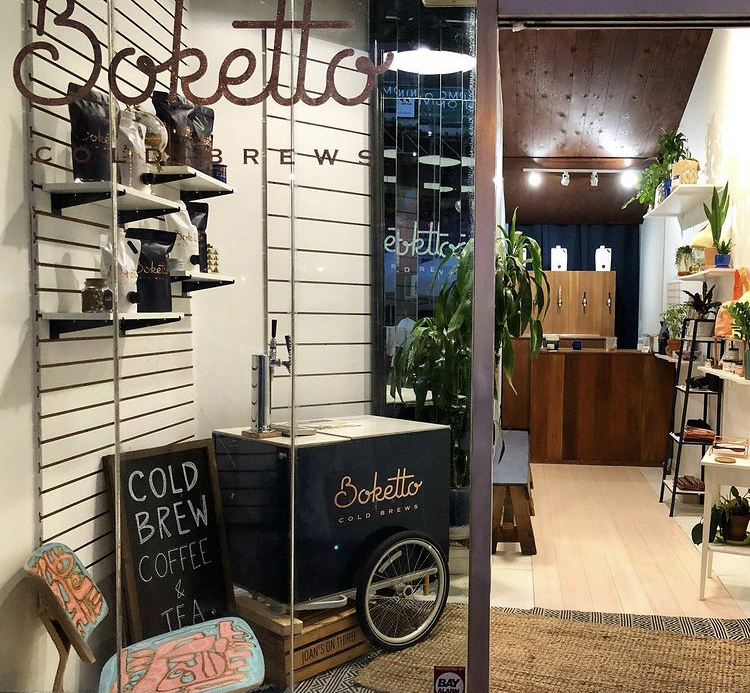 Talking with Ben Wesley, Boketto's owner, it becomes clear almost immediately why his café is so successful: Ben looks for ways to help and uplift the members of his community. Boketto not only differentiates itself from other cafés with its delectable brew, but its ability to partner with other local businesses. Ben stresses the importance of manifesting success for not only Boketto, but for its neighbors as well.

Boketto carries apparel, skateboards, accessories, books and art from mostly minority and women-owned brands in DTLA. Boketto also gives free reign to local artists to paint and showcase their art outside of the café, keeping 100% of profits earned. Buying from Boketto means more than buying just a cup of coffee – it means supporting and investing in so many other local and black-owned businesses, artists, and creators.
Boketto's positive vibe is inspired by Ben's background in high end retail and skate culture, as Ben's life-long passion for skateboarding is tied into whatever he does. Ben started as a head concierge at an office building downtown, where he would eventually be given an old espresso machine and the idea to weld an espresso cart to go with it. Inspired, Ben began contacting all of his barista connections and eventually linked with an award-winning roaster from Australia, who offered Ben the best cup of coffee he had ever tasted. They got to work brewing 15-20 pounds per week.
Ben set his cart up on movie sets where he worked the graveyard shift, gave restaurants in his building free kegs of cold brew, and would eventually put cold brew kegs in the spaces of much larger corporations and companies. He marketed his espresso cart to the best of his ability with the support of his boss and business partner – in fact, Ben's boss owns the building the café is in and helped build space to have a business. Excitement was building as Boketto blossomed into a business, the transformation described as "really kind of serendipitous" by Ben, whose innovative ideas for Boketto's future had only just begun. The 5-foot space soon became home to some pretty momentous energy, a place that would not turn anyone away.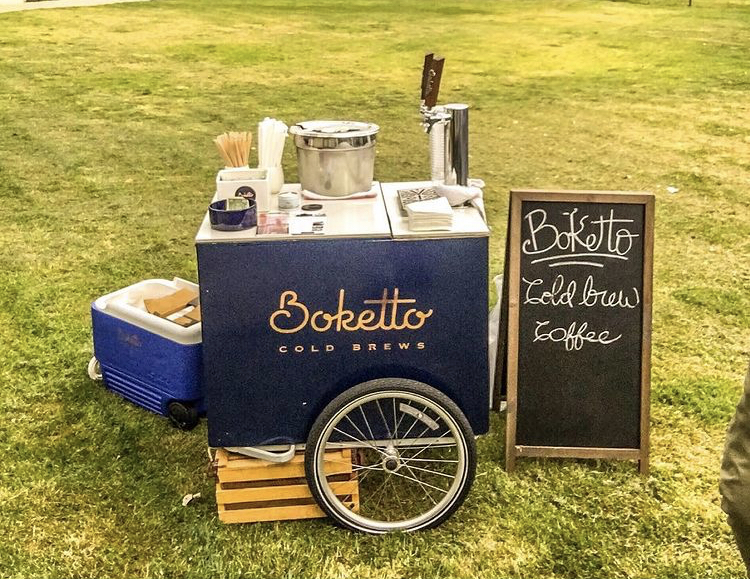 Next time you are craving a cold brew, check it out for yourself. Boketto's cold brew is made in DTLA and never heated – Ben works with his roaster to make a special blend of beans that is ordered on Friday, gets in on Monday, cold brewed on Tuesday, and ready to serve on Wednesday. Boketto's cold brew even has more caffeine than anyone else's, because of the lighter beans used, and it is the only cold brew that won't leave you thirsty after drinking it. One of Boketto's most popular orders is their Nitro Cold Brew.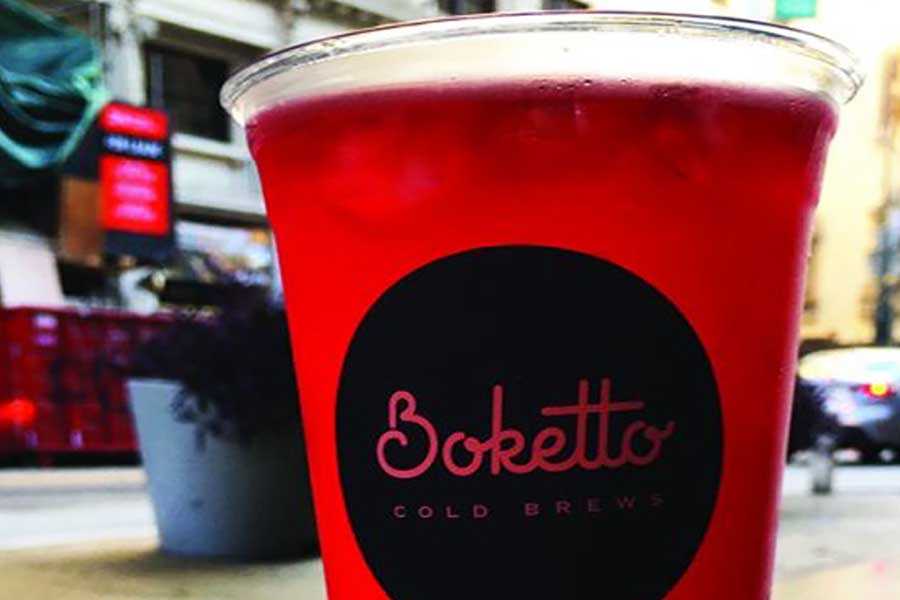 And, Boketto doesn't just serve cold brew coffee – it specializes in cold brew and loose-leaf teas, too. Boketto's most popular tea is called the OMG (orange, mango, ginger hibiscus), a wellness brew that contains one full day's worth of Vitamin C. Boketto also serves teas with eclectic flavors like Koreander, clove, and dark pepper. Fortunately, the café was never dine-in, so this became its advantage during the pandemic, as it is unaffected by any indoor dining bans. The shop even has its very own Boketto bike, complete with a mobile cold brew tap that is usually set up on the corner downtown.
The best part is any product Boketto sends customers home with is reusable. Ben created his own ready-to-serve cold brew pouches that are 100% recyclable and hold 54 ounces of cold brew; Coffee lovers can purchase their own coffee pouch subscriptions through Boketto's website for only $18 a month. And, if a customer brings their pouch into the café, they are able to have it refilled for $16! Boketto offers its cold brew coffee pouches through @socalmilkdrop as well, a minority and female-owned business that facilitates fresh and local grocery deliveries in Southern California.
Boketto Cold Brew is an ever-evolving and progressive business; Ben is working extremely hard on turning Boketto into its own brand that specializes in streetwear, as well as a nonprofit that aims to teach inner-city students entrepreneurial skills using the mobile cold brew bike idea. And, despite the ongoing pandemic, Boketto continues to safely and successfully establish partnerships with local businesses. Recently, the @antidote.eats food truck opened for business directly in front of Boketto. And right next door is Boketto's right hand, a black-owned barber shop called The Corner (@thecornerbarbershops) that has been around since 2005. Boketto is constantly moving forward, and in doing so attracting other energy to build with.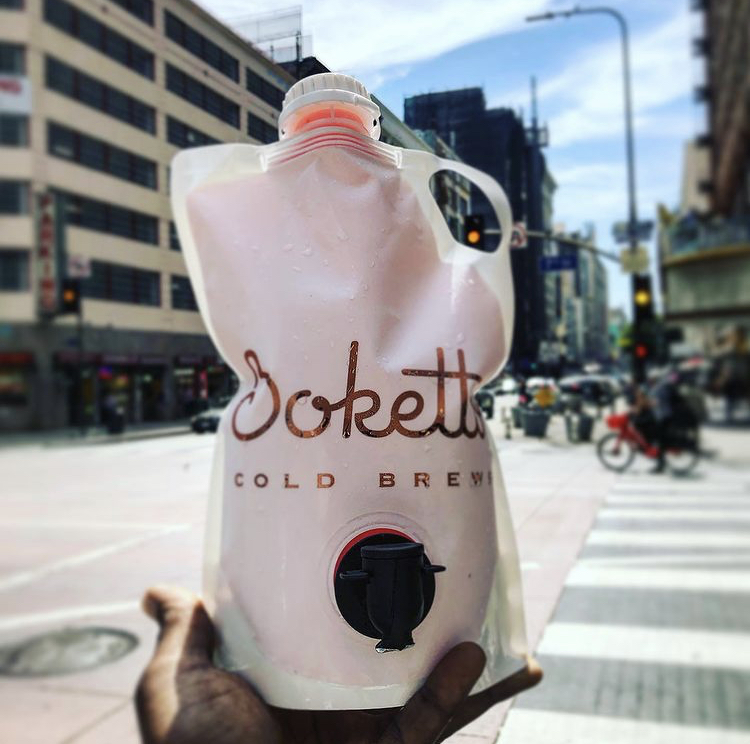 Boketto Cold Brew and its neighbors are proof that small business is going to go farther for you; when small businesses show love to their community, the community will support them right back. So, support your local businesses! Your purchases will mean more, and I guarantee the brew at Boketto will be worth it.