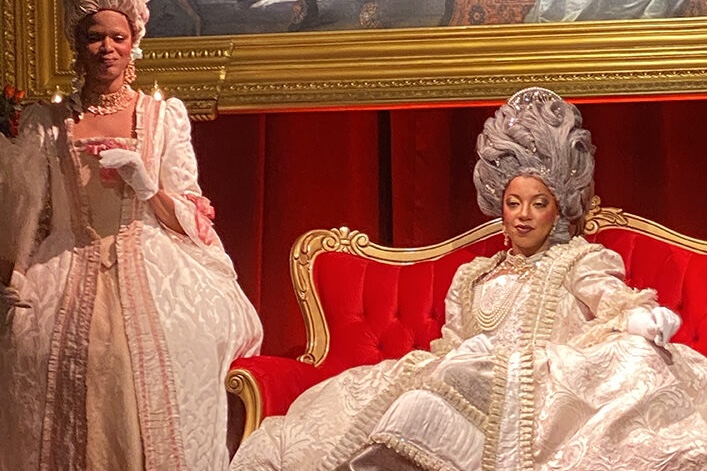 You enter the extravagant ballroom wearing your exquisite empire waist gown, long silk gloves, and sparkling tiara. As you glance around the room, dimly lit by candles and impressive crystal chandeliers, you admire the lavish garments worn by the ball goers. Wisteria is draped above the bar, the subtle sounds of violins fill the room with sweet melodies, guests pose for pictures and clink champagne glasses.

You are swept back in time to the Regency Era when kings and queens, lords and ladies dressed to impress. You hear someone loudly proclaim, "The queen has arrived." You have stepped into the world of Bridgerton at the Queen's Ball.
Sign up to receive our popular Get2DTLA Newsletter!
The 90-minute immersive event, produced by Shondaland, Netflix, and Fever, allows fans of the hit Netflix show, Bridgerton, to be transported into the time and place the show is set in – 1813 London. The events are currently being held in Los Angeles, Chicago, Washington, D.C., and Montreal.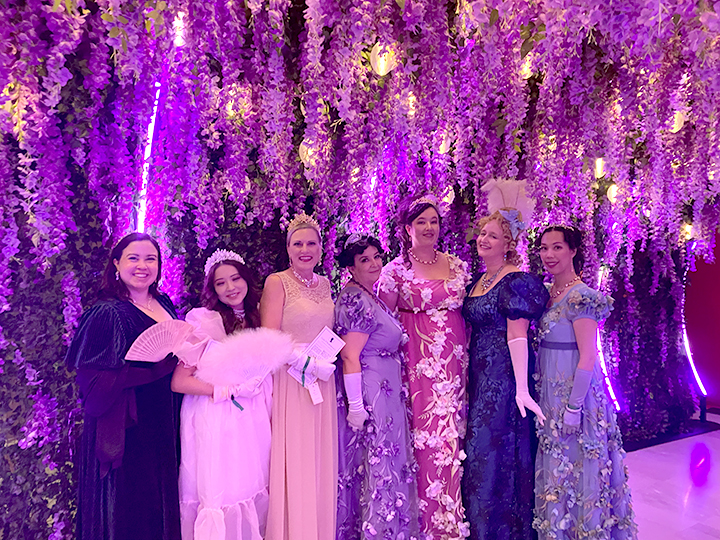 At the L.A. location, held at the regal Millennium Biltmore Los Angeles hotel, guests enter through an Instagram-worthy wisteria tunnel that leads to a reception area with interactive activities that include getting your portrait taken, visiting the Modiste studio for some Bridgerton exclusive merchandise – including the Pat McGrath Bridgerton Collection palette, bowing for the queen, taking a photo on a set strung with crystal curtains, enjoying a themed cocktail, interacting with the costumed cast, or participating in a mysterious scavenger hunt. There are also gowns from the Netflix show on display. It is highly recommended that you arrive early to ensure enough time to partake in the activities – the lines can be long and it is a relatively short event. Pick your favorite activity first because there might not be enough time to do them all.
About halfway through, guests are ushered into the glamorous ballroom with a checkered floor, high ceilings, and a lively quartet playing live music. The ball starts with a couple performing an impressive and elegant choreographed dance. The audience is then invited onto the dance floor to participate in the ball with a dance lesson. The ball pivots between guests watching the professional dancers and participating in the dances. It ends with a crescendo as the queen scours the audience in search of the diamond of the ball. Once she bestows that virtue, the diamond steps to the ballroom and is showered with glitter and adoration from the queen and the crowd. Will the Diamond be you?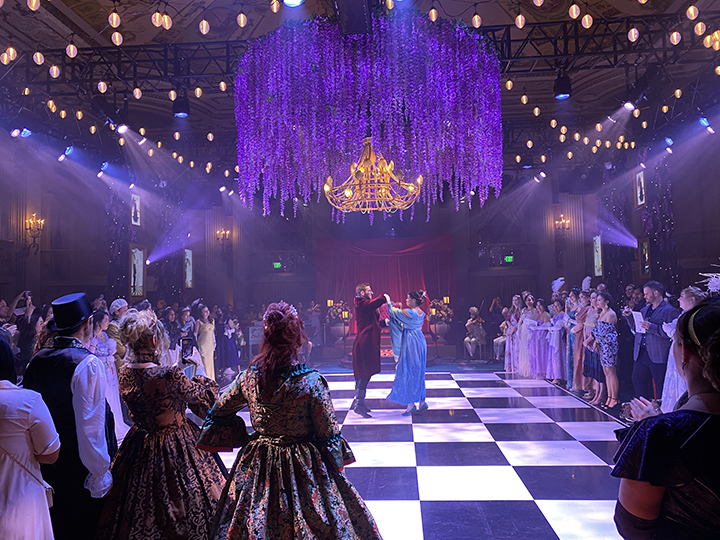 Although dressing the part is not required, it sure is more fun. The L.A. event runs through June 12, 2022. Tickets start at $45. Parking is an additional $20. Guests under 18 years of age must be accompanied by an adult. Guests 21 and older must bring valid ID to consume alcohol.