The David Labkovski Project's Reflect & Respond Program for Holocaust Commemoration on April 28, 2022, provides an opportunity for adults and students ages 12 and older to respond to the work of artist David Labkovski, who survived imprisonment in Siberia under the Soviets during World War 2, and whose work documents life before, during, and after the Holocaust.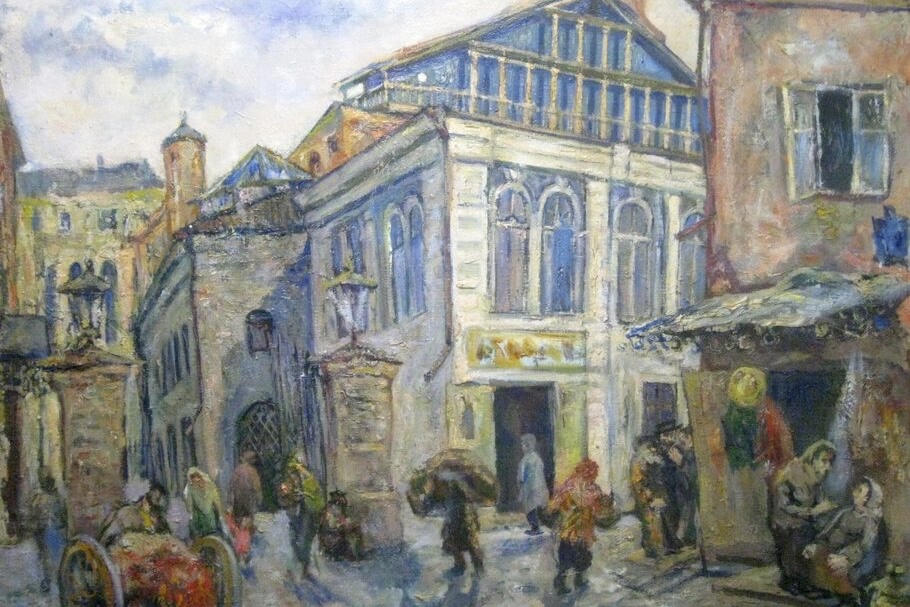 The David Labkovski Project (DLP) creates a living bridge from the lessons of the Holocaust to the realities of today's world. The DLP introduces and preserves the legacy of the Holocaust experience through the artwork of world-renowned artist David Labkovski (1906-1991). His work empowers participants to engage in curated multi-disciplinary projects, involving components of collaboration, creativity, critical thinking, historical knowledge, mediation, and problem solving.

For Yom HaShoah/ Holocaust Commemoration 2022, the DLP has launched a Reflect & Respond Program which invites adults and students ages 12 and up to respond to Labkovski's art work through poetry, prose, or art and to submit their responses to an online journal, which will be shared at the DLP virtual commemoration event on 4/28/22. The responses will also be displayed along with the launch of a new exhibit, "A Visual Diary of the Past," which was curated by seven high school students who completed the DLP student docent training program and went on to graduate from the DLP student curation program. Each of these young curators brought their own skill set to the table and then collaboratively came together to explore this difficult history. The DLP is proud to present the new online exhibit, "A Visual Diary of the Past: The Work of David Labkovski," which can be experienced on the David Labkovski Project website. https://www.davidlabkovskiproject.org/visual-diary-exhibit.html The interactive exhibit can be used by teachers to educate their students about the Holocaust. 
Making history relevant and engaging student populations can be challenging. Students are overwhelmed with social media and navigating the present is overwhelming enough. Past history, with all of its themes, lessons, and perspectives, however important, may seem irrelevant. Founder & Executive Director of DLP, Leora Raikin believes that art is a powerful tool to bridge the past and present and is a universal language that transcends culture and background.
Our primary source, the over 400 pieces of artwork of storyteller David Labkovski, enables us to teach Holocaust history in a way that personally speaks to our students and participants. Labkovski painted simple identifiable people, events, places, and times. There are bustling markets and towns, tradesmen, farmers, families, joy, and purpose in his pre-Holocaust life. Soldiers, prisoners, isolation, separation, dread, and fear are present during his years in a Soviet Gulag prison camp. Silence, shock, abandonment, and despair at seeing the bombed out ruins of his hometown are present in the Holocaust's aftermath. And finally, there is beauty, hope, and peace present in his later years, away from the nightmares of his own past. History becomes accessible and therapeutic, not through statistics, vast theories, battles, or metaphorical comparisons, but through one person's lens of what it was like to live through difficult times. History now becomes time-travel: a living bridge from the complicated times of the past into our own time.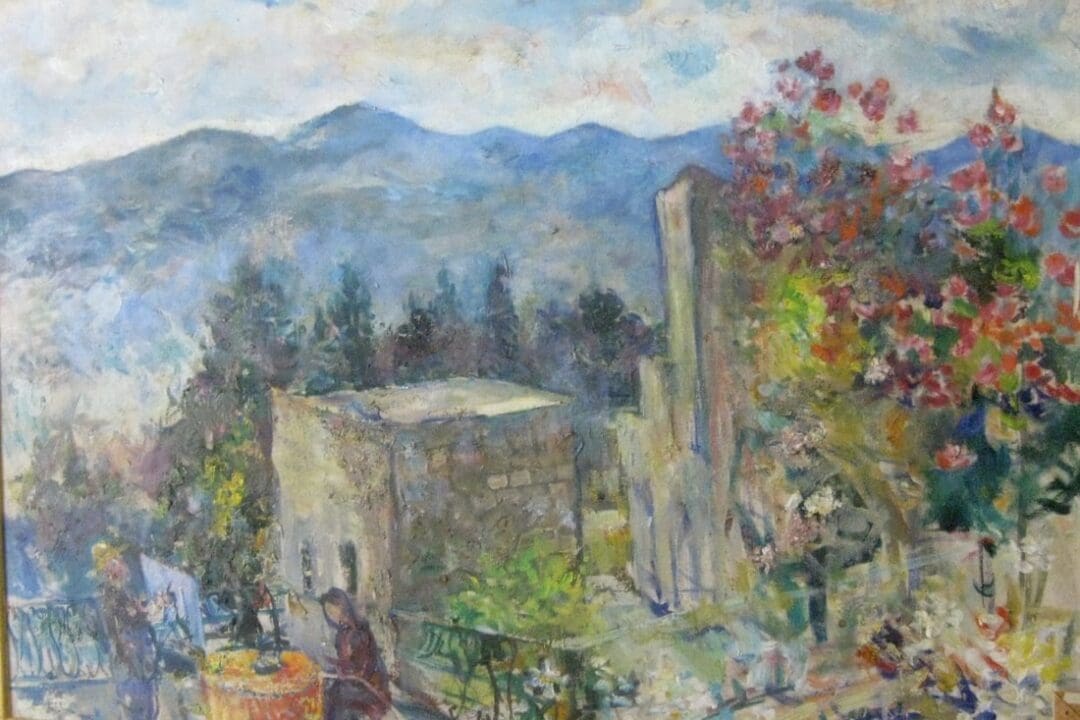 His art is a diary of his life, beginning with the images of his youth, and continuing up to the time and place in which he died. He painted what was going on around him. He painted the people he knew and saw, the familiar landscape around him, and daily life in the villages, towns, and other places he lived. The circumstances of his life have given a visual bridge spanning life before the Holocaust, through the misery of the Nazi and Soviet regimes, through the aftermath of the Second World War, and finally, to peace and a rebuilt life in Israel. He grew up in Lithuania's capital, Vilna, which at the time was one of the great cultural and educational Jewish centers of the day. That his work happened to chronicle his life within a soviet forced labor camp provides a visual diary of his torment and torture under the Russians as a prisoner in the Siberian Gulag.
His works are not a collective accumulation of the sentimental raptures of pre-Holocaust life, or of the metaphoric tropes of horrifying evil and the oppression of the victims of the Soviet and Nazi regimes. His works do not feel like they are trying to "make a point" about the horrors of carnal evil or of the heroism of the downtrodden. He stuck to his work-a-day "ordinary" scenes of the people and places around him, and he profoundly captured the folklore, structure, and whimsy of pre-Holocaust life. His work never screams about the brutality and hopelessness of Soviet prison camps. He simply made images of what he saw during his prolonged incarceration, thereby giving the world achingly personal images of that horrible palace: the claustrophobic encroachment of brick prison walls, the specific prisoners around him, resigned and fearful yet hopeful, and the fragile life-affirming connections forged in the camps through shared hardship and the need for immediate companionship.
Labkovski was a genius when it came to portraiture. His self-portraiture and drawings of the people around him add to the appeal of his work and is an essential part of why his work connects with viewers of all ages, backgrounds, religions, and ideologies. For many people, it is much easier to empathize and relate to the experiences and journey of one man's life than it is to emotionally connect and empathize with 6 million people, or to deeply understand the sufferings of "all eastern European Jewry."
Individual's glimpse into the era, not a collective trope. Labkovski's artistic leanings led him into the byways and storefronts of his beloved hometown of Vilna, one of the epicenters of Jewish culture and education in the early 20th century. The peddlers and cobblers of his youth and the open markets and storefronts of his hometown were the equivalent of that Facebook friend who lets you know what they had for dinner last night.
He refused to sell his art, as the world was his diary, his historical journey, and his emotional touchstone. He instead surrounded himself with his work-like pages from diaries that helped him live on a creative bridge from his past to his present. His work has been exhibited at West Point Military Academy, Chapman University, Loyola Marymount University and Holocaust Museum of Los Angeles to name a few.
The DLP uses his artwork as a vehicle to educate and engage students but most importantly to empower students to become educators to their peers. Many of the students share the program with their school and some go on to become ambassador and advocates for Holocaust education at their schools and mentors to future cohorts."
After completing the DLP Student Docent Training Program, Shoshana Medved, then a senior at Oak Park High School, shared her thoughts on her journey: "I became a wiser and more empathetic individual." She stressed the importance of understanding history, stating, "In order to create a brighter future for us all, we have to understand our history. This experience helps people take that first step, which is extremely valuable. It doesn't matter who you are or what your background is — I believe everyone can learn from Labkovski's story."
Student, Rebecca Leeman, shared "The David Labkovski Project has forever changed my view of art and the Holocaust. Previously, I was unaware of how a piece of art, its colors, brush strokes, and facial features could tell a story. Teaching the history of the Holocaust through the lens of art adds another dimension of emotion, connection, and understanding to the events of the past. I would have never known about the culturally rich town of Vilna or the horrors of the Gulag without the DLP and David Labkovski sharing every stage of his life story through his artwork. His paintings are an enriching and lasting tool for bearing witness to and learning about the Holocaust. I hope to share the work of David Labkovski with many others in order to promote awareness and understanding of this crucial part of our history."
While Junior, Aliza Lam, CA: shared "When I began with the David Labkovski Project, I never knew about the mass killings happening in the Ponary forest. I knew about the millions of people lost to the Nazis, but never quite understood the horrific extremes the Nazis went to. This is just one example of the gaps in my understanding of the Holocaust that the DLP filled. Learning about the Holocaust, not through numbers or writing, but in art, gave me a new and more powerful understanding of the tragedy. While I knew these issues were important and critical to discuss, I felt held back by my shyness and my introverted personality. However, by participating in the DLP's student docent program I feel equipped with the tools to communicate these difficult topics. I now use these skills to work with other amazing curators to make an accessible and interactive website telling Labkovski's story and the story of the Holocaust."
Amalia Abecassis, a student at Shalhevet High School in Los Angeles, CA: "The David Labkovski project has enabled me to gain a new perspective of the Holocaust through the lens of David Labkovski's artwork. To be a docent in the DLP means being able to comprehend David's personal experience and being able to dissect and describe his works of art. This includes understanding the composition of his pieces and its details in order to fully comprehend David's motives in constructing his art. I believe that students should join the DLP so that they too can learn about David's experiences and be able to gain the tools necessary to understand how to look at a piece of artwork. I am currently a Docent in the DLP's training program, and I participated in the Reflect and Respond Program. I also contributed to the David Labkovski website where my role was to create interactive images of David's artwork using a software known as Thinglink. This interactive feature will allow viewers to click through different icons which will lead them through an interactive tour of David's artworks."
Deadline for submission for Reflect & Respond April 25, 2022. Link to Reflect & Respond Program: https://www.davidlabkovskiproject.org/reflect-and-respond-2022.html