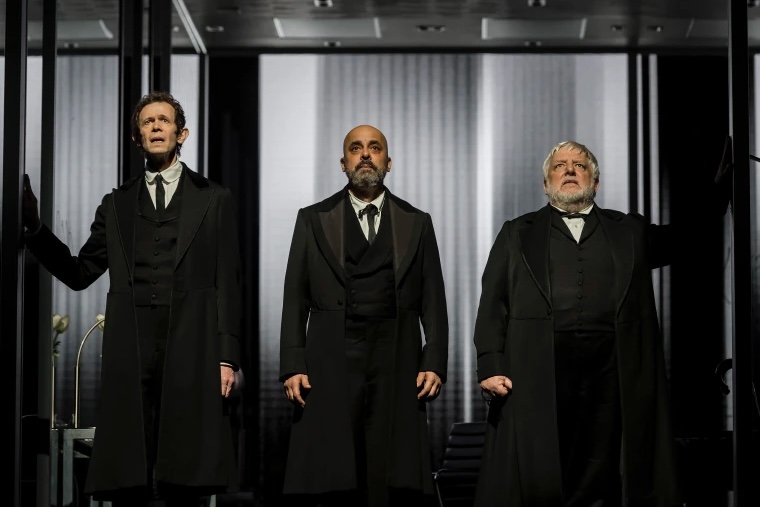 The worldwide critically acclaimed "Lehman Trilogy" opened this past weekend at Center Theatre Group / Ahmanson Theatre.
The play is set on a cold September morning in 1844, where a young man from Bavaria and his two Brothers stand on a New York dockside dreaming of a new life in the new world.
Flash forward 163 years later, the firm they established — Lehman Brothers — spectacularly collapses into bankruptcy, triggering the largest financial crisis in history.

Written by Stefano Massini, adapted by Olivier Award-nominated Ben Power and directed by multiple Olivier Award, Academy Award and Tony Award winner Sam Mendes, "The Lehman Trilogy," is the story of a family — and a family business — that would transform and, finally, upend the world.
The original London and Broadway cast members Simon Russell Beale and Adam Godley reprise their critically acclaimed performances joined by Broadway company member Howard W. Overshown to complete the cast of three who portray the Lehman brothers, their sons, grandsons and countless others.
"The Lehman Trilogy" has been hailed by The New York Times as "a genuinely epic production" with "superb" performances by Russell Beale and Godley.
Howard W. Overshown joins the cast having understudied the role of Emmanuel Lehman on Broadway.
"The Lehman Trilogy" features set designs by Es Devlin, costume design by Katrina Lindsay, video design by Luke Halls and lighting design by Jon Clark. The composer and sound designer is Nick Powell, the co-sound designer is Dominic Bilkey, with music direction by Candida Caldicot and movement by Polly Bennett. The associate director is Zoé Ford Burnett.
Stefano Massini's work has been translated into 22 languages and performed around the world. His plays have been directed by Luca Ronconi, Lluìs Pasqual, Arnaud Meunier, Irina Brook, Anton Kouznetsov, Declan Donnellan, Marius von Mayenburg, Stephan Bachmann and Sam Mendes.
The Lehman Brothers presented by The National Theatre and Neal Street Productions will run through April 6, 2022.