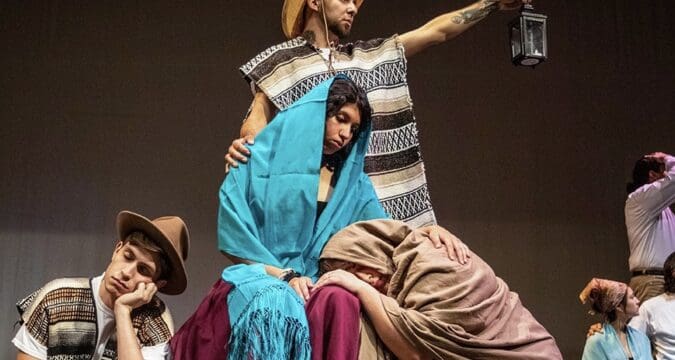 L.A.'s Latino Theater Company has announced a four-play Spring Season that attests to the eclectic nature of the American Latinx experience with work by artists from Los Angeles, Mexico and New York. All performances take place in April and May at downtown's Los Angeles Theatre Center, known informally as The LATC.
Kicking off the season on April 29 will be the world premiere of Whittier Boulevard, previously announced for 2022 but delayed by the pandemic. In this new, ensemble-devised work inspired by the classic movie of a similar name, the company uses its trademark blend of comedy, drama, music, dance and theatrical magic to transport us to Los Angeles in the year 2042. Years of fires, torrential rain, anarchy and bloodshed have led to a totalitarian city-state where the elderly disappear, their stories forgotten. When authorities make a surprise visit to the home of faded Chicana starlet Veronica Del Rio on the eve of her 75th birthday, she enlists the help of her loudmouth nurse, a kindhearted policeman-fan, and a down-on-his-luck poet. Will Veronica disappear and be forgotten before she finds true love? Performances take place in Theater 3 of The LATC's five-theater complex. (Previews April 20 through April 28; opens April 29 with performances continuing through May 28.)
Beginning May 3, Latino Theater Company will present Mexico City's interdisciplinary, experimental ensemble Organización Secreta Teatro in two new works without dialogue. Pueblo Espiritu creates a post-pandemic world in which the survival of a semi-nomadic tribe is governed by its relationship to the spiritual world. (Five performances only, May 3 though May 7). Las Diosas Subterráneas uses the Greek myth of Demeter and her daughter Persephone, kidnapped by Hades, god of the underworld, to tell a story of mothers who are looking for their missing daughters and who find reason to move on in the strength of the community. (Five performances,May 10 through May 14). Performances take place in Theater 2 (Lupe Ontiveros Cinema Center) at The LATC.
The West Coast premiere of Evolution of a Sonero gets a three-week run beginning May 13. Hip-hop meets salsa when poet, actor and singer Flaco Navaja, backed by a live, five-piece salsa band, imbues his love letter to the Bronx with the charm, rhythm, soul and improvisational spirit of a true sonero*. Performances are slated for Theatre 1 (Tom Bradley Theater) of The LATC. (Previews May 11 and May 12; opens May 13 with performances continuing through May 28.) (*a sonero is defined as "the improvising leader of a salsa band.")
In addition, Latino Theater Company continues its partnership with the Los Angeles Community College District as part of its IMPACT community engagement initiative. Last season's production of Melancholia, directed by Latino Theater Company artistic director Jose Luis Valenzuela and featuring students from the Los Angeles City College Theatre Academy, performs this month at the Kennedy Center American College Theater Festival, Region 8 in Las Vegas.
The Latino Theater Company is dedicated to providing a world-class arts center for those pursuing artistic excellence; a laboratory where both tradition and innovation are honored and honed; and a place where the convergence of people, cultures and ideas contribute to the future. Now entering its 37th year, the company has operated the City of Los Angeles-owned Los Angeles Theatre Center since 2006, producing 155 plays, creating over 4000 jobs and helping hundreds of nonprofit organizations by providing space and resources. The City, recognizing the Latino Theater Company for its "effective first-class theater center operations," recently extended the company's initial 20-year lease for an additional 30 years, through 2056.