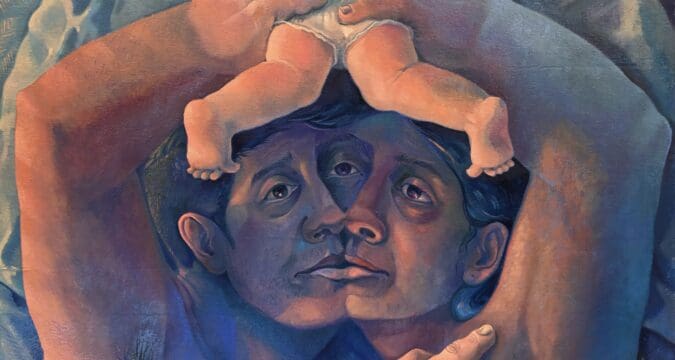 Lorin Gallery is proud to announce and welcome back Erin Milez for a solo exhibition. Her exhibition, "Two Bodies, One Mind", will run from February 14th – March 11th and features a series of her most recent large-scale artwork.
Erin Milez's vibrant, expressive works are focused around couplehood and the grace, awkwardness, and effort required to build a relationship and a home. The exhibition consists of 10 large-scale paintings and 4 watercolor works on paper that depict her subjects in a variety of everyday life. Milez has produced a solo show that not only captivates the audience but also stirs emotion on first impression.

Born in 1994, Erin Milez grew up in Chicago and has lived in both Seattle and the New York City area as an adult. In 2021, she earned her BA in Studio Art from Seattle Pacific University and her MFA from the New York Academy of Art. Milez has been a recipient of the Elizabeth Greenshields Grant and was featured in Art Maze Mag Issue 26. Her work has been exhibited in various galleries, including Lorin Gallery, Monya Rowe Gallery, Cob Gallery, Kutlesa Gallery, Daniel Raphael Gallery, and Badr El Jundi Gallery. She currently resides in Bayonne, NJ with her husband and daughter.

Erin Milez took couplehood into the domain of parenting with this body of work. As a new parent, it was easy to see how the years pre-baby had prepared both her and her husband for the decisions and housework that seemed to double and triple before their every day. Yet the stakes were raised on every decision because it wasn't just about how to organize their kitchen but how best to organize the life of another person.

Milez compares her new parent life to the depiction of the Roman god, Janus. Janus has one body with two faces, one looking forward and one looking back. He is the god of beginnings, transitions, doorways, duality, and endings. He appears to be able to hold both a split identity and a union of spirits in one. Milez says: "As parents, we are two people, yet one unit. We are always holding our distinct identities with our inability to act separately and desire to act together."

In her new series, the artist portrays the parents' bodies as wide and bending, showing both their enthusiasm and exhaustion as they finish the day's tasks. These depictions draw inspiration from historical works of art that depict laborers, such as the social realist murals of the Works Progress Administration, works by Diego Rivera, and George Tooker, as well as that of famous realist painters, including Jean-Francois Millet, Gustave Courbet, and Vincent Van Gogh. Recollections of Millet's "The Gleaners," Van Gogh's "The Siesta" (After Millet), and Tooker's "Night", are reinterpreted into this interior domestic life of modern-day parents.

The textiles and toys turn the interior home space into the farm's fields in which the parents are tending to their child. The colors evoke the transitions between morning and day, day and evening, just as Janus governs the transitions of each day, and the larger scope of transitions, like that of couplehood to parenthood. The work in this show uses merging and splitting to understand how a Janus-like identity offers as conjoined parents both the reassurances and conundrums of having a partner's left hand to act with their right.
Lorin Gallery in DTLA is located at 807 S. Los Angeles Street celebrates five years at its downtown location. The opening will take place in our LaBrea gallery located at 607 N. La Brea Ave on February 14th between 2 pm and 8 pm. Gallery hours are Tuesday – Friday 11:00 AM – 6:00 PM, Saturday 12:00 PM – 6:00 PM. www.loringallery.com