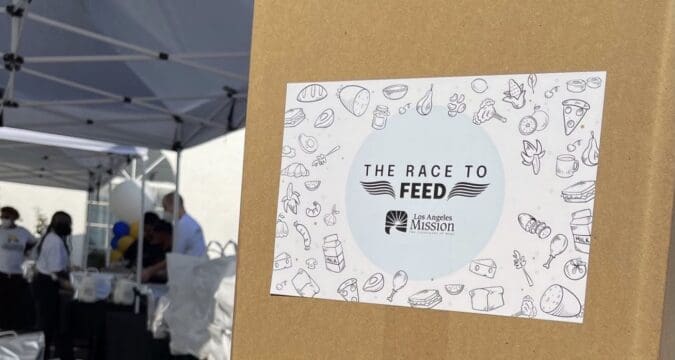 For more than 84 years, the Los Angeles Mission has served the people of Skid Row, providing emergency services such as shelter, food, clothing, as well as professional medical, legal and dental services.
Serving the needs of men, women and children in underserved communities, The Los Angeles Mission is proud to announce that its newest initiative, Race to Feed, which aims to distribute 300,000 meals to families in South Central Los Angeles by the end of December, has reached a milestone distribution of 100,000 meals.
Chef Voltaggio and The Los Angeles Mission's Executive Chef Erik Grant worked together to create a variety of pre-made meals and easy-to-prepare dishes to be included within each non-perishable box.

Sign up to receive our popular Get2DTLA Newsletter

Designed to feed families for seven days (24 meals per person), the Race to Feed meal kits include three fully prepared family meals, as well as essential non-perishable ingredients and accompanying recipe cards to prepare 21 meals at home.
In partnership with "Top Chef" winner and nationally acclaimed Chef Michael Voltaggio, Race to Feed is a meal delivery program that provides a solution for families in low-income neighborhoods that are experiencing rising food prices and grocery store shortages this holiday season.
"When we first started to notice food costs rise, we knew it would make the holiday season even tougher for some of our neighbors," says Los Angeles Mission CEO, Troy Vaughn. "We quickly established Race to Feed, which brings meals, and a solution, directly to the communities that need it most. And through the creativity and skill of Chef Michael Voltaggio and our Executive Chef Erik Grant, we hope these meal kits bring the joy of cooking into homes across Los Angeles."
With Voltaggio and Grant developing the contents and recipes included in each Race to Feed box, the two aimed to create meals that were not only delicious but also teach families how to prepare healthy meals using affordable ingredients.
In addition to pantry staples, such as beans, rice and non-perishable canned goods, the meal boxes also include fresh ingredients that can be used to create dishes such as Crispy Garlic Chicken, as well as prepared foods like Cheese Lasagna. Voltaggio and Grant also created easy-to-follow recipe cards that are included in the meal kits, which provide step-by-step instructions on how to prepare a simple meal at home.
"Every family should have the resources to prepare a delicious meal without exceeding their budget. As a longtime supporter and volunteer for The Los Angeles Mission, I'm so honored to be working alongside Chef Grant on the Race to Feed campaign and create delicious recipes and dishes for my fellow Angelenos," said Chef Voltaggio.
Transported by clean energy trucks donated by Xos, a leading manufacturer of fully electric and emission-free vehicles, Race to Feed's meal boxes are distributed at in-need churches, schools and homeless encampments located throughout South Central Los Angeles, including in Watts, Compton and Crenshaw. Families who would like to participate must be members of the campaign's participating churches and schools or have the option to pick-up a meal box at select homeless encampments. Upcoming distribution locations and dates include:
Verbum Dei High School | December 10 & 20
Brister Baptist Church | December 12
Compton Elementary School | December 14
Riley High School | December 14
Audubon Middle School | December 15
Harte Prep Middle School | December 16
Race to Feed is one of the many initiatives created by The Los Angeles Mission intending to fight food insecurities, and the organization is planning to launch new, similar initiatives, to provide meals to families living at the poverty level in 2022.