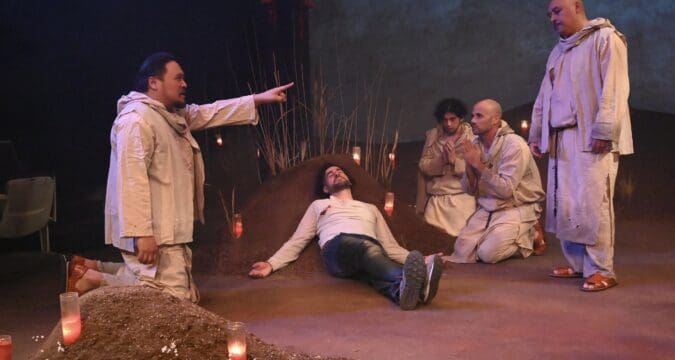 "We are all travelers, Brother. Our journeys take place inside." Latino Theater Company, in association with San Francisco's Magic Theatre and resident home company Campo Santo, presents the newest work by MacArthur Foundation "Genius Grant" recipient Luis Alfaro.

Directed by Magic Theatre artistic director Sean San José based on original direction by Catherine Castellanos, the Los Angeles premiere of The Travelers will open September 23 for a four-week run through October 15 at The Los Angeles Theatre Center. Two low-priced previews take place on September 21 and September 22.
Humorous and poignant, The Travelers takes place in a monastery alongside Highway 99 in Grangeville, California, population 496 and home to migrant workers. When a stranger stumbles in with a gunshot wound, he is nursed by the brothers of the 936-year-old Carthusian Order — even as the Archdiocese is cutting financial support, casting a shadow. Funny and heartfelt, filled with ritual and absurd touches, The Travelers explores the brothers' struggles against poverty and the complexities of human connection.
A Chicano playwright born and raised in L.A., Alfaro is the son of farm workers from the San Joaquin Valley.
"I read an article about a seminary in Central California that had been around for a long, long time," he says. "Everybody there had gotten out of working in the fields during the big drought and had gone there to try to get free food and housing. Really out of desperation. Some farm workers leave their children at monasteries as a way of getting them out of the fields. They know the church will take care of them, feed them. My story is about the guy who shows up who seems like the least likely candidate for seminary, but is actually the most spiritual."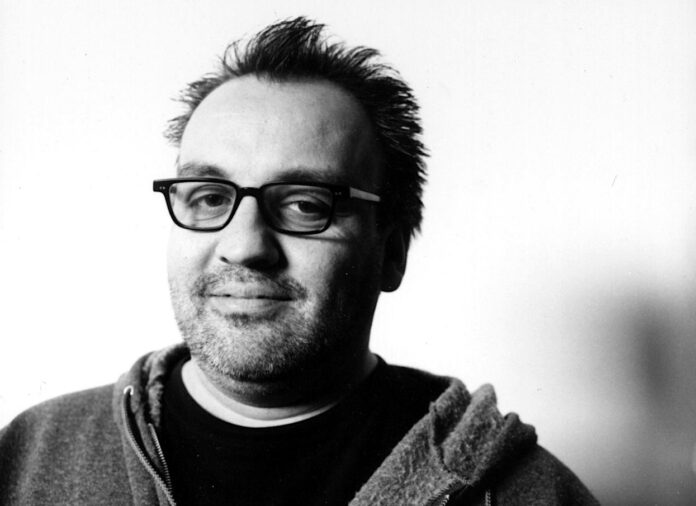 Foundation "Genius Grant" recipient Luis Alfaro.

The characters include Brother Santo (Sean San José), left on the doorstep when he was ten; Brother Daniel (Daniel Duque–Estrada), a former clown from Zacatecas, Mexico; Brother Nancho (Kinan Valdez), an agricultural worker escaping the hot fields; Brother Yiyo (Guillermo Yiyo Ornelas), a Bay Area free spirit ; Brother Ogie (Ogie Zulueta), an innocent who has lived his life in the bathtub; and Brother Juan (Juan Amador), the traveler, soon to be handyman, who shows up with a bullet wound.
One might notice that the Brothers' names match, for the most part, those of the actors.
"Part of my process is that I build a play together with and around the community — in this case, the actors," Alfaro explains. "I've woven elements of their lives into the characters."
The Travelers, which premiered at the Magic Theatre in February, 2023, was developed with the Magic Theatre's home resident company, longtime San Francisco multicultural ensemble Campo Santo. The creative team for the Los Angeles production includes scenic designer Tanya Orellana; lighting designer gg Torres; sound designer Christopher Sauceda; video designer Joan Osato; costume designer Jojo Siu; and movement director Patricia Ong. The stage manager is Lauren Quan.
Alfaro was most recently the associate artistic director of Center Theatre Group at the Music Center of Los Angeles County, and is currently an associate professor at the University of Southern California. He has received fellowships from the John D. and Catherine T. MacArthur Foundation, popularly known as a "genius grant," awarded to people who have demonstrated expertise and exceptional creativity in their respective fields; United States Artists; Ford Foundation Art of Change; Joyce Foundation; Mellon Foundation; and is the recipient of the PEN America/Laura Pels International Foundation Theater Award for a Master Dramatist.

He was the inaugural playwright-in-residence for six seasons at the Oregon Shakespeare Festival (2013-2019); Playwright's Ensemble at Chicago's Victory Gardens Theatre (2013-2020); inaugural Latinx Playwrights at the Los Angeles Theatre Center (2021); and Ojai Playwrights Conference member since 2002. His plays include Electricidad, Oedipus El Rey, Mojadaand have been seen at regional theaters throughout the United States and Europe. Luis spent two decades in the Los Angeles poetry and performance art communities.
The Latino Theater Company is dedicated to providing a world-class arts center for those pursuing artistic excellence; a laboratory where both tradition and innovation are honored and honed; and a place where the convergence of people, cultures and ideas contribute to the future. Now in its 38th year, LTC has operated The Los Angeles Theatre Center, a landmark building in Downtown's Historic Core, since 2006.
Since the company's founding in 1967 by visionary John Lion, the Magic Theatre has identified and cultivated writers on the cutting edge of American theater, serving as a vital center for the creation and performance of new American plays. Sam Shepard developed and premiered his Pulitzer Prize-winning Buried Child, True West, and Fool for Love during his decade-long Magic residency (1974-84), forever altering the shape of American drama.
The Travelers opens on Saturday, Sept. 23 at 8 p.m., with performances thereafter taking place on Thursdays, Fridays and Saturdays at 8 p.m. and Sundays at 4 p.m. through October 15. Two preview performances take place on Thursday, Sept. 21 at 8 p.m. and Friday, Sept. 22 at 8 p.m. Tickets range from $22–$48, except opening night which is $58 and includes pre- and post-performance receptions, and previews, which are Pay-What-You-Will starting at $10.
The Los Angeles Theatre Center is located at 514 S. Spring St., Los Angeles, CA 90013. Parking is available for $8 with box office validation at Joe's Parking structure, 530 S. Spring St. (immediately south of the theater).
For more information and to purchase tickets, call (213) 489-0994 or go to www.latinotheaterco.org.