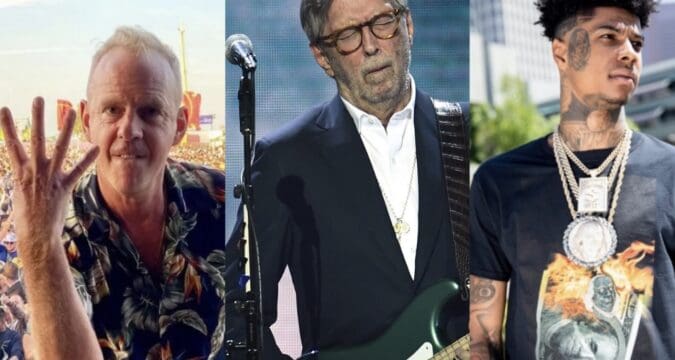 Yet another vibrant lineup of world-class concerts has DTLA gearing up for a weekend of legendary musical performers. From concerts in historic places to enormous outdoor stages, downtown's bringing musical performances that will rock the world!
Blueface at The Historic Globe Theater, Friday, September 22nd
In a music industry where rising stars are a dime a dozen, Blueface is shining brighter than most – thanks to his West Coast rapper talents, style and swagger that's become almost impossible to ignore. His hit track "Thotiana" sent shockwaves through the industry, but it was his unexpected collaborations that truly propelled him to stardom. The "Thotiana" remix featuring YG was initially touted as the showstopper, but then came the remix with none other than Cardi B, and it eclipsed all expectations. Blueface's unique flow and unapologetic lyrics have garnered attention from fans world-wide, making him a formidable force in hip-hop.
Eric Clapton at Crypto Arena, Saturday, September 23rd, Sunday, September 24th
Prepare for a legendary night as Grammy Award Winner and Music Hall of Famer, Eric Clapton, performs at Crypto Arena on September 23. This guitar virtuoso and master of classic rock guitar and blues is set to take you on a musical journey like no other. Clapton's legendary talent echoes with timeless classics "Layla" and "White Room," and continue to resonate across generations.
Fatboy Slim at Pershing Square, Friday, Sept 23rd.
Norman Quentin Cook, better known as Fatboy Slim, played a pivotal role in popularizing the electronic scene in the 1990s. Count on Fat Boy Slim to pack Pershing Square's summer festival series as he continues to make waves in music with projects like Freak Power, Pizzaman, and the Mighty Dub Katz.