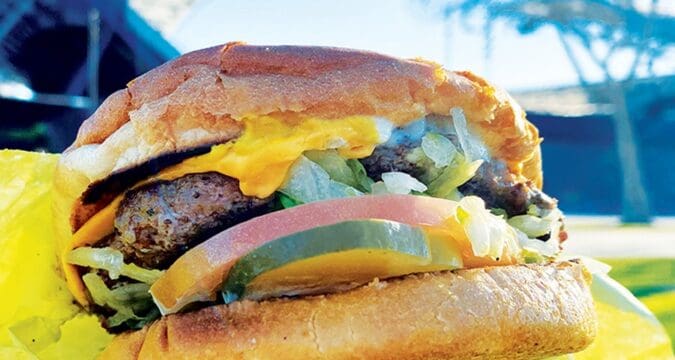 It's Official – Expo/USC can't get enough of HotBox Burgers
It seems the steady flow of satisfied customers never stops at HotBox Burgers, located just one block west of Banc Of California Stadium on MLK and Vermont.
With all the rave reviews and grand accolades, we were surprised to find HotBox Burger was humbly operating out of a tiny unhitched trailer parked on a busy street under the shadow of the old Coliseum.
Unsuspecting, we ordered a turkey burger and a double meat classic without cheese. What we got were burgers loaded with flavor no less than incredible and almost damn near impossible to put down.
Bite after delicious bite, we noticed all conversation had stopped except for the occasional compliment that managed to escape between bites and short sips of our vanilla and Oreo cookie milkshakes.
Wow! No, wowow! HotBox burgers are made to order with the simplest of ingredients; a spiced right protein, with the typical lettuce, tomato, mayo, ketchup, and cheese.
So just what made HotBox Burgers taste so good?
The answer would fall somewhere between the secret recipe and a glorious blessing.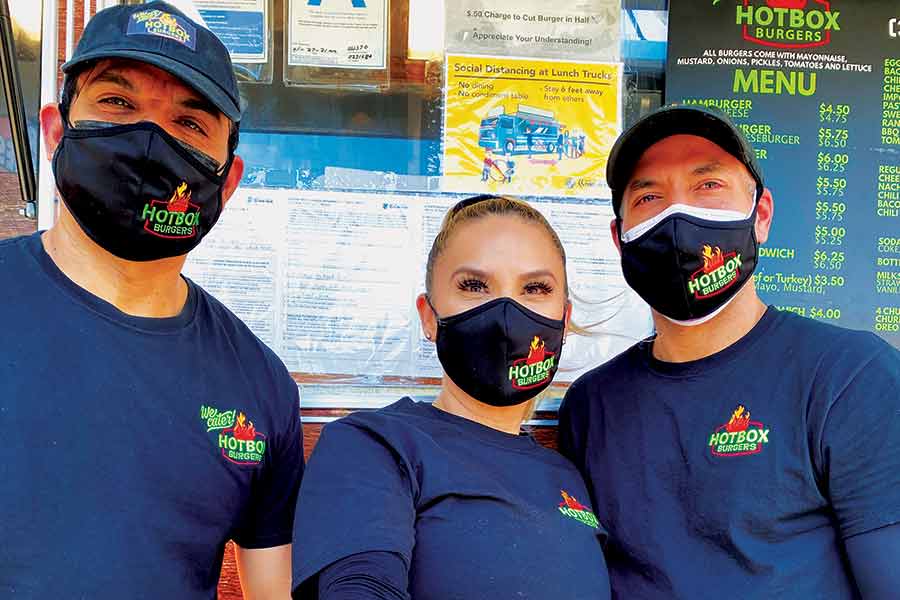 Each day, Gee, Bren, Mike work together packed tight inside a tiny traveling kitchen space serving burger varieties of turkey, beef and impossible plant-based meats, mostly around $6.
Extras include eggs, pastrami, avocado, chili and a list of others that make each burger taste even better if that's even humanly possible.
The fact remains, we really couldn't believe what we were experiencing, so we turned to conversations with the customers that surrounded us to hear their testimonies and gain affirmation.
We found each of us we're feeling equally blessed. One customer, a "chick" on a motorcycle, told DT Weekly she had traveled from the Marina for her HotBox Chili cheese topped favorite.
Another expressed how consistent the flavor of his favorite had fortified his faith in believing he'd always get the same quality and taste. While still another customer boasted about how they had tried every single item on the menu and that each was equally delicious.
And the blessings didn't end with the customer's new-found burger enlightenment, oh no. HotBox crew were firm believers who walked by faith and spread good cheer to all who supported them.
DTLA is known for the nightlife, bars, restaurants and just being a great place to hang out any time of day. Still, it's an added plus to discover new tastes brought to us by good people and always a good feeling to watch our small businesses who devote their lives to others grow because of their immense sacrifices and efforts.
So with this, we congratulate HOTBOX and welcome the Grand Opening of their first brick in mortar on March 1st. HotBox Burgers is located at 1030 W Martin Luther King Jr. Blvd suite #108, Los Angeles, CA 90037.