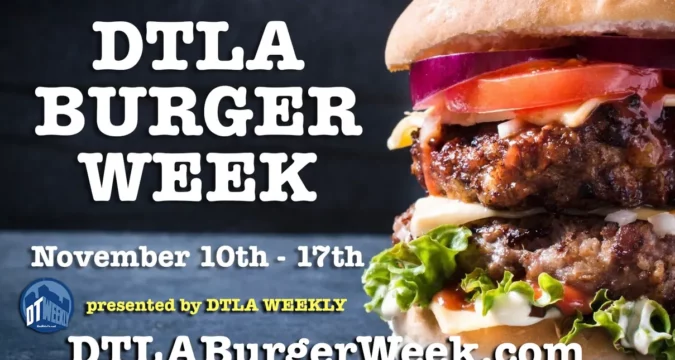 From the creators of DTLA Coffee Week, DTLA Pizza Week, and DTLA Vegan Weekend, comes DTLA Burger Week, Downtown Weekly's mouthwatering new way to support local businesses in Downtown Los Angeles.

The polls are open!
Cast your vote to explore this triple stacked self-guided culinary tour of the city and help crown the winner "Greatest Burger in Downtown LA".
DTLA Burger Week, presented by DTLA Weekly, returns, promising a feast for burger enthusiasts ready to indulge in a flavorful celebration of pure, unadulterated, burger goodness.
Downtown Los Angeles is about to sizzle.
Starting from November 10th to 17th, DTLA Burger Week offers a unique opportunity for burger lovers to try new flavors and cast their votes for their favorite Downtown LA burgers. Whether a fan of classic beef burgers, adventurous bison, or plant-based alternatives, this event has something for everyone.
Categories to Help Savor Every Last Bite
The Greatest Burger in Downtown: A quest to find the ultimate burger in the heart of the city.
Juiciest Burger: Sink your teeth into the juiciest, mouthwatering creations.
Best Presentation: It's not just about taste; it's about the visual delight too.
Best Food Truck Burger: Celebrate the mobile kitchens and their delicious offerings.
Best Sauce: A recognition of the sauces that elevate burger flavors.
Best Plant-Based: For those embracing a more sustainable dining experience.
Best Buns: The unsung heroes that hold it all together.
Best Slider: Mini delights with a big impact.
Best Toppings: The creative art of combining the most innovative burger toppings.
Best Priced: Recognizing affordability without compromising taste.
Join the Burger Frenzy
Restaurants, caterers and mobile kitchens in the area are encouraged to participate this DTLA Burger Week.

For chefs, to get in on the action, burger makers pay a small entry fee before November 10th, 2023, granting weeks of intense social media support, article shares, and eye-catching window decals to draw in the crowds set up by DT Weekly.
In the days leading up to the event, DTLA Weekly will launch a dynamic campaign across social media, online platforms, and their newspaper. Expect videos, photos, articles, and newsletter shares showcasing all the burger participants, making your burgers the talk of the town.
Savor the Flavor of DTLA Burger Week
With DTLA Burger Week, Downtown LA is set to become a burger lover's paradise. Don't miss the chance to explore the diverse world of burgers and cast your votes for your favorites. It's not just about the food; it's a celebration of culinary creativity and community spirit.
DTLA Burger Week coming November 10th-17th.
For official ballots visit: [www.dtlaburgerweek.com]