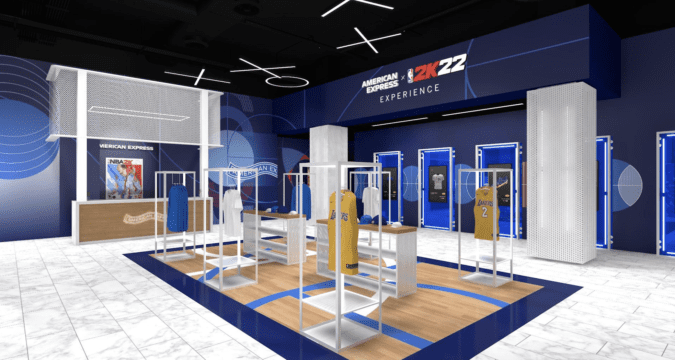 American Express x NBA 2K22 Experience pop up will open to the public – Saturday, December 11 – Sunday, December 12.
Gamers, (aka MyPLAYER's to the NBA 2K21 game), know NBA 2K games allow you to create your ideal baller from the ground up, with unique customizations that put you in control of your path to basketball stardom.
In NBA 2K22, MyPLAYER's can customize their hoop dreams starting in high school, continue in college, and culminate in the NBA. Then hit up the brand-new beachside Neighborhood, where you can chill with your crew, jump in on casual or competitive games, and shop for the latest gear.
Founded in 2005 within Take Two Interactive, 2K is a world-class team of engineers, developers, graphic artists interactive entertainment for PC, console and mobile platforms and part of an ever growing library of critically-acclaimed franchises such as Battleborn, BioShock, Borderlands, The Darkness, Mafia, NBA 2K, Sid Meier's Civilization, WWE 2K, and XCOM.
Enter American Express!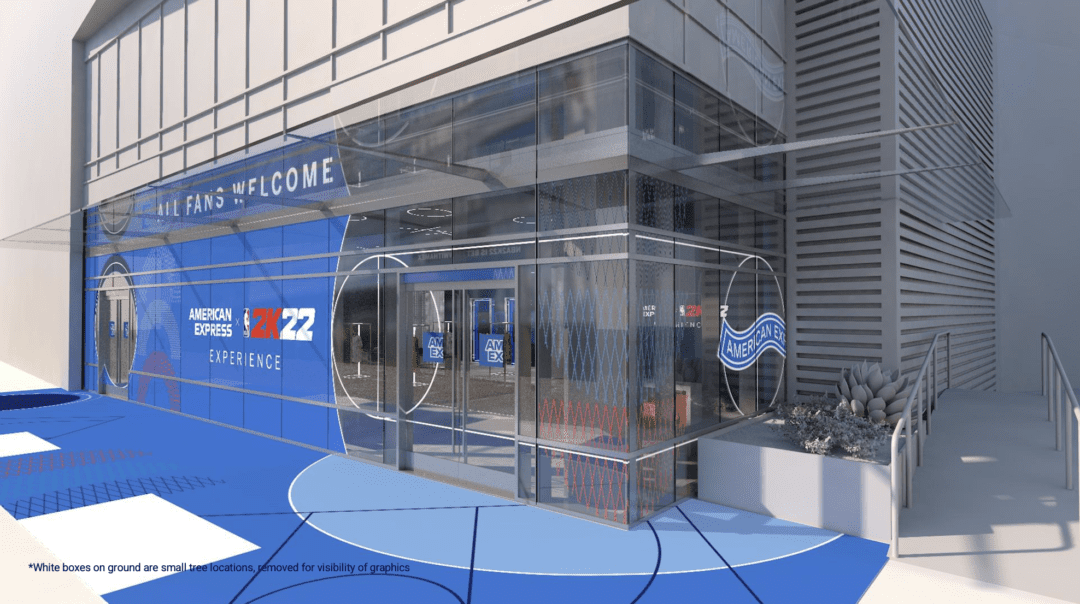 For the first time ever, Amex Card members will be able to claim some of the most sought-after digital merchandise for their NBA 2K MyPlayer, including gear from Just Don, OVO, Mitchell & Ness, Under Armour and more.
As part of the partnership, shoppers who purchase NBA 2K22 online at 2K Store with an Amex Card can receive up to 35,000 in virtual currency that can be spent on in-game purchases.
During this weekend's pop up, fans who stop by the Face Scan Studio will have the opportunity to enhance their MyPlayer by taking high-quality face scans, which can then be uploaded through the 2K app to get a true-to-life look to be used in the game.
Immersive Sights and Sounds: With wall-to-wall mirrors, fans will be able to experience the "Infinity Cube" which will immerse them into the sights and sounds of NBA 2K22 in a whole new way and capture the moment with shareable photos.
To outfit card members and fans at Staple Center will have access to NBA gear for purchase, in addition to complimentary sneaker cleanings throughout the weekend.
Paul George vs. WNBA star Breanna Stewart
Fans at the American Express x NBA2K22 Experience and around the world will be able to watch NBA star Paul George and WNBA star Breanna Stewart face off in a highly anticipated NBA 2K22 match-up livestreamed from the American Express x NBA 2K22 Experience.
As the Official Card of the NBA, WNBA and G-League, American Express continues to bring unique basketball experiences and access to Card Members—including this American Express' first-ever gaming benefit.
For those who can't make it the event and match will hosted by Alexis Morgan, will be streamed via the NBA Twitch channel from 3-4pm PST (6-7pm EST) on Friday, December 10.
The event hours are from Saturday, December 11 – 11am – 4pm and Sunday, December 12 – 3:30pm – 7:30pm, located at 901 W. Olympic Blvd inside Residence Courtyard by the Marriott Hotel.