After a long, cold & covid winter, Spring has brought new vitality to the Jewelry District of Downtown Los Angeles in the form of GustoGreen.
With Gusto Green comes a budding nightlife and hospitality scene new to an area known mostly for dim roll-up doors and a great place for street parking after 7 pm on most nights.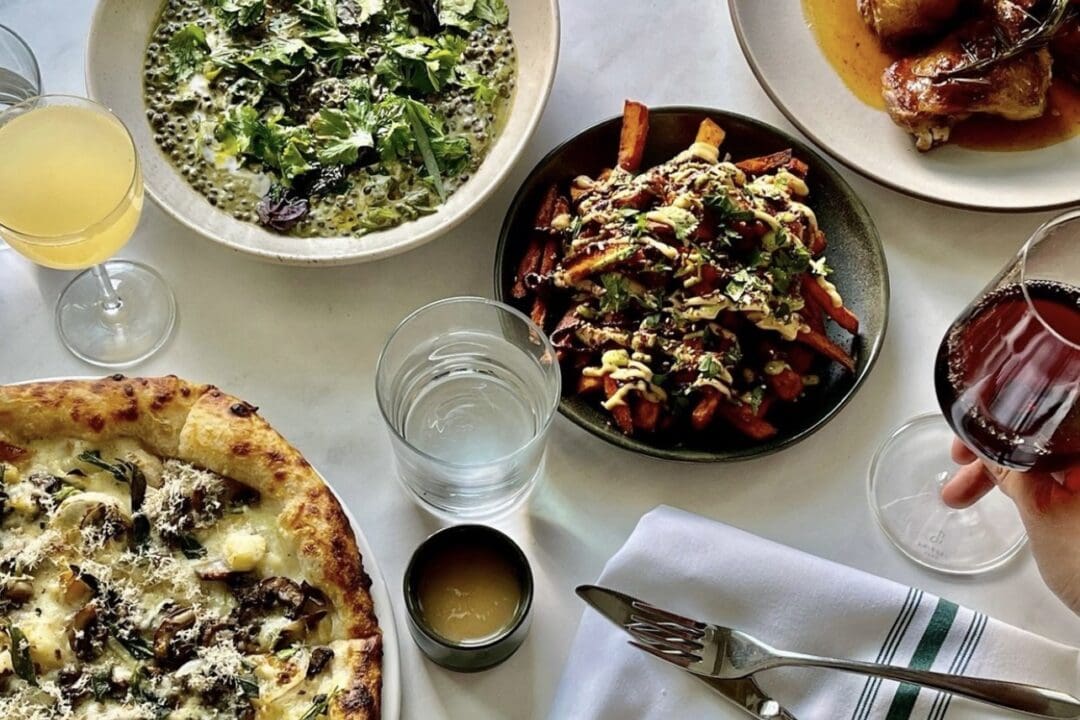 Nestled at the base of the newly renovated 718 S Hill Building, a historic building, built in 1911. Once operated xxx as a juice and health bar, not is home of Gusto Green which has become its own beacon of treasures & hospitality.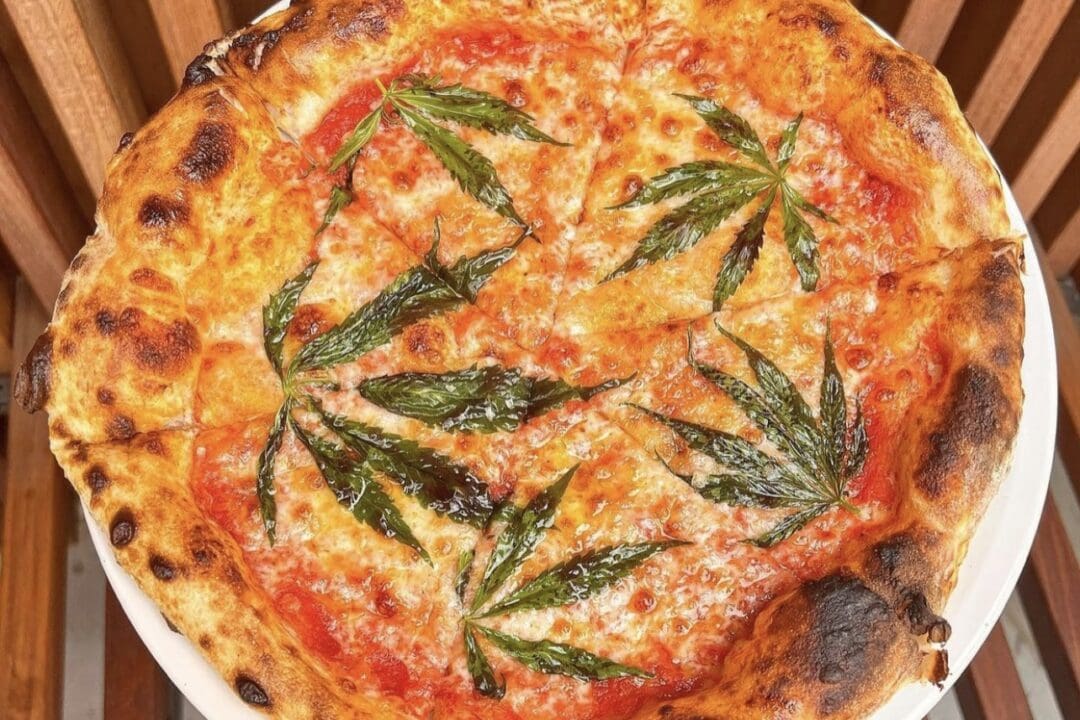 Powerhouse entrepreneur and CEO Janet Zuccarini, the mastermind behind Gusto 54 and multi-award-winning Felix in Venice, describes the Gusto Green concept as, "a warm, friendly, and also forward-thinking restaurant destination that embraces the future of food and how people are seeking to eat today."
Award-winning, Los Angeles-based firm STUDIO UNLTD (Bavel, Bestia, and RappBar) brought Gusto Green's interior design to life with botanical shapes, and cool stones reminiscent of a riverbed, textured limestone-like walls, and bold blues juxtaposed with earthy clay tones evoke dining in nature.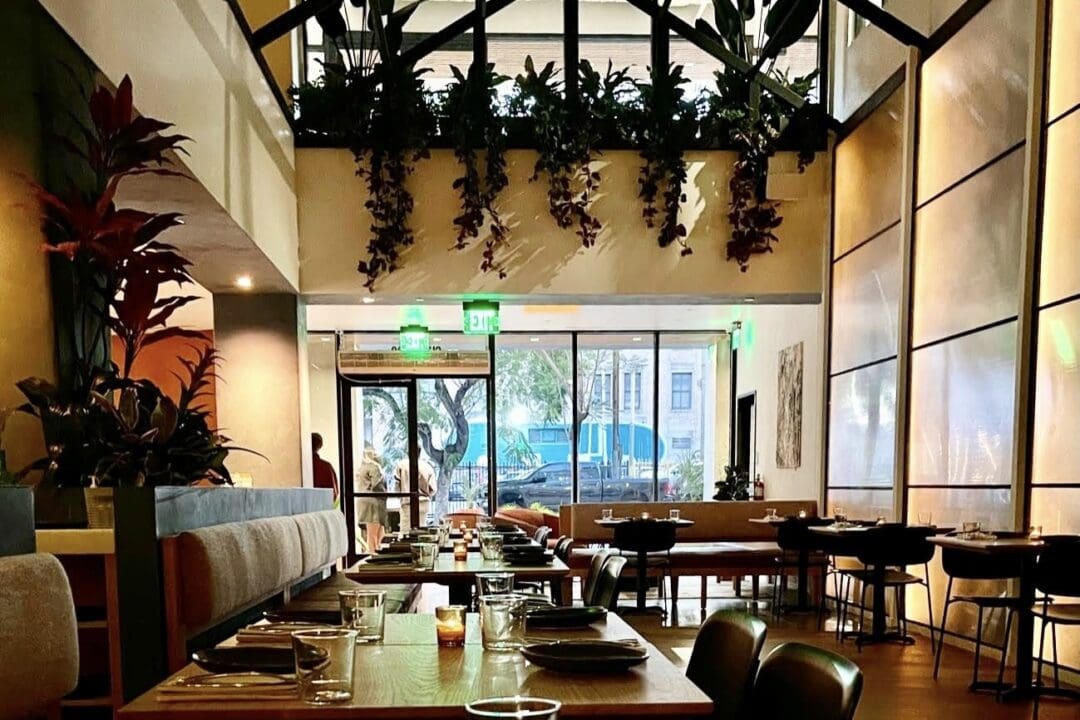 Upon entering the fine-casual setting, dancing to the slightest breeze, Dani, installed by pride artist HOT TEA. Dani is the result of the meticulous placement of thousands of thin, colored strings – a flowing rainbow chandelier descending from GustoGreen's greenhouse-inspired ceiling.
To the immediate right, Gusto's cocktail bar flows with crafted cocktails that include a diverse zero-proof list, organic wines, and use of plant-derived terpenes to replicate the cannabis plant with cheeky cannabis-centric titles; the PineApple Express for example.
The main dining room comforts guests with oakwood tables, cozy banquettes, private lounge areas and communal tables, all leading to an open kitchen complete with an imported wood-fired Italian-pizza oven.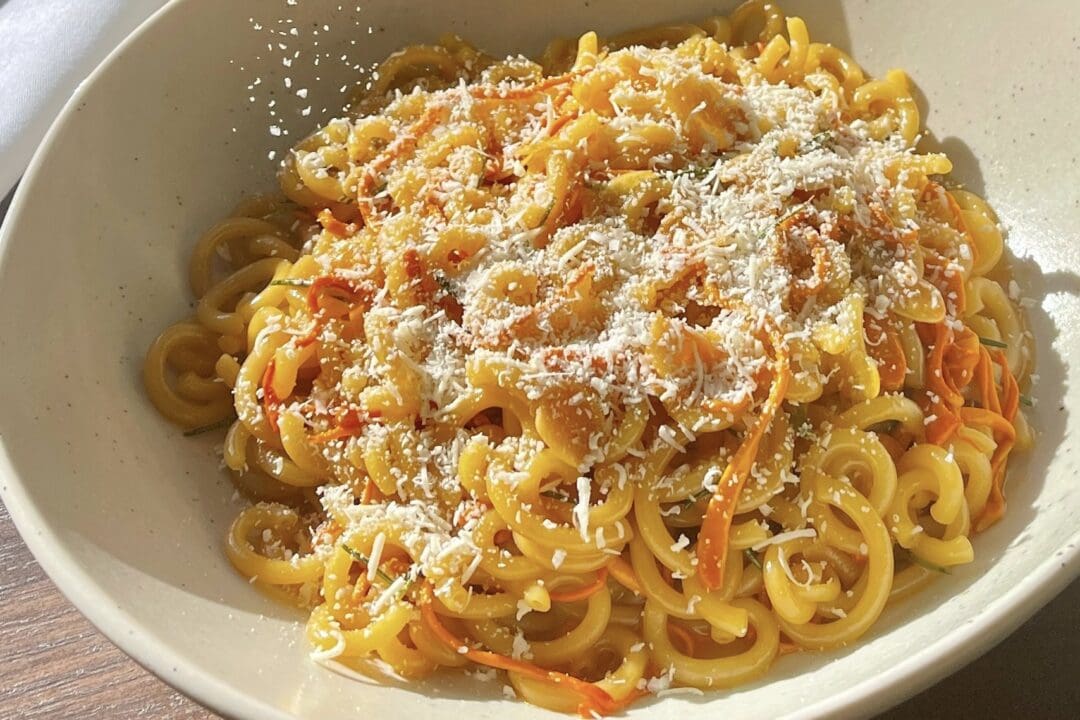 Open Tuesday to Saturday at 3:00 PM, freshly chopped menu favorites include Kale Caesar Salad with creamy avocado, spiced chickpeas, brazil nut parm and currants. Pasta masterpiece Gramigna with pistachio pesto with sweet peas, fresh mint and lemon olive oil always makes the bill. Meat lovers can choose Pasture-Raised Half Chicken with goat's butter jus or Grass-Fed Gaucho Steak with smoked paprika, jalapeno chimichurri and lime among other select dishes.
For dessert, plenty suggests the Coconut Cream Pie with coconut custard & coconut caramel or the Hemp & Chocolate Chunk Cookies serves with house-made spiced matcha horchata.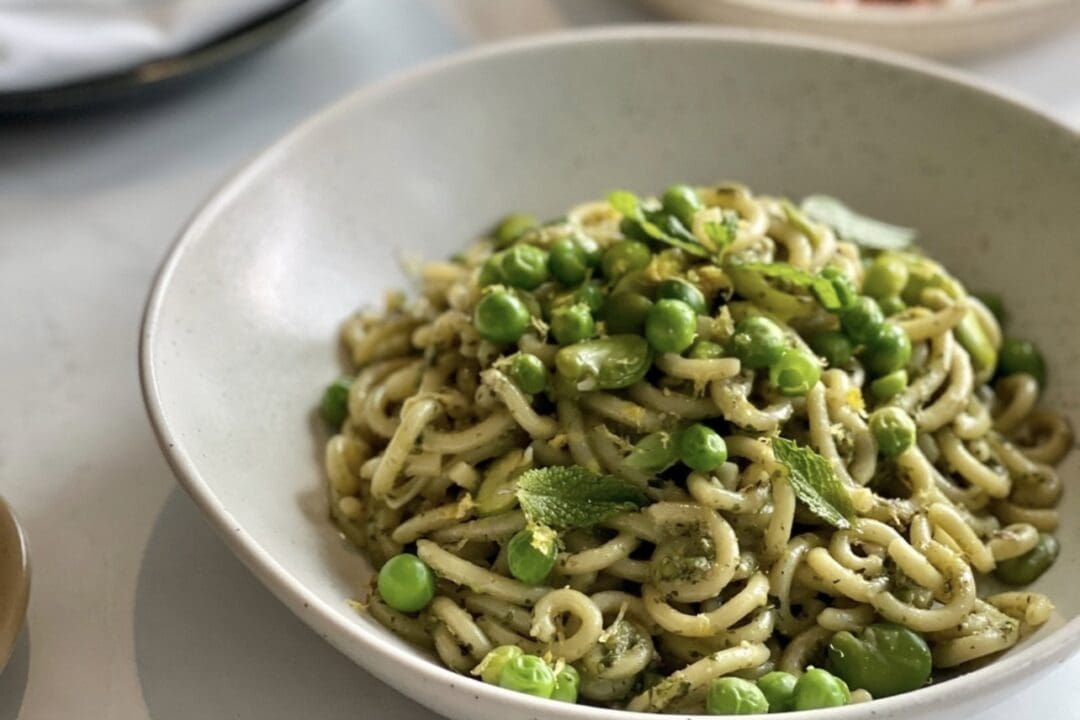 It's the right climate to help grow the DTLA cannabis movement at Gusto Green.
At Gusto you'll find tables of diners already indulging or patiently awaiting orders of plant-forward dishes complemented by thoughtfully and humanely procured fish, poultry, and meats with … a bit of cannabis inspiration on the side.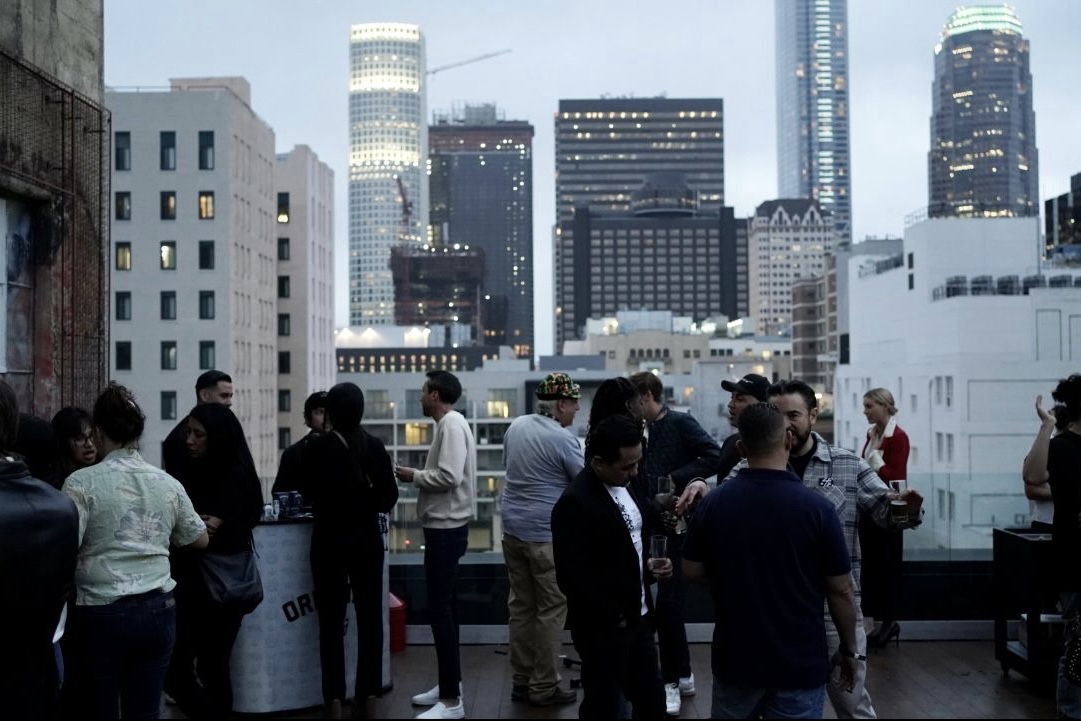 Our new friends have partnered with the only federally approved purveyor of hemp leaf for food, Ziese Farms to bring plant medicine without the psychoactive properties to food & drink!
Gusto Green is one of several unique businesses housed within the Green Street Building, all of which operate in, or in the orbit of, the cannabis industry. The team is happy to tell about their neighbors and walk you through their penthouse event space and their state-of-the-art rooftop event space perfect for the long, warm nights of the season, opening later this summer.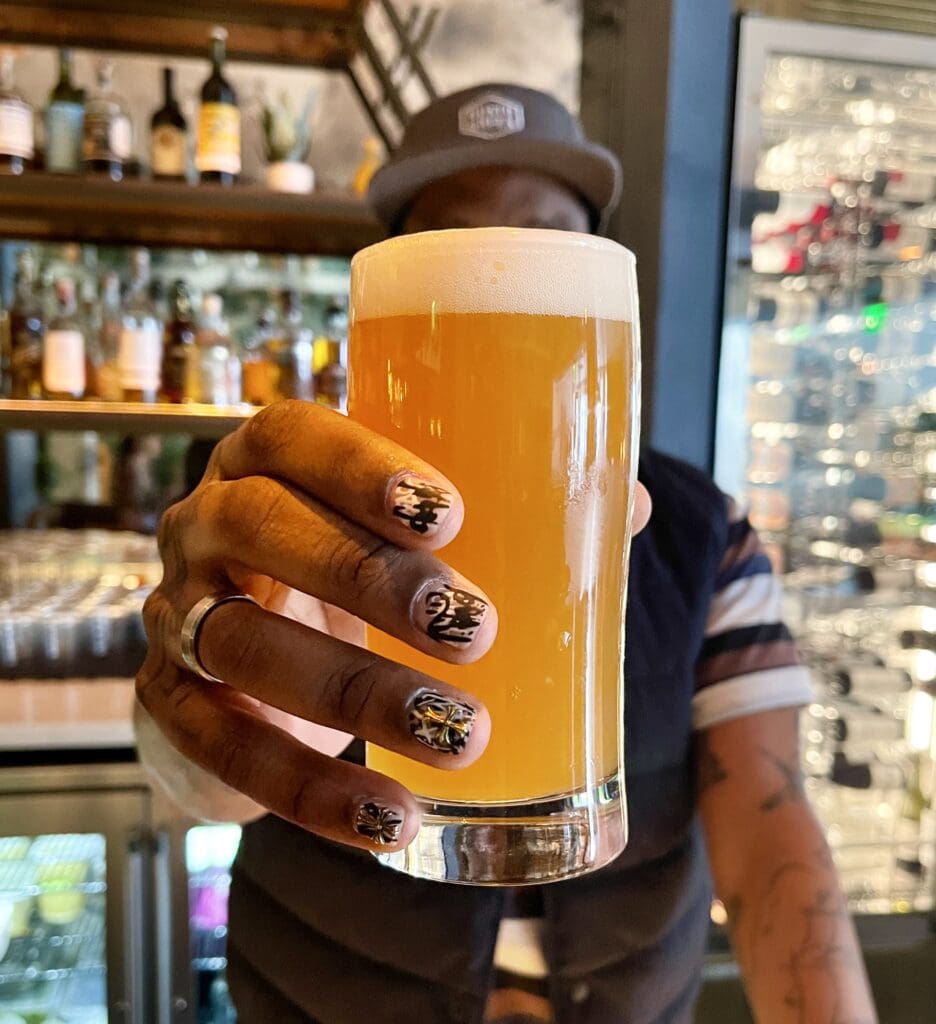 Happy Hour starts at 3 pm-6 pm, craft beer at $5 l, wine-on-tap for $2/oz, and $10 for any cocktail with or without the hard stuff. From the menu, $15 wood fire pizzas, $8 Loaded Sweet Potatoe Fries, & they gave us permission this one time only to tell you to ask about their secret Happy Hour Menu (5 insane items). Enjoy. www.gustogreen.com