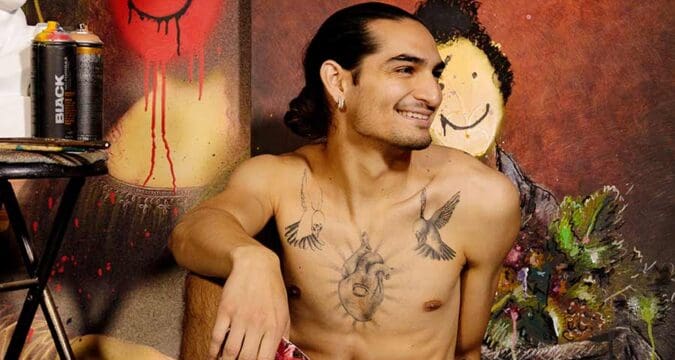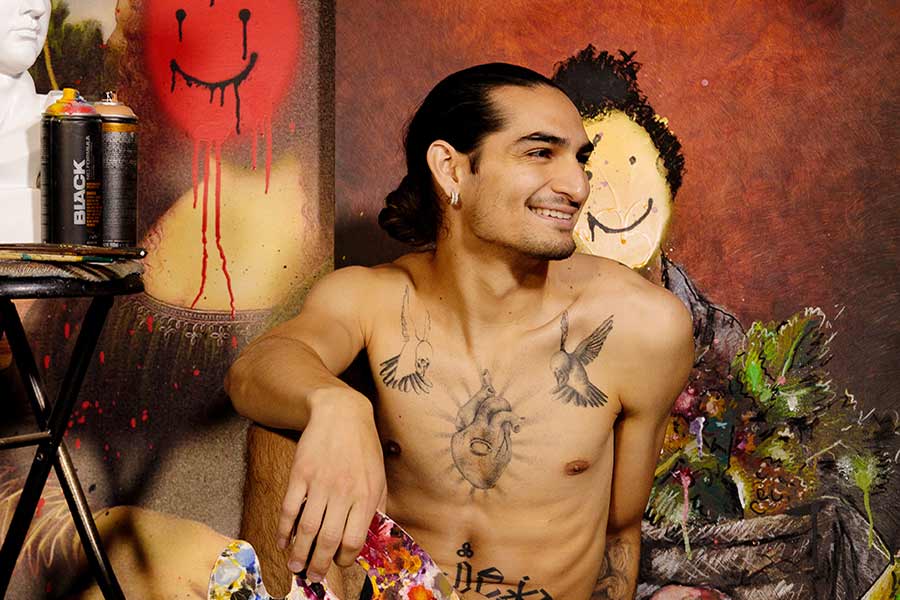 Acquiring over 100k followers on social media in the last two years, Isaac Pelayo is a rising star illuminating his own path as a fine artist, creative musician, fashion visionary and well sought after tattoo artist.
Pelayo's story is of one coming of age and taking his falling in line with his artistic destiny.
If Pelayo's young life were a painting, it would begin with the marker his father gave him at just the age of two. His awkward movements due to developing muscles would soon be replaced by his skilled pencil's varying pressures, winning him prestige since the tender age of 11.
As an adolescent, Pelayo's 'life painting' would be covered with heavy strokes of slow drying oils, only later to be pierced with the sharpest tattoo's ink.
As a young man in his early 20s, his painting would take on a new entrepreneurial spirit, selling originals and prints to famous collectors, producing earnings, and allowing him to buy his first home at age 24.
Pelayo has been in the limelight as of late due to his circumstances following a furlough at Disney, where he matured as a commercial artist/ apprentice to his father Anthony Pelayo, a prominent Los Angeles artist and show producer in his own right.
Yet, despite the two losing a steady income, when Disney closed its doors due to Covid, Isaac was able to turn his art, entrepreneurial spirit and internet savvy into a six-figure salary.
It was this fantastic journey that attracted the attention of Forbes and Business Insider Magazine.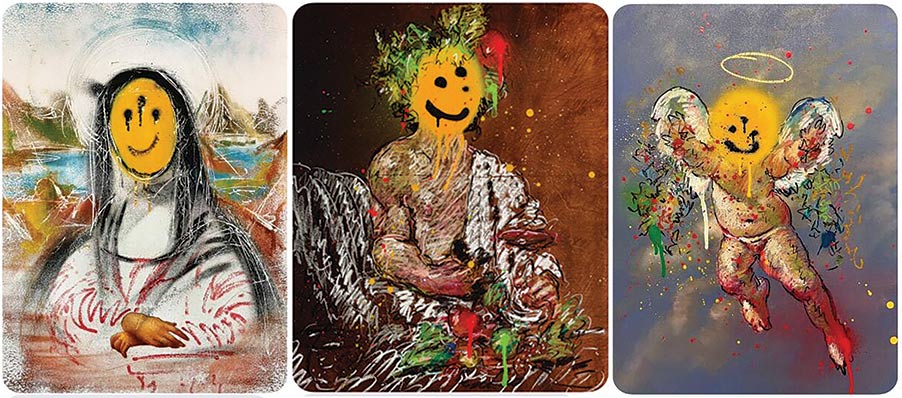 Art
At age 24, Isaac Pelayo has already exhibited in several well-known galleries and museums, including MOLAA, The Trotsky Museum, and famed pop art surrealism giant, La Luz De Jesus Gallery.
This mastery behind Pelayo's figurative faces and deliberate obstruction of people transcends time, beginning with his devotions to artists of the Italian Renaissance and Baroque Era with inspirations Leonardo Di Vinci and the playful Rembrandt of Dutchland.
Pelayo's influences continue to traverse eras. Noted is the defiance of Salvador Dali and the resilience of Frida Khalo of the 1930s. These styles, including lessons learned from his father and Disney now resting upon the shoulders of a freestyle movement that began with America's 80s and 90s urban street art.
Pelayo's work is hard to miss.
Recently, his work has been commissioned and used for several album covers by Buffalo, NY, Rapper Westside Gunn.
His collectors include Shepard Fairey, Benny The Butcher, Jeff Hamilton, Sean "Diddy" Combs, Hopsin, and J.J. Soria.
His "Saint Kobe" is on display at ESPN – Sports Center, with other works featured in the LA Times and many tribute videos by fans worldwide.
Tattoo
Isaac found Insta-fame after social influencers began crowning him as the go-to guy for inking IG and TIK TOK Famers, the likes of Jaden Hossler, Chase "Lil Huddy" Hudson, Tayler Holder, and Charly Jordan.
Music
Growing up listening to "90's hip-hop, indie, jazz and classic rock", Isaac's music comes with a unique mix of old and new school beats. His most recently release single, titled "Complicated," was produced by award-winning platinum producer Met James.
Fashion!
During the pandemic, Pelayo launched a "Street Baroque", and this winter, there will be a clothing collaboration with Pelayo and Rich Hilfigers clothing company, called Tango Hotel.
As far as his clothing line goes, Isaac has a partnership with The Silk Cloud owned by Isaac Ruiz, son of Bobby Ruiz, owner of Tribal Street Wear out of San Diego.
Apart from that, he is also creating a partnership in his father's production company 'Antonio Pelayo Productions' which focuses on art, music, and culture.
Not bad for this young, Hispanic, multi-talented 24 year old forging his own path.